Last Tuesday The Geezers headed off on a daytrip to visit Bletchley Park, the home of Britian's WWII codebreakers who played an important role in defeating Hitler.
We are a group of retired people, so some of our members have difficulty managing steps and stairs on public transport. Jerram Falkus, a local construction company, kindly sponsored the trip by paying for our entrance tickets, a one hour guided tour, and hired two 9 seater minibuses. Alison Cormack, their Social Value Manager said: "Jerram Falkus has always taken an agile response in supporting the communities we work in. It was an honour to have the opportunity to support the Geezers, enabling this special group to have a great day out which created lots of memories. We look forward to working with the Geezers again in the future."
Peter Gaffey, a Project Leader for Jerram Falkus, and Eddie Snooks, the Geezers chairman, acted as our drivers.
Bletchley Park were expecting us and brought out a couple of wheelchairs to meet us, heralding the start of a wonderful day out.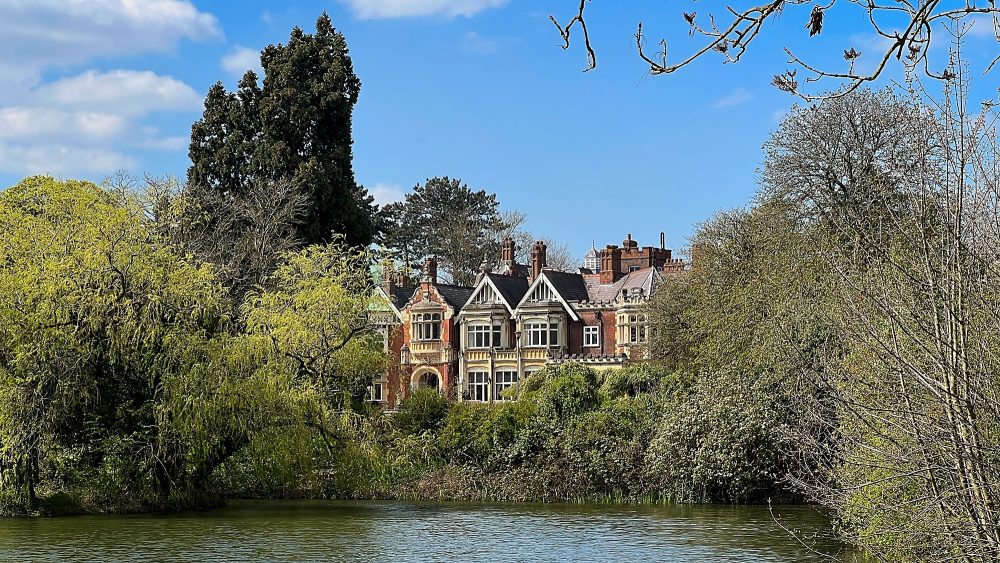 The current English Country House at Bletchley was built/rebuilt in 1883 for Sir Hugh Leon. He was into fox hunting, had lots of servants plus 40 gardeners. It was a house for showing off his status and entertaining friends. After his widow died in 1937 the house was bought by the head of the Secret Intelligence Service, Sir Hugh Sinclair. War with Germany seemed inevitable, and the SIS (MI6) realised that they needed a location safely away from London and close to a railway station to base the Government Code & Cypher School (now GCHQ). Commander Denniston was head of the Government Code & Cipher School from 1919 to 1942. Then Edward Travis took over, employing more staff and expanding the capabilities of Bletchley Park.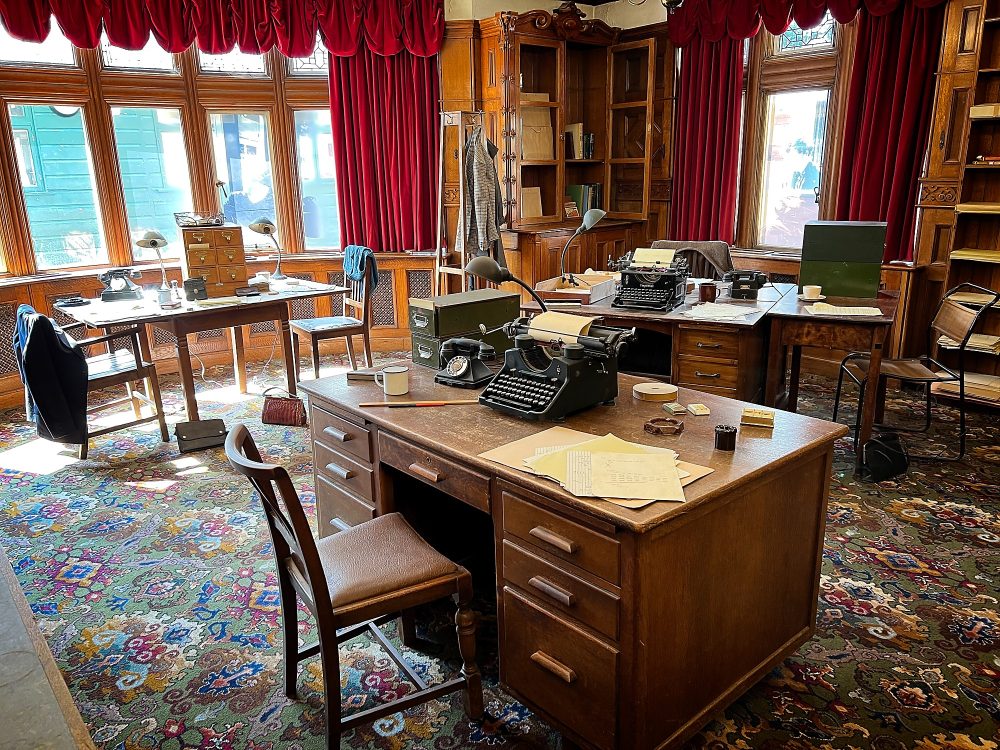 As WWII progressed lots of huts were built across the grounds to accommodate the influx of staff. Britain's best brains and mathematicians came from all over the country to work here. They were supported by a huge number of staff. 3/4 of the people who worked at Bletchley Park were women.
By 1945 9,000 people were working here 24/7. They were reading (cracking) 14,000 encrypted German military messages a week and sending english translations to our government, plus the Army/Air Force/Navy and the relevant commanders in the field.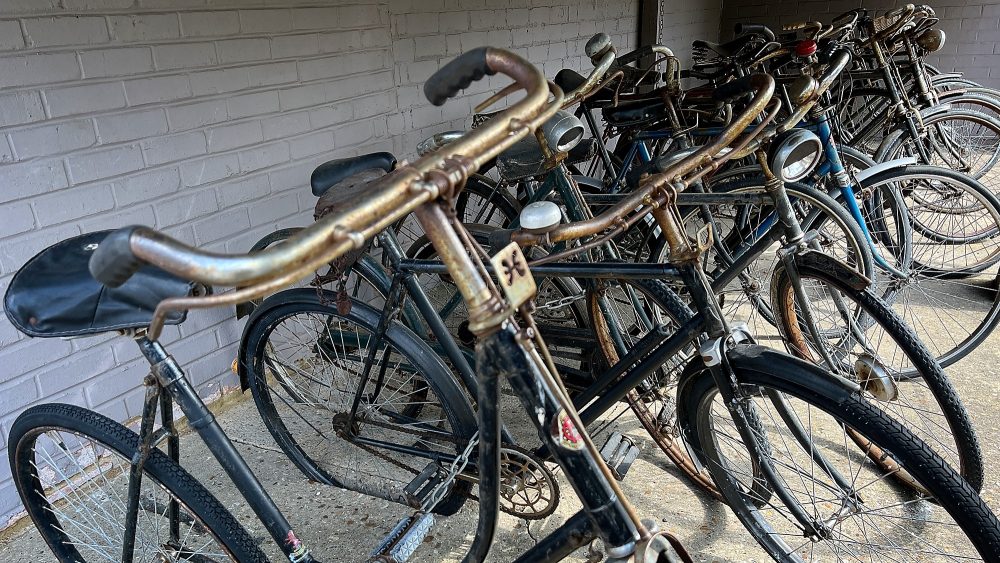 As you can imagine security here was tight and held throughout the war and long afterwards. The Germans never knew what was happening here – otherwise they would have bombed it out of existence.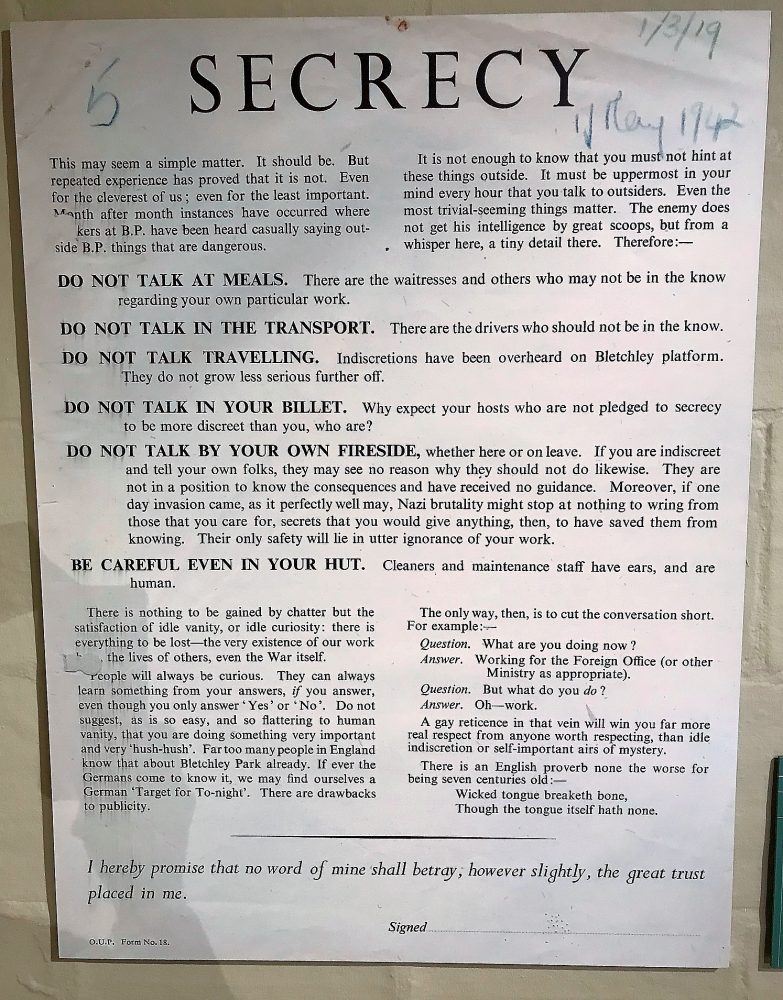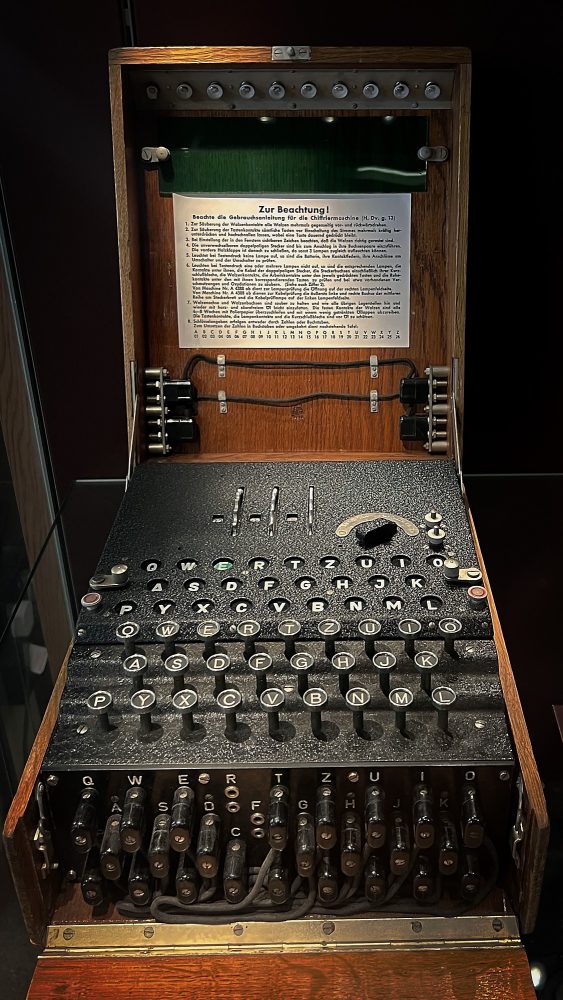 The German manufactured Enigma machines began in the 1920's and were initially intended for commercial purposes. They had three rotors. A plugboard at the front was added from 1927 which swapped the letters about greatly increasing the number of combinations.
The operator pressed one letter at a time on the Enigma machine and an assistant read the illuminated substitute letter on the top and wrote it down. This apparent nonsense was transmitted slowly in morse code. It the receiving end the letters were typed one at a time into an identically setup Enigma machine.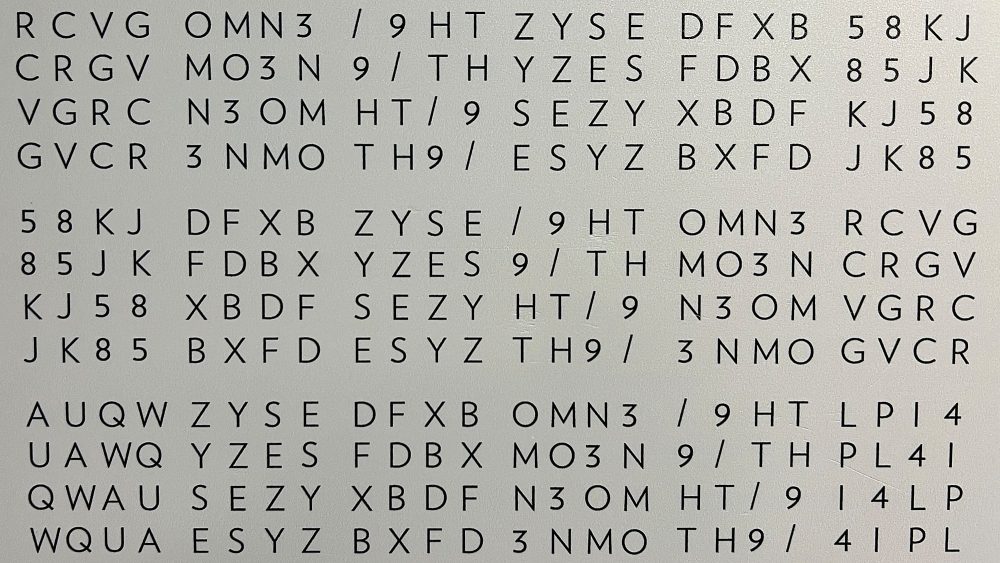 The German military sent out sheets for each days Enigma settings. Understandably they thought that their messages were completely secure.
But five weeks before WWII broke out the Polish Intelligence Service made contact. Mathematicians Marian Rejewski, Jerzy Różycki, and Henryk Zygalski, had broken the Enigma cipher – a code is different, but is used as slang. They'd done it using sheets of paper with holes punched in them which they stacked on a lightbox. But as the Germans increased the complexity of the Enigma machines they couldn't keep up and needed help. Their sharing of this information with Bletchley Park was a useful start.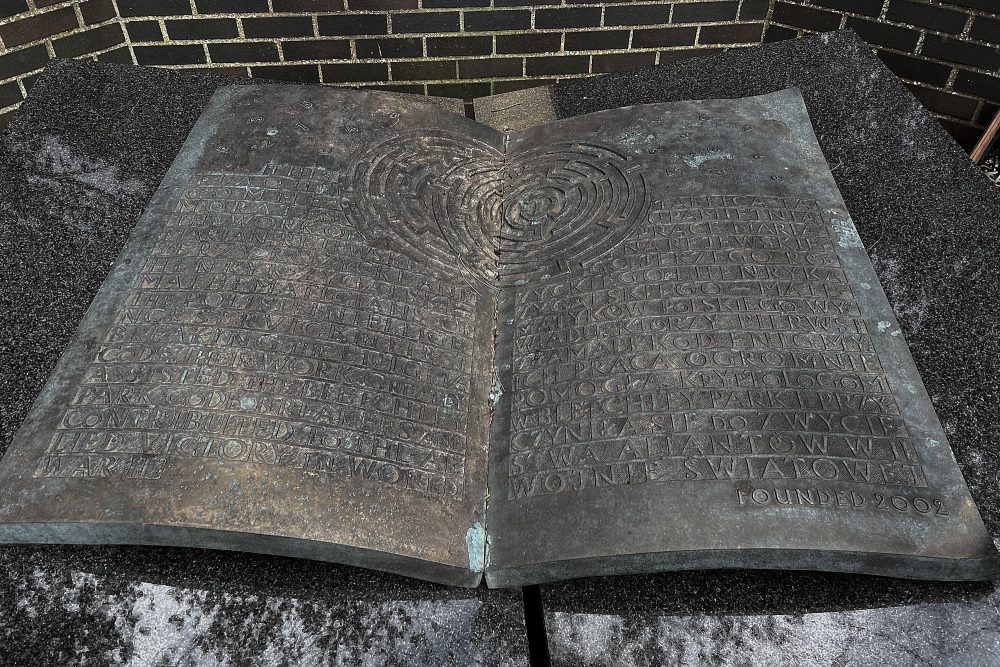 The Geezers were privileged to have a one hour tour led by Bob Lovesey, who you can see in the top photo of this article. Bob was knowledgeable and entertaining. He could answer any question. It was Bob who told us in detail how the Polish cipher readers first cracked the Enigma code, and pointed out the memorial above.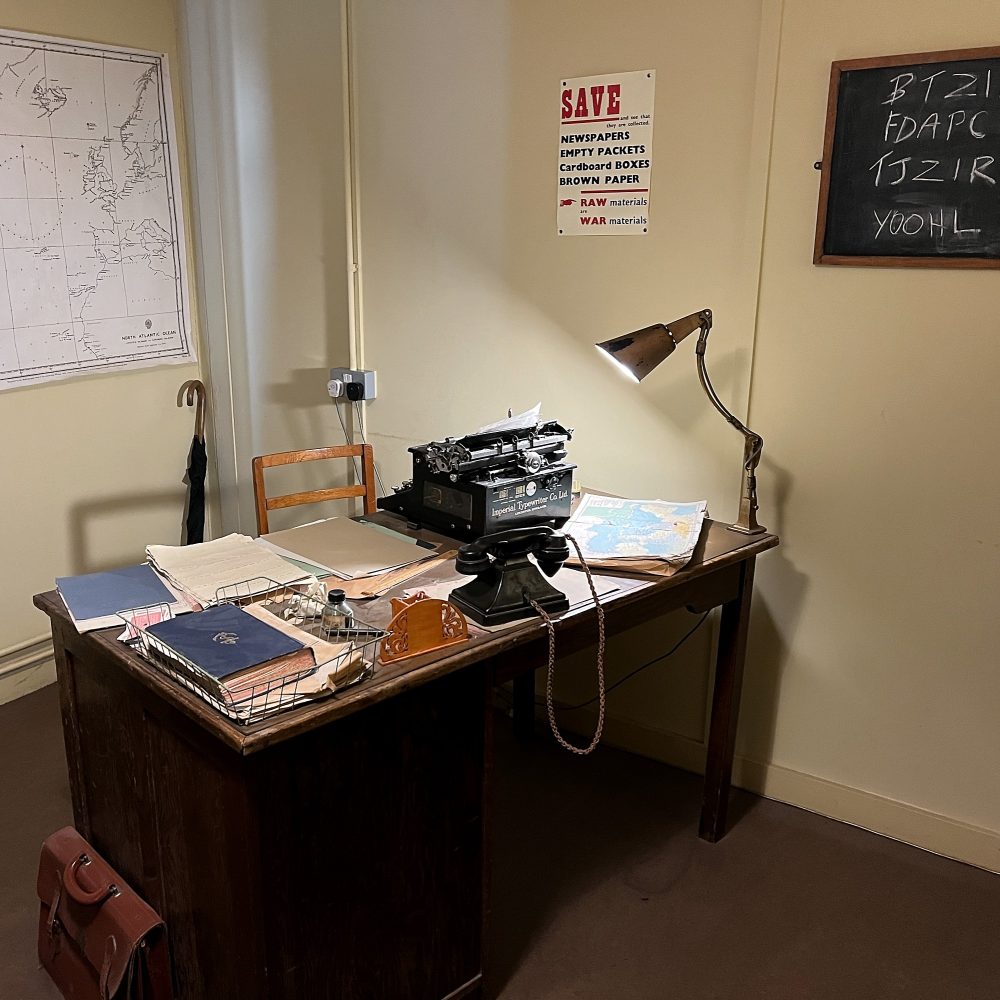 Something faster, a machine, was needed to crack these more advanced Enigma messages. Alan Turing designed the first British Bombe machine, a sort of giant mechanical/electronic almost computer. Gordon Welchman improved it and from August 1940 Bombe machines were reading 1,000 Luftwaffe messages a day. The codebreakers guessed a word which might be in the message. The 7 foot square machine ran for about half an hour, and if it found that word it had likely cracked the code for all of that days traffic.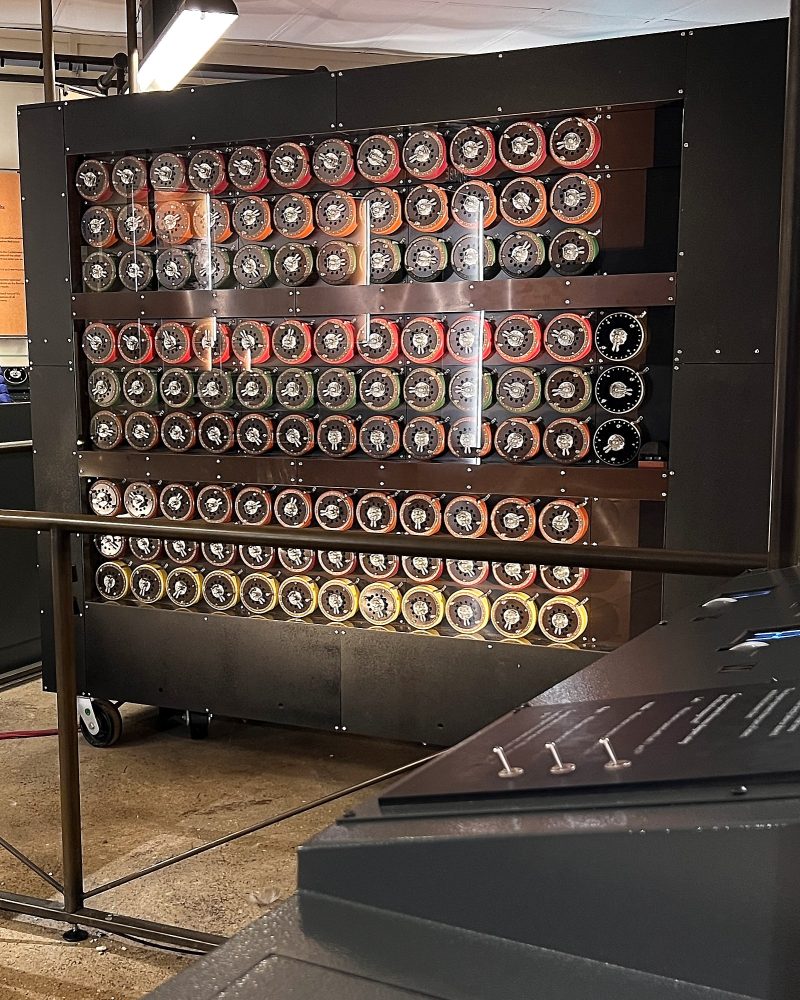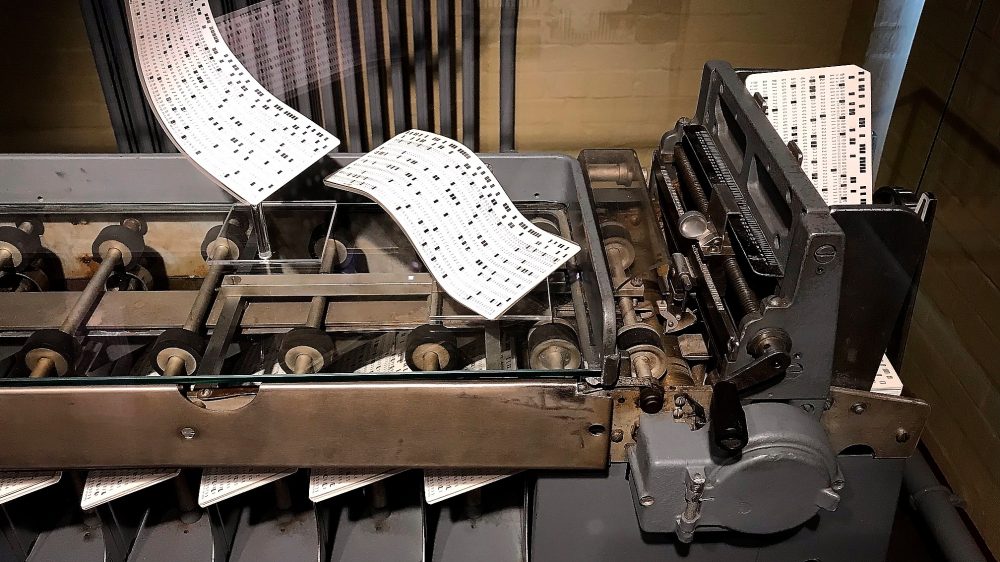 From 1943 the German military switched to using the Lorenz machines (above). These had 12 rotors and produced a paper tape which was in a different code to morse. Teleprinters transmitted the speeded up paper tape by radio. Britain had 32 Signals Intelligence listening stations (Y-stations). They listened in to, for example, U-boat radio signals and sent the messages to Bletchley Park for deciphering.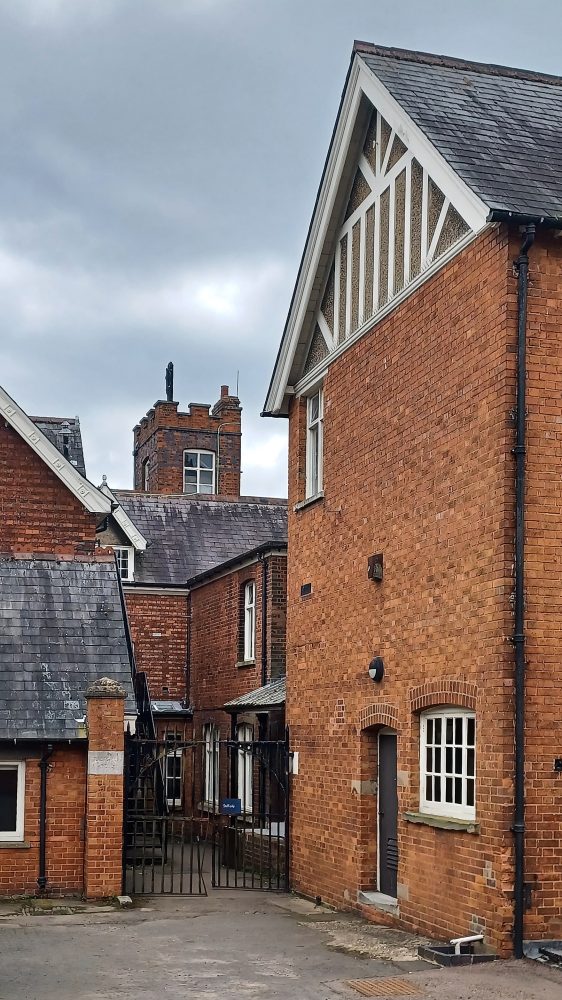 In 1943 the Y-stations started reporting "new music". John Tiltman and Bill Tutte had worked out how to read Lorenz messages by hand but it took ages. Seemingly in response a Post Office electronics engineer, Tommy Flowers, built Colossus, the world's first practical electronic computer! The 1,500 valve Mark 1 Colossus installed at Bletchley Park successfully read its first test against a real enciphered message tape in January 1944. It read and processed paper tape travelling at 30mph – and could crack the Lorenz settings in a few hours. A big team of female motorcycle despatch riders brought the messages from the Y-stations back to Bletchley Park in all weather conditions including through the night on unlit country roads.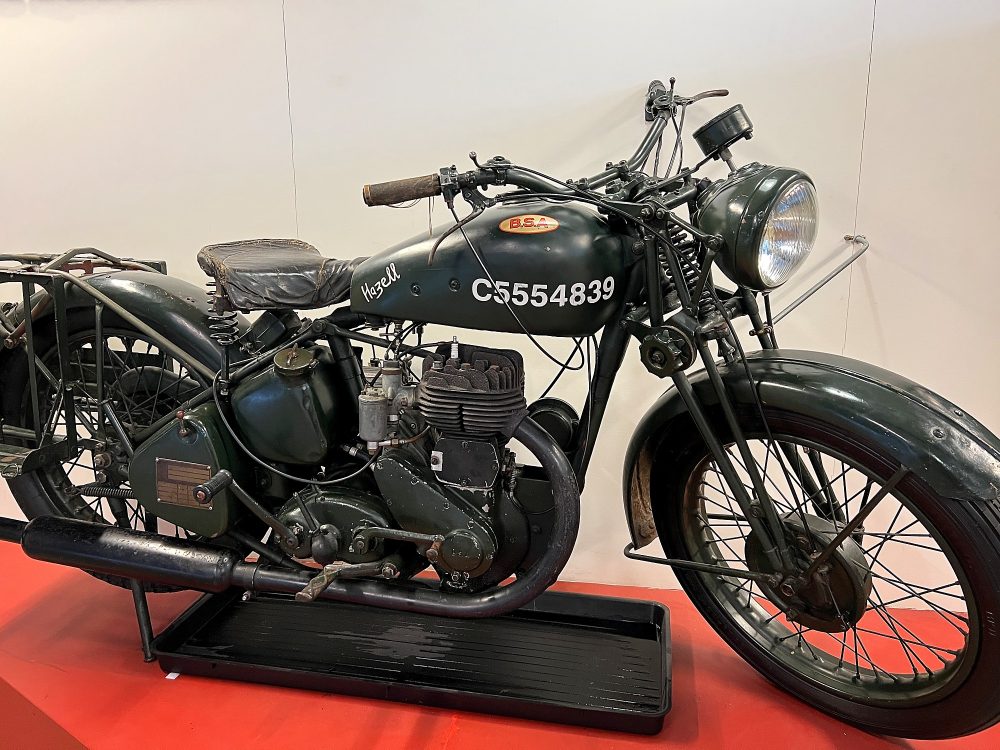 The outstanding work of the Codebreakers at Bletchley Park enabled Britain to locate U-boats anywhere in the Atlantic, work out the beam guidance system used by German bombers, and mislead Germany on the location of the D-Day landings. Later they broke the Japanese codes changing the outcome of the war in the Pacific. We might very well have been defeated by Hitler were it not for the work carried out at Bletchley Park.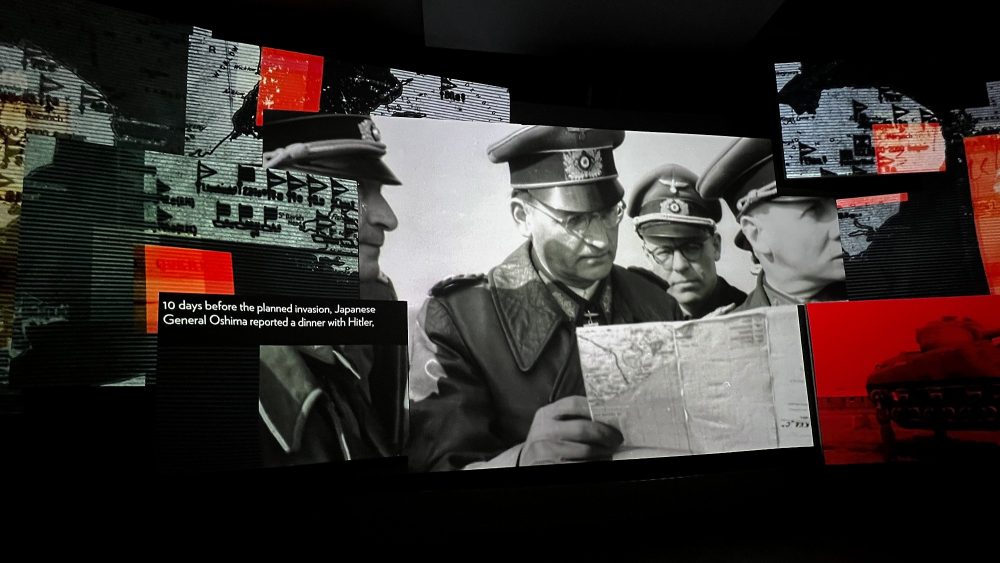 Geezers Chairman, Eddie Snooks said: "The Geezers would like to thank Jerram Falkus for funding today's geezer's trip to Bletchley Park. Alison Cormack, Social Value Manager and Peter Gaffey, a Project Leader for Jerram Falkus have been very supportive and Peter's mini bus driving was really appreciated."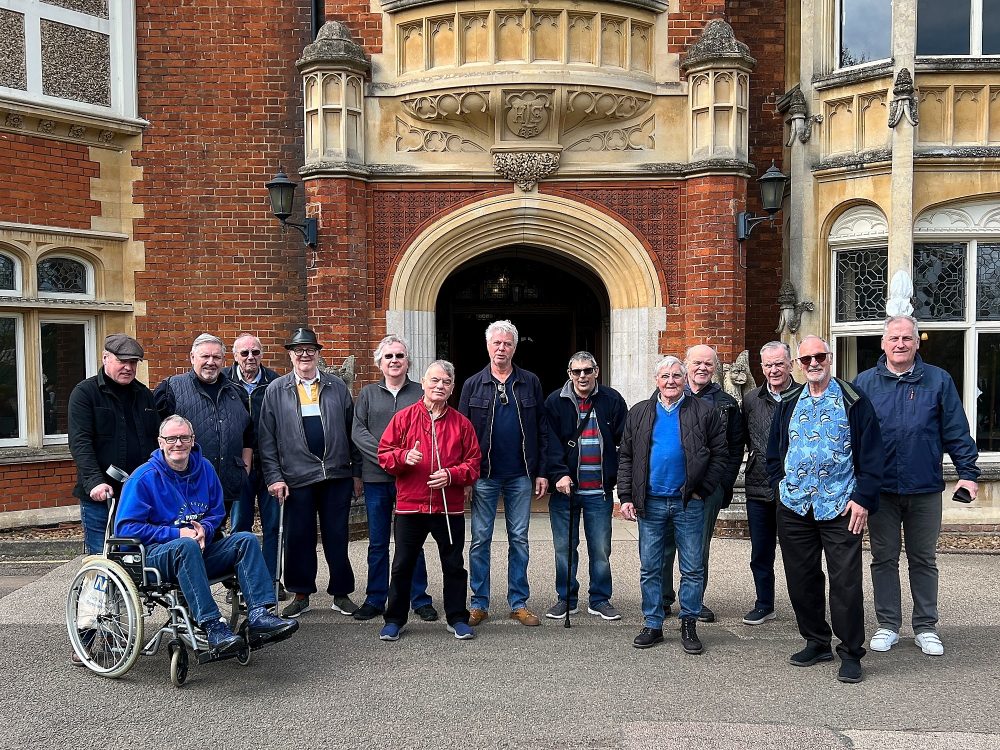 Peter Gaffey said: "It was a great day out and a privilege to assist The Geezers on their day out to Bletchley Park, which was a hugely interesting visit and thoroughly enjoyed by the whole group. The guided tour was particularly informative as our guide was very informative and knowledgeable , answering all the geezer's questions and providing an insight into what really went on at Bletchley before and during WW2. Looking forward to the next day trip already."
We didn't have time to visit the National Museum of Computing, next door to Bletchley Park, but I wrote about it a few years ago. You need a separate ticket for that which is £10 full price, £7.50 60+/Students. It's well worth going to see the replica of the world's first computer running. You'd be pushed to take in both venues on the same day. There's so much to see.
Full price tickets to Bletchley Park are currently £25.50 and concessions are £23. I can highly recommend a visit. There's a lot to see and take in. Bletchley Park is just south of Milton Keynes, car parking is free. It's just a few minutes walk from Bletchley Station, on the main line from Euston.
Alan Tucker