Concerts at Victoria Park Bandstand
The Victoria Park Bandstand Season starts on Sunday 21st May from 2-5pm with the Balkan Village Band and Ritchaz Cabral from Portugal. Concerts will be on every Sunday afternoon until 30 July.  Tower Hamlets Council say: "Bring a blanket, your friends, food and drink, dogs are welcome, and the playgrounds are a short walk away but no barbecues please."
On 28th May Geoids Musical Theatre will provide an afternoon of show tunes.
Art & Ecology Pavilions Sun 14th May
One ticket (£4) gets you into the events at both pavilions from 11.30-4pm.
Judy's Vintage Market at The Ecology Pavilion on 14 May
From vintage fashion and homewares to handmade jewellery and lifestyle products – unique ideas cross paths with a sustainable ideology, small-batch and preloved.
The Vintage Furniture Flea at The Art Pavilion on 14 May
Voted 'Best Fair' by the Vintage Guide to London. Doing away with expensive replicas and focusing on quality and affordability, the Flea provides an antidote; a celebration of mid-century living from the 50s and beyond, the event offers up top vintage traders, all offering furniture and homewares without costing the earth.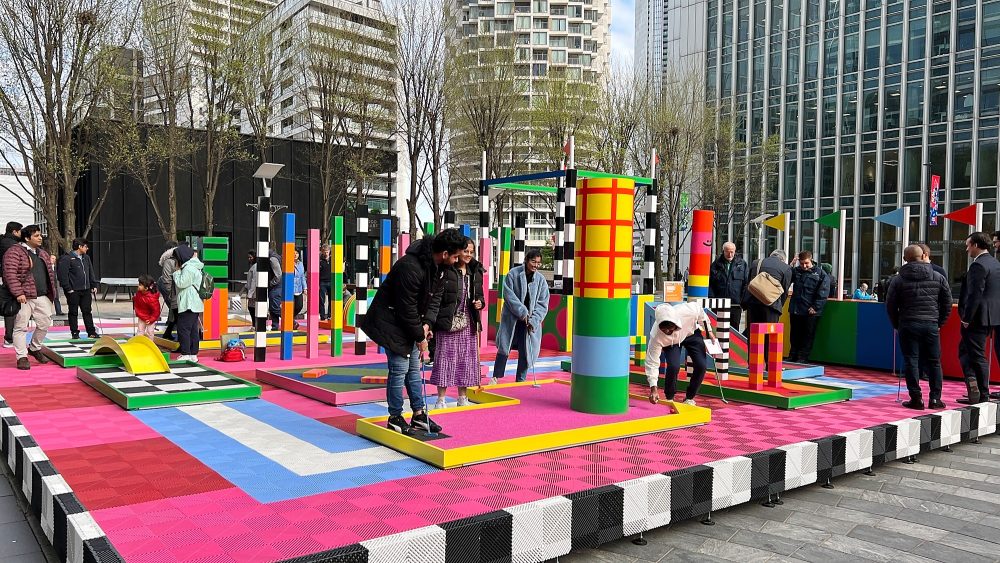 Free Mini Golf at Canary Wharf
This fun and colourful mini-golf course in Montgomery Square has been created by artists Craig Redman & Karl Maier. 
It's free to play on a first come first served basis. Stewards will provide you with clubs and balls. It's open daily from noon – 6pm until the end of September.
Visit Paternoster Square (St Pauls tube)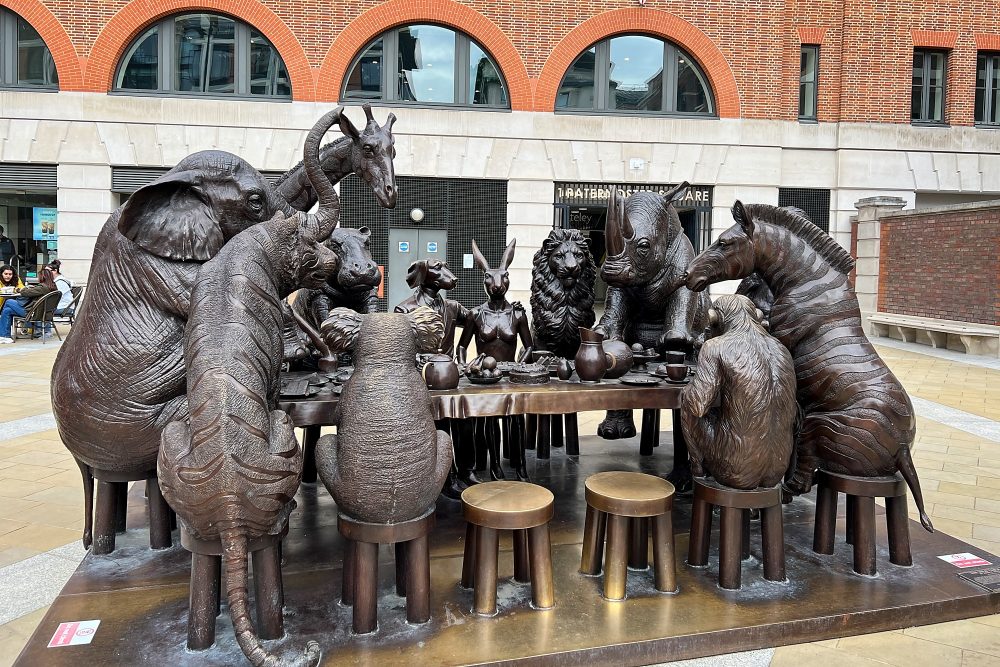 Dogman and Rabbitwoman share a feast with six of the world's most endangered animals.
Gillie grew up in Zambia and sketched all the wonderful wildlife that surrounded her. One day she saw an elephant brutally shot. This had a profound impact on her. She vowed to dedicate her life and work to protecting Earth's innocent animals.
While in his twenties, Marc fell in love with conservation on a trip to Tanzania to see the chimpanzees. He gained a deep appreciation of all living things in their interconnectivity and the importance of protecting the delicate balance of nature.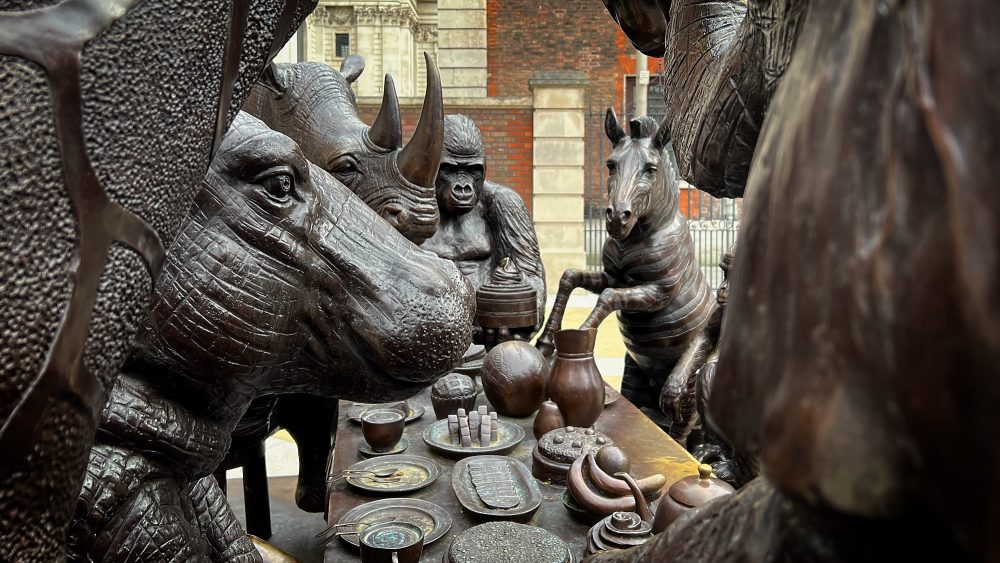 The 'Wild Table Of Love' a big bronze animal sculpture in Paternoster Square will be removed after 15th May. It's near St Pauls. Read more about the artists Gillie and Marc.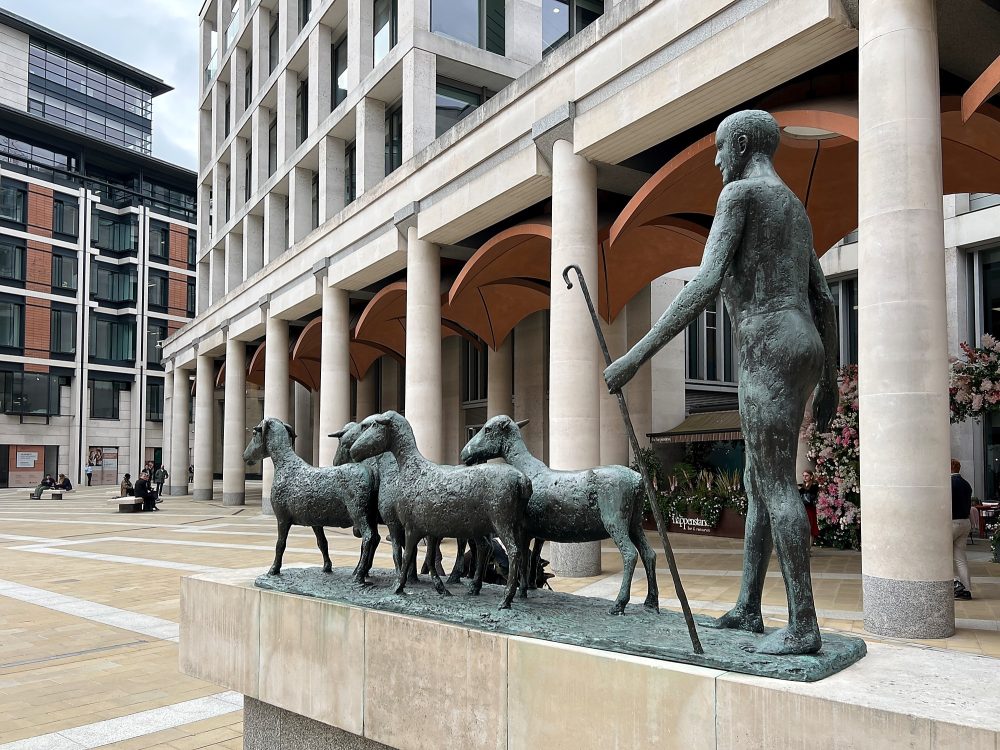 Nearby you'll see the sculpture Shepherd and Sheep by Elizabeth Fink (1930-1993). It was put in place in 1975 and references the former use of the site as Newgate Market which sold livestock and meat. It was mentioned by Samuel Pepys and was closed in 1869 after Smithfield opened. Elizabeth Fink's sculptures are dotted about Britain. You'll find her huge Horse and Rider on the corner of New Bond Street and Burlington Gardens.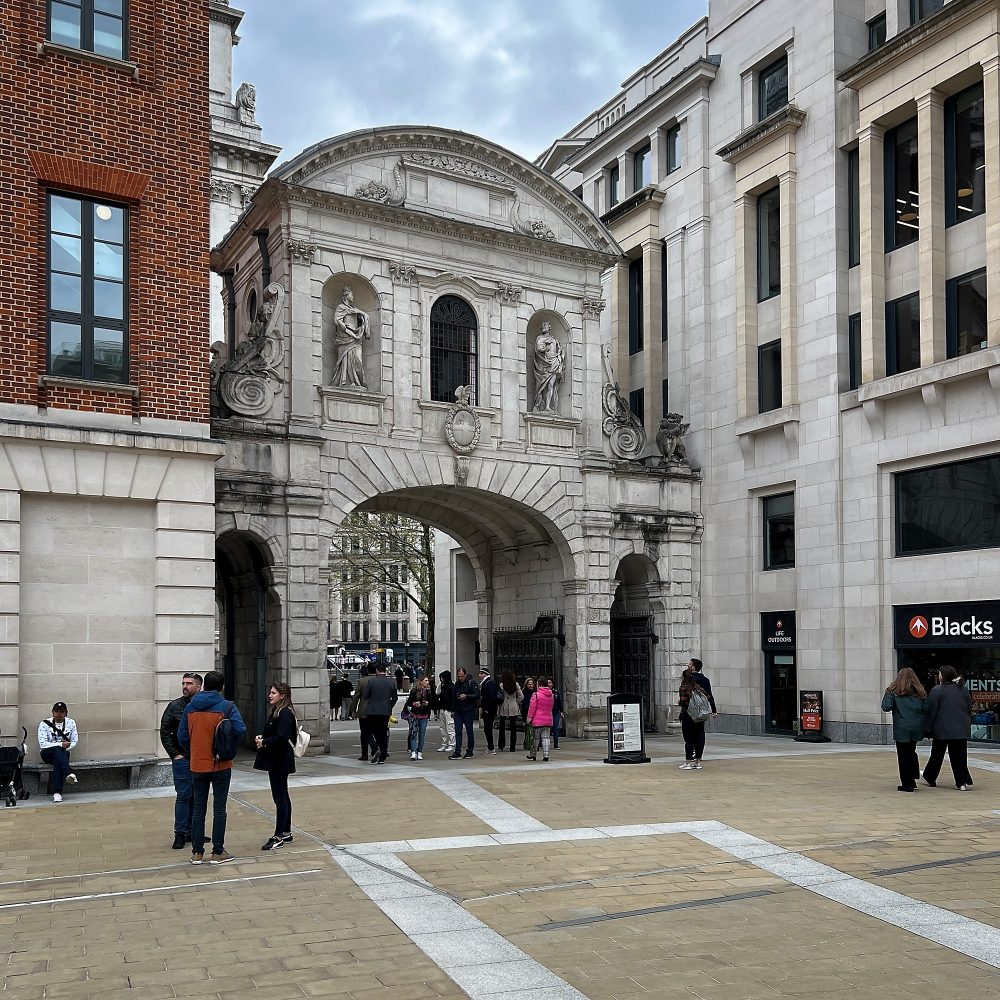 Also in in Paternoster Square you'll find the old Temple Bar which once stood where Fleet Street became The Strand. It was moved to Paternoster Square in 2004. The bar was first mentioned in 1293. King Charles II commissioned a new one after the Great Fire in 1666. It was designed by Sir Christopher Wren. Temple Bar was the ceremonial entrance to the City of London from the City of Westminster.
By Victorian times it was blocking the road in our bustling city and in 1878 it was carefully removed to and reconstructed in Theobalds Park, Hertfordshire.
Art & Crafts at Hammersmith
Further abroad, but easy to reach by taking the District line to Ravenscourt Park, The William Morris Society have an exhibition of the work of an apprentice of William Morris John Henry Dearle (1859-1932). He became the Artistic Director at Morris & Co. You can still buy the Golden Lily wallpaper he designed.
In this free exhibition you can learn more about Dearle, his 54-year career at Morris & Co, and see his artistic talent in designing tapestries, embroideries, printed fabrics and wallpapers. The exhibition is on until 17th December and is open 2-5pm on Thursdays, Saturdays and Sundays.
The William Morris Society is at Kelmscott House, 26 Upper Mall, Hammersmith W6 9TA.
Store bosses object to ULEZ zone expansion
In an article in The Telegraph on 1st May Hamish Mansbridge, chief executive of Heal's in the Tottenham Court Road said that Sadiq Khan's ULEZ cash grab had helped to create "ghost towns in the centre of London". "I make no bones about it, we're seeing significantly lower footfall than we did before the pandemic, and that is a challenge. You've got the congestion charge, parking difficulties, tube strikes, train strikes, the cost of living crisis, and then ULEZ. You name it, it's like they're actively trying to discourage people coming into the centre of London".
This must be galling since Heal's has just invested in refurbishing their site.
Marks & Spencer chief, Stuart Machin, recently wrote in the Evening Standard: "The High Street which is meant to be the jewel in London's crown today is a national embarrassment, with a proliferation of tacky candy stores, antisocial behaviour and footfall remaining in the doldrums, 11pc down on pre-pandemic levels."
Alan Tucker