On Thursday 4th November, exactly 15 years after he survived a Traumatic Brain Injury, Barrie Stradling held a party to celebrate his survival. He was also raising funds for Headway East London who played a big part in his recovery.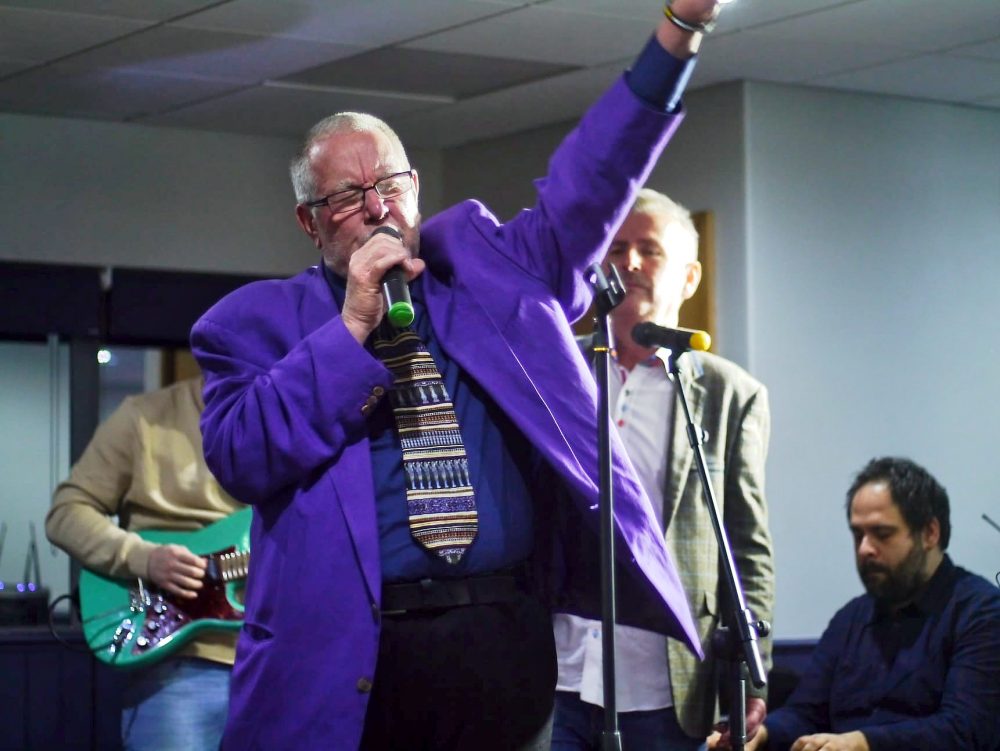 Geezers' member Barrie Stradling tells his story –
"I was given a severe Traumatic Brain Injury when I was run over by a car jumping a red light on the Mile End Road. It happened outside Wetherspoons Half Moon Pub on 4th November 2006. I had just left the pub, I was not drunk and crossed a road that I had crossed a 100 times before unscathed. I crossed with the green man showing for pedestrians, and the red light for vehicles. I was struck by a hit and run driver who did a u-turn and shot off in the opposite direction. I was knocked straight up in the air, received a fractured skull, a sub arachnoid haemorrhage and was left in a grade 3 coma lying on the road. I was in this coma for 6 weeks, it was at the death end of the Glasgow Coma Scale. I spent 17 weeks in 3 different hospitals and had the last rites twice.
"A driver in Whitehorse Lane witnessed the hit and run and called the police. The driver who nearly killed me was arrested that night. He lost his licence for 6 months, was fined £500 and had to do 100 hours Community Service. He'd left me for dead in road. My personal injury case was against his insurance company.
"I survived and came across Headway East London, the brain injury charity in 2007. I have volunteered at Headway for over 13 years now helping fellow brain injury survivors.
"The 4th November 2021 was the 15th anniversary of my surviving this severe incident. As a singer and Millwall supporter I decided to have a live music party, with a buffet. It combined two things I love: performing live music, and Millwall Football Club. Since Headway East London have been a major player in my recovery over the years, I included them as well.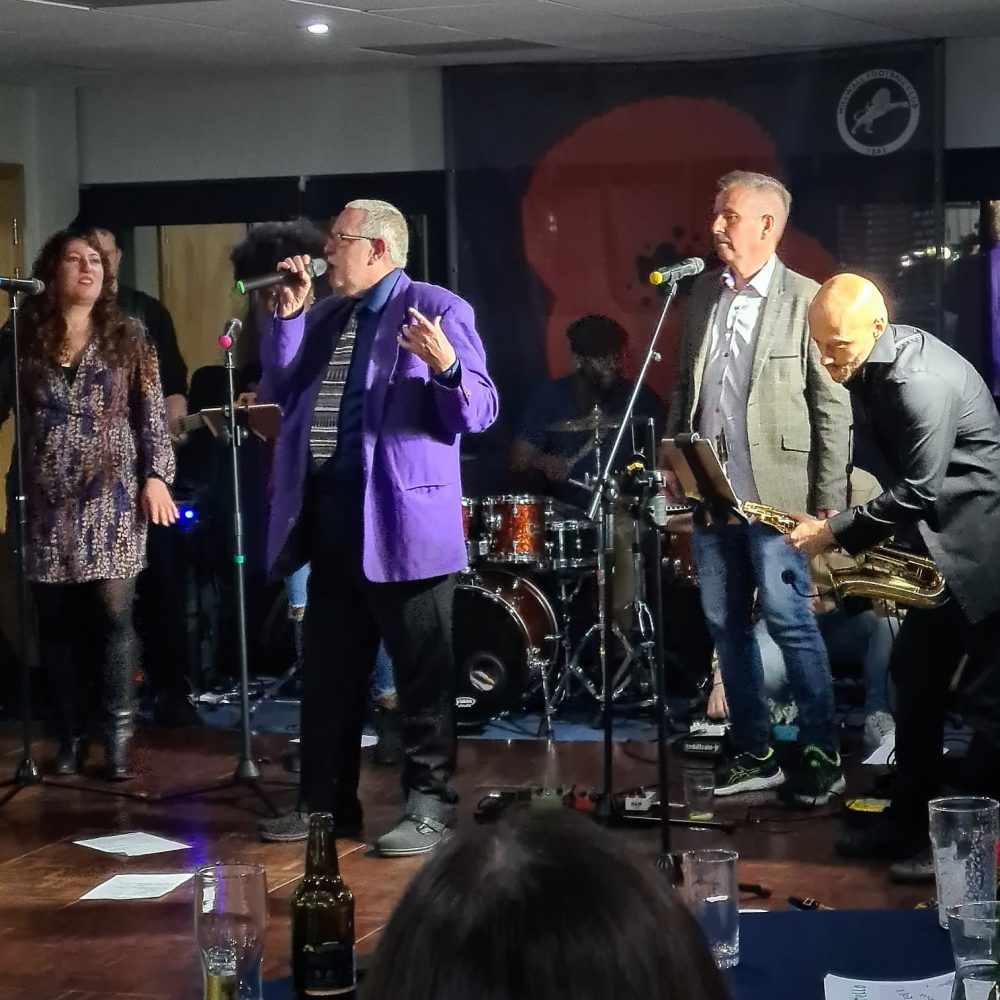 "The party was at Millwall FC Executive Lounge. It was a celebration of my surviving this life-threatening event. As I have been a singer for decades, I did it with a full live band, as you will see from the photographs here. The Geezers members also attended."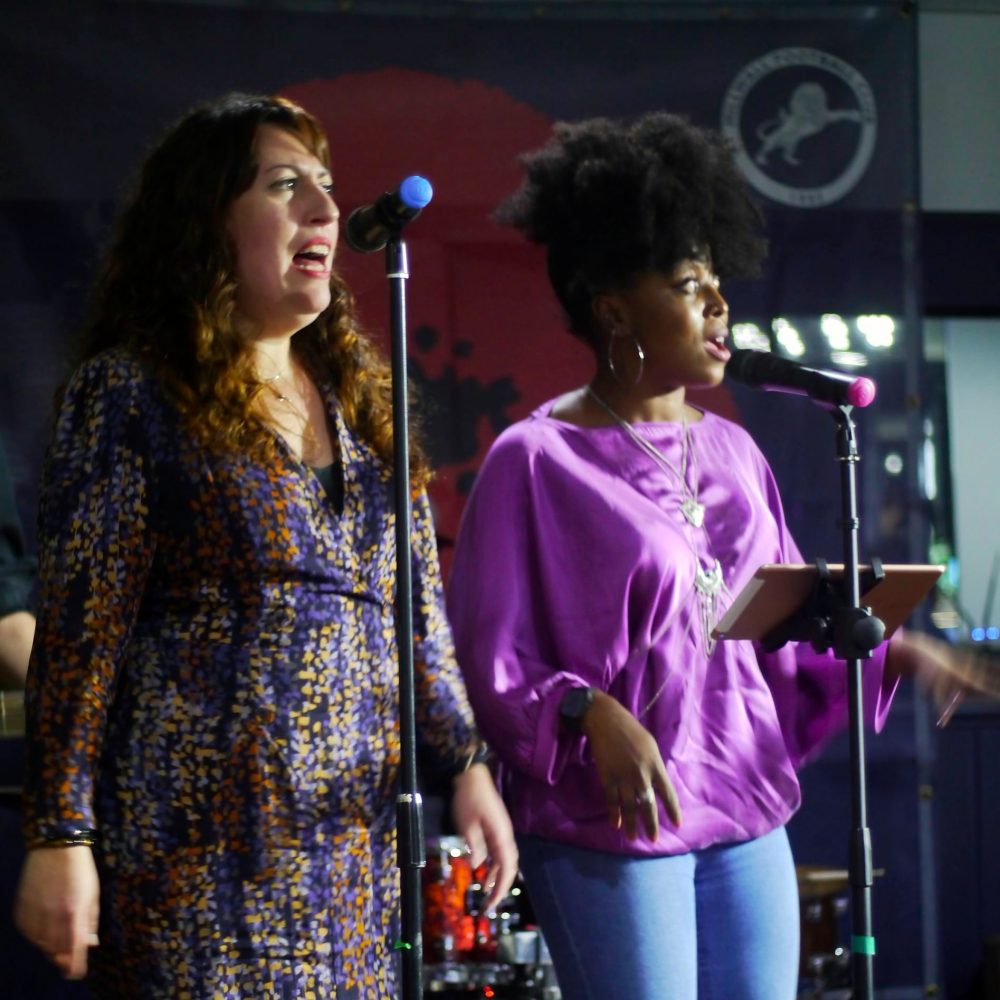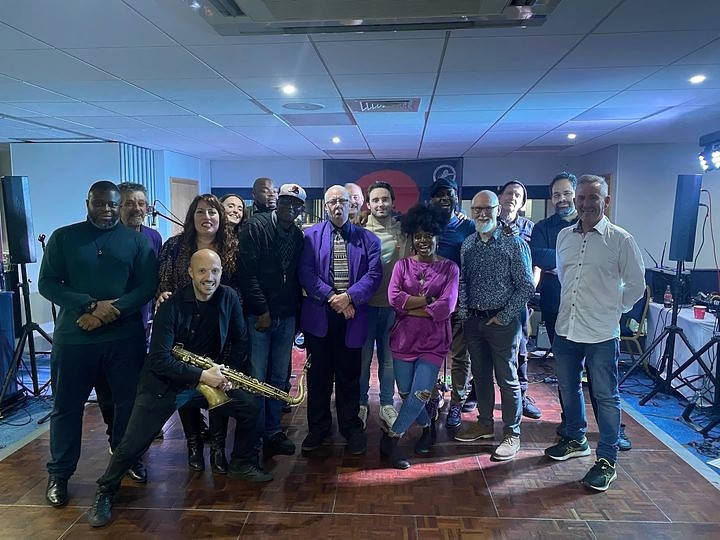 You'll find video of Barrie Stradling singing filmed by Jazzy Ron towards the end of this report.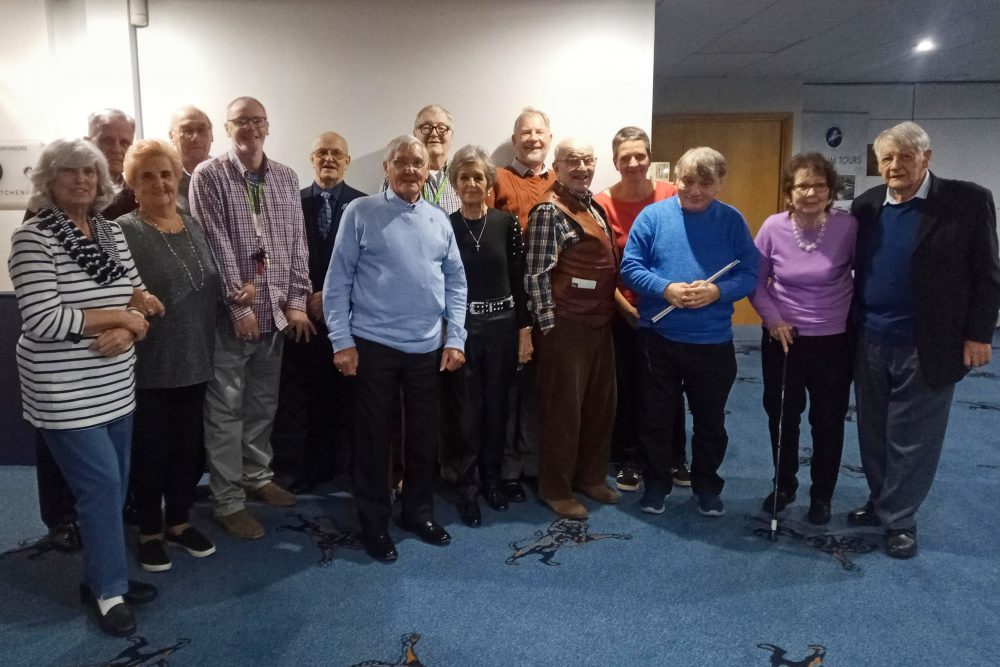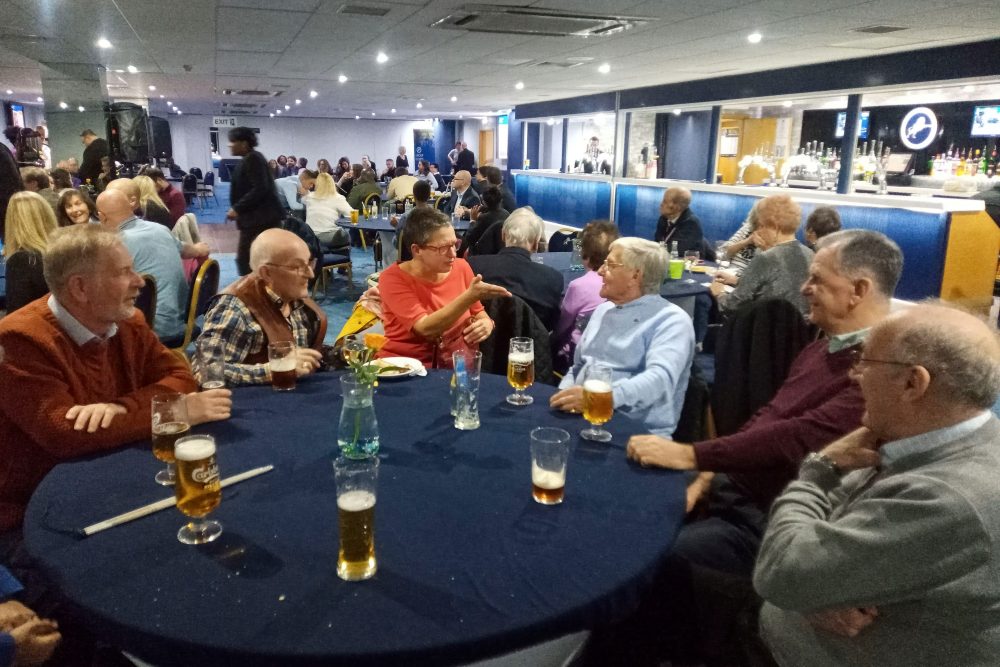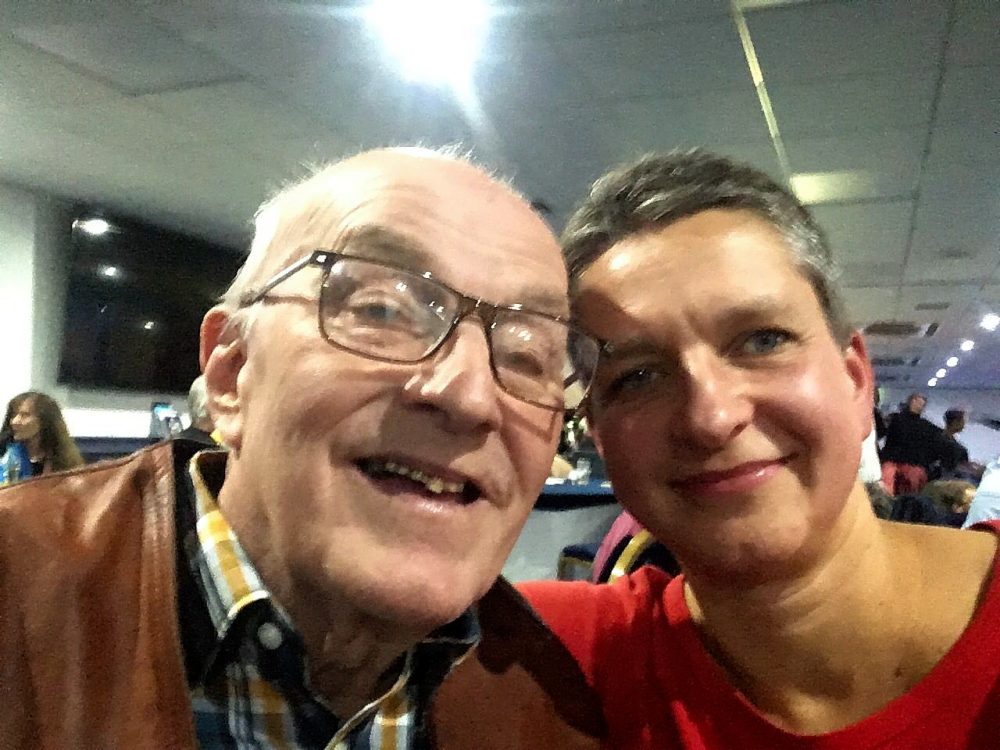 Barrie Stradling says, "For reference, Brain Injury is what we in the brain injured community refer to as a Hidden Disability. In other words people often think if you look okay – you are okay. This is not the case for we brain injury survivors."
Headway's Fundraising & Development Officer, Rosy Ross said: "Barrie chose to fundraise for Headway East London, a charity he has been volunteering at for many years.
"Established in 1998, Headway East London supports 500 adult survivors of brain injury – who we call our members – their families and carers. We provide day services, peer support, social and cultural activities, therapies, 1:1 support in people's homes, health & social care, rehab & advice & advocacy. Our practical and emotional support helps people to navigate their new lives, and we are the only specialist provider in our catchment area of 13 London boroughs."

Laura and Rosy, who work in Headway's Fundraising & Comms department, were there for the night, with a selection of Christmas cards for sale which had been designed by survivors at Headway's art studio. You can support Headway by visiting their online shop. Some Headway day service members, their families, and volunteers also came to Barrie's party. Rosy said "Barrie's friends are a lovely bunch and were very generous with donations – together, we raised £496!"
Barrie Stradling said: "If you can spread the word about such a worthy cause and donate if possible, it will help brain injury survivors enormously."
Andy Porter, the founder of this website said, "I had been working making films, created ourbow.com and fundraising for the Geezers for a number of years when Barrie joined the group. We found out we had a mutual interest in music, and particularly soul music.
"Before his brain injury, Barrie had been the singer in a soul band and he now regularly sang at London jam sessions. He invited me along to a Wednesday night session in the Mau Mau bar in Portobello Road. And from there I never looked back. With Barrie's encouragement I got out my congas and various percussion instruments and started playing regularly every Wednesday, until I became a member of the Move Your Hands house band. Since then I've been playing in jam sessions and at events across London where Barrie often performs his repertoire of soul classics, and can be guaranteed to bring the house down. Everytime! Thanks Barrie. Without you I wouldn't have come out of my percussion closet, and realised a childhood dream. Also proving its never too late, even in your Seventies!"