I'm sure you read that the 1921 census has been released into the public domain. To access the census you register with findmypast.com. You get 14 days free then they charge, so provided you remember to cancel the registration it is free access.
You can search by name or address and are told if there are matches. In order to see the entries you pay £2.30 for a transcript or £3.50 for a copy of the actual return. It's taken a team at Findmypast three years to conserve, digitise and transcribe the 30,000 bound volumes of the 1921 census. They need to recoup their investment.
You can go back and look at the entries as often as you want once you pay and you can download and save or print them
I believe that our house was built in the 1860s. About 30 years ago we went to the Tower Hamlets Archives in Bancroft Road and looked it up in the rate books. Their staff are very helpful. The first occupants were a husband who worked as a butcher, his wife, and their daughter who was a piano teacher. Ten years later the house was occupied by several families of semi-skilled labourers who worked in the rag trade.
At that time the house would have comprised of two rooms downstairs, two above, with a small ground floor kitchen and outside toilet to the rear.
Poplar Council rate books revealed that the house was occupied by the Matthison family for a long period of time before WW2. Sure enough they turn up in the 1921 census.
We paid for two copies of the census return as there were two families living here in 1921. The copy of the actual return is written in old fashioned handwriting using a dip pen. It's worth paying the extra.
George Matthison, who was born in Brighton, lived here with his wife Emily. He was aged 64 and she was 63. George worked as a warehouseman for a fruit brokers in Pudding Lane, Eastcheap. He would have travelled to work on the inexpensive trams which ran along Bow Road. His wife had "home duties" written as her occupation. The couple's son, also named George, his wife Mabel and their one year old son lived in the same house – now my house. I've used details of their census entries here
George Matthison junior, aged 31, worked as a Locomotive Foreman for the North London Railway which had a big works in Devons Road.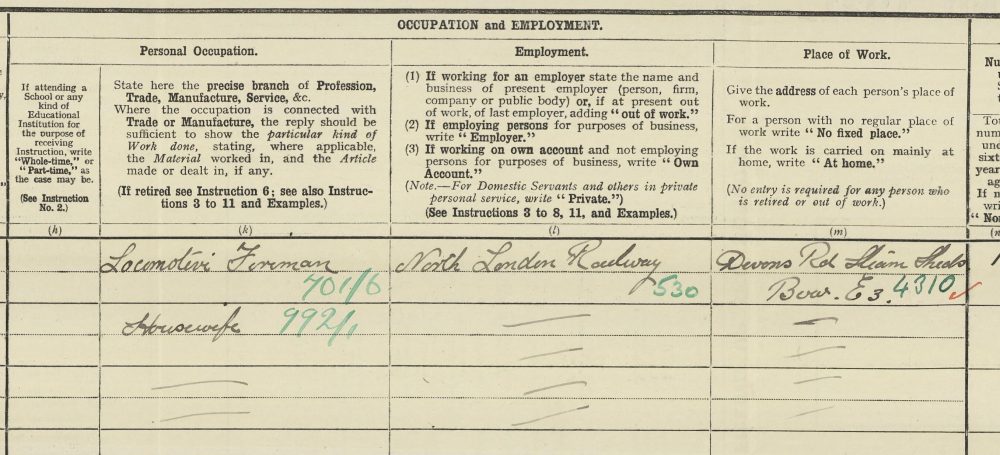 Do you live in Bow, London E3, and know any of the back history of where you live? I'm sure our readers would be interested.
Alan Tucker