No one had the answer to this question when it was raised at last weeks Roman Road Regeneration meeting.
The retail space in the the Spirit of Bow new development in Cardigan Road is still an empty shell.
In late July a spokesman from Tesco replied to a Facebook enquiry from a member of the community:
I understand why you and others in your community would appreciate more information. Having looked further in to this matter, I am very pleased to confirm that the Gladstone Place Metro store on Roman Road is scheduled to open in approximately 3 months time, end October 2014.

Many thanks, I trust this information is helpful.

Kind regards
Joe – Customer Car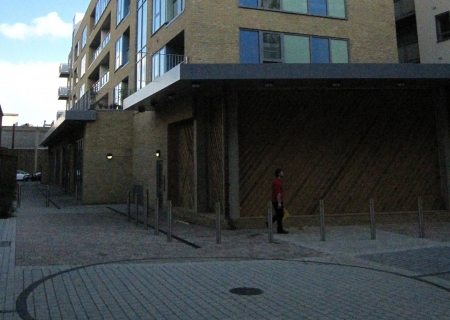 Well its pretty obvious that that's not going to happen.
Speculation has it that the recent financial problems at Tesco's which saw their value of their shares plummet, may mean its never going to happen.
So what can we expect?
The land was sold to the developers by the council, on the understanding that the original Safeways which was demolished to make way for the development, would be replaced by another supermarket.
There is also a question of the £300000 'planning gain'  the developers were to make available to the local community.  What is happening to this money?
The local community, including the new residents in the block, are due an answer to these questions from one or all of the parties involved – Circle Housing who commissioned the development,  Tesco's who were on a promise to deliver,  or the local council who sold the land and granted planning permission.
The community needs to know!
And if its going to lay empty has anyone any ideas of how it could be used?