This week we take a look back at another of the summer's local festivals, with a report from Geezer Barrie Stradling about the Sunday the Geezers and the Bow Belles spent at the Shuffle Festival sharing their experience of growing up in the East End with other festival goers.
Five of the Geezers along with John's wife Bow Belle Bonnie McLaughlin led an open talk and discussion about the East End with both local people and students who were visiting the Shuffle Festival.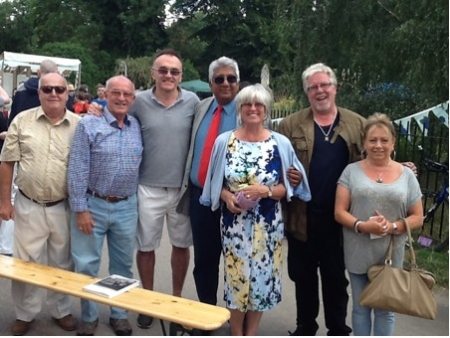 Above are Geezers Members John Bevan, Ray Gipson, Film Director Danny Boyle, Geezer Tony Basra, Bow Belle Bonnie McLaughlin and Geezer Barrie Stradling, with a member of the public.  The photo was taken at the Festival by Geezer John McLaughlin, who is shown in the photograph below with Danny Boyle.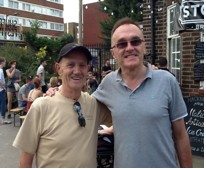 The talk took place on a table outside the Bar and the idea was to make it a relaxed discussion in a beer garden type environment, where the public were able to join us around the table.  We were born and have lived all our lives in East London and we shared our thoughts about what it was like in the early days, how much it has changed, and what we think about the East End now –  is it better or worse?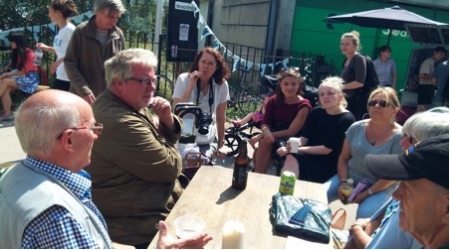 It was a very good discussion that went on for over an hour, and the people who we spoke to were all very interested, involved and attentive to what we were all telling them and were very open to questioning us about what they wanted to find out.  They themselves had only recently started living in the area or were students who had only been in the East End for a short time and therefore only knew how it was now, not how it had been during the Geezers' and the Bow Belles' lives.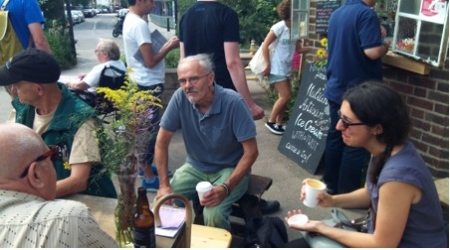 The Shuffle Festival had asked us to be involved as we know the reality of life in the East End.  It was not meant to be our preaching at them but honestly relaying stories about our own lives living in the East End and it worked exactly how we wanted it to be.   We were warmly thanked by all the people who had attended our talk and by The Shuffle Festival Staff as well.  More pictures below.
The festival ran from 30th July to the 3rd August and had a tremendous programme throughout the five days with something for everyone – Music, film, food, talks, and children's entertainment. For the full programme click here
The festival was curated by local hero Danny Boyle who has lived in the area for many years in a property overlooking the Cemetery and St Clements, the latter of which was initially a Workhouse, then an Asylum and then a Mental Institution, before its closure, it is currently being developed in to a Residential area.
To find out about The Shuffle Festival history and its aims click here.