Yesterday I escaped staring at the computer and headed down the DLR to walk round a different neighbourhood. Close to East India DLR I was stopped in my tracks by the machine below.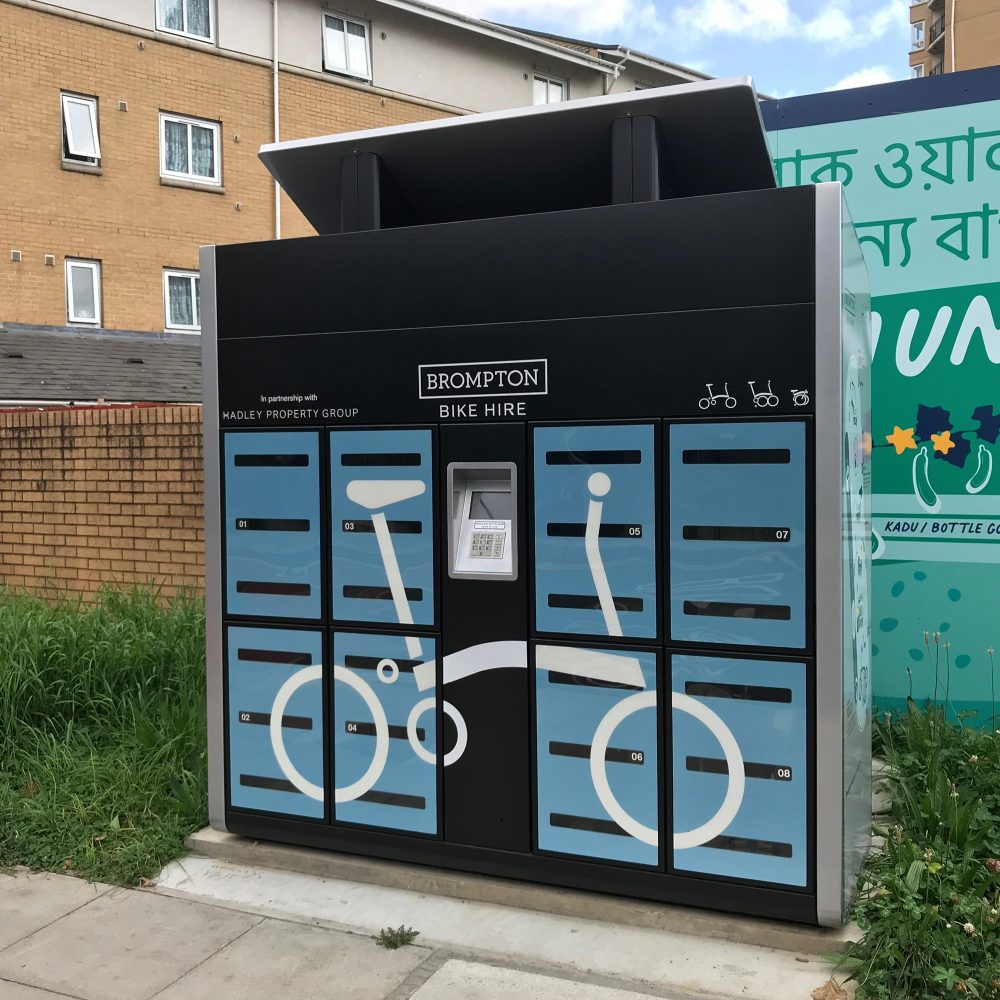 I was amazed. It's a vending machine which dispenses folding bikes which you hire by the day. These bikes are expensive – their cheapest is £850 at Halfords. People who own them think they're great. They fold up small and you can carry them on the tube, up escalators and keep them under your desk at work.
Back home I discovered that Brompton have been doing this for years! The ones in the top photo are about three quarters of the way to Stratford shops from Bow Church. If you walk away north of the High Street down the left of the Travelodge you'll find them.
These bikes are much lighter and more nippy than than the Santander hire bikes. Brompton offer different options for hiring. For occasional use you pay a sign up fee of £5 then £10 per 24 hours. But if you've got a regular use for this you can pay a £20 sign up fee then just £5 per 24 hours to hire. Where it gets interesting is that they've got them in different cities and you can hire and return them anywhere. You would need to reserve your machine locker slots in advance in case you get caught out. You run it all from the mobile app.
If you lived in Birmingham you could take the train to London, pick up a Brompton at Kings Cross and ride it to the office. In the evening you cycle back to Kings Cross take the bike on the train and cycle to your home in Birmingham. In the morning you ride it back to Birmingham New Street station and leave it there. You'll pay £5 for hiring he bike (about 22 hours).
Alan Tucker