The East London Group of Painters grew out of evening classes held in Bethnal Green and Bow in the 1920s. By the early 1930s some of them were good enough to be featured in the "You can be sure of Shell" series of posters designed to encourage people to explore England by car.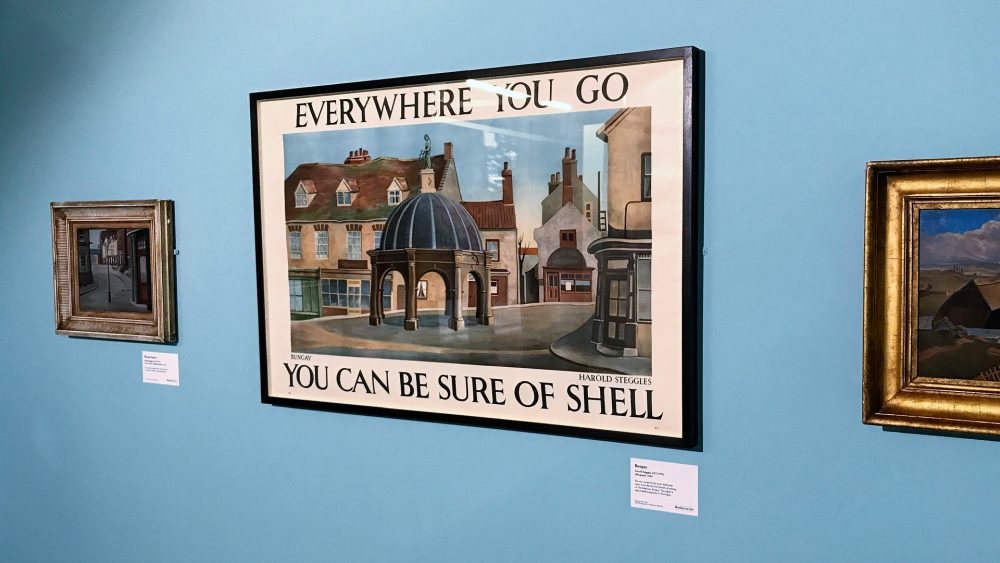 Yesterday I went down to the Beecroft Art Gallery, just north of Southend Victoria Station to see the new exhibition: Brothers in Art: Walter & Harold Steggles and the East London Group. It's free and on until 8th Jan 2022, open Weds – Sun 11am – 5pm.
This is a big exhibition occupying the ground floor of the art gallery, and well worth a visit. You'll find paintings of Bow mixed with landscapes from Essex, Kent and Suffolk. Half of the exhibition features paintings by brothers Harold and Walter Steggles. They were prolific painters. Harold Steggles started work at a firm of solicitors at age 14. In 1925 he and his brother Walter started art evening classes at the Bethnal Green Men's Institute in Wolverley Street – now opposite McDonald's.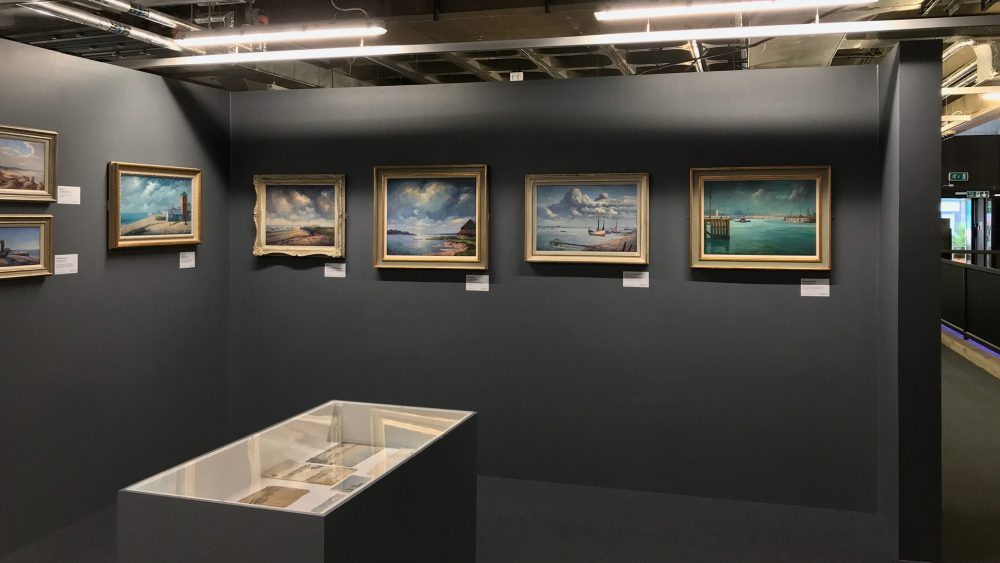 The other half of the exhibition features lots of paintings by other members of the group. They seemed to have worked by making watercolour sketches on the spot, then squaring them up to create oil paintings at home. My photo above shows Walter Steggles sketches in the box in front of his finished paintings.
Albert Turpin (1900-1964) was born in Bethnal Green. He became a window cleaner after serving in WW1 and organised his round so he could paint pictures in the afternoons. In 1945 he was elected Mayor of Bethnal Green, and continued to clean windows and paint.
Grace Oscroft was born above her father's ironmongers' shop at 212 Bow Road, which was to the south of the church. She studied painting at the Bow and Bromley Evening Institute which used to be on the north side of Bow Road opposite Bow Church DLR station. Another of the "You can be sure of Shell" posters in the exhibition is by her. She painted a lot of scenes of Bow.
I can't recommend this exhibition enough. We went to Southend Central by taking the District Line to West Ham. There are fast trains via Upminster. Once you're on a train the whole journey to and from Bow Road takes about an hour. If you buy (cheaper) mainline tickets in advance be warned that you can't collect them at West Ham!
The art gallery is in Victoria Avenue, and when you're done you can head to the pier via the shops, and walk along the seafront. We got back on the train at Westcliff and had a great day out.
Alan Tucker