Photo – see Winter nights and civil rights! below.
Women's Pro-Wrestling Bethnal Green Sat 8th Dec
See the show everyone has been talking about on Saturday 8th December at Resistance Gallery, 265 Poyser St, Bethnal Green. Doors open 7.15pm.
PhotoForum talk Tues 11th Dec
This free talk, aimed at photographers, is about the photo-essay. Speakers,Olivia Harris and Neil Hall, met when they were both shooting news for Reuters in London. Olivia Harris has covered stories including the Olympic Games, the Rohingya refugee crisis, the Nepalese earthquake and elections in Myanmar and Taiwan. Neil Hall is currently staff photographer for the European Press Photo Agency. The free talk starts at 7.30pm on Tues 11th Dec at Theprintspace, 74 Kingsland Road, London E2 8DL.  Please RSVP on Facebook.
Winter nights and civil rights!
An evening of suffragette celebrations
 Friday 14th December 
18:00 – 21:00 at Four Corners, Globe Town. Admission free.
On 14th December 1918, 8.4 million British women voted in a general election for the very first time. Join the celebrations 100 years on from this historic moment and  champion inspirational women today.
Seasonal drinks, ballot box voting and music at the evening opening of Four Corners current exhibition, East End Suffragettes: the photographs of Norah Smyth. Book your free place here
Festive Day for Children in Victoria Park 15th Dec
See poster below. The V&A building is by the children's play area on the west side of the park beside Grove Road.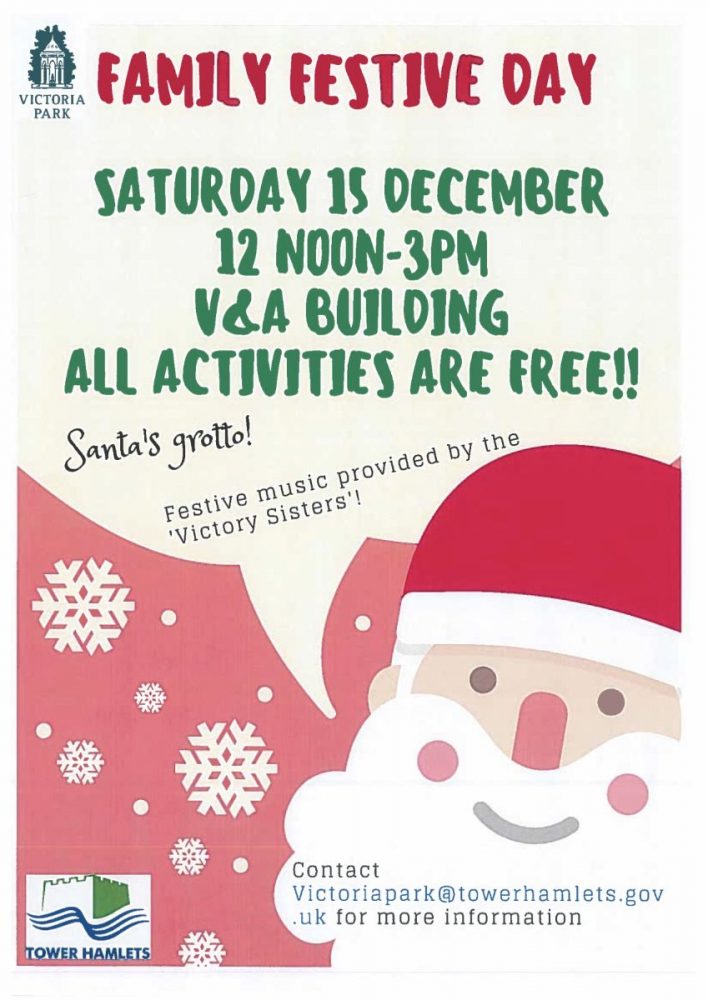 Tea Dance at York Hall 18th December 12-3pm entrance £3.50.