Artists Cecilie Gravesen on her collaboration with the Bow Geezers, and photographer Robin Stein:
On a cold day at the end of November I had the pleasure of working with four spirited Bow Geezers who took part in an artwork that I am producing at the grade 1 listed House Mill in Bromley-by-Bow. As a visual artist I work in different media, film, photography, installation and sound, and over the coming months I am doing an artist residency at the mill, where I produce artwork in response to the building.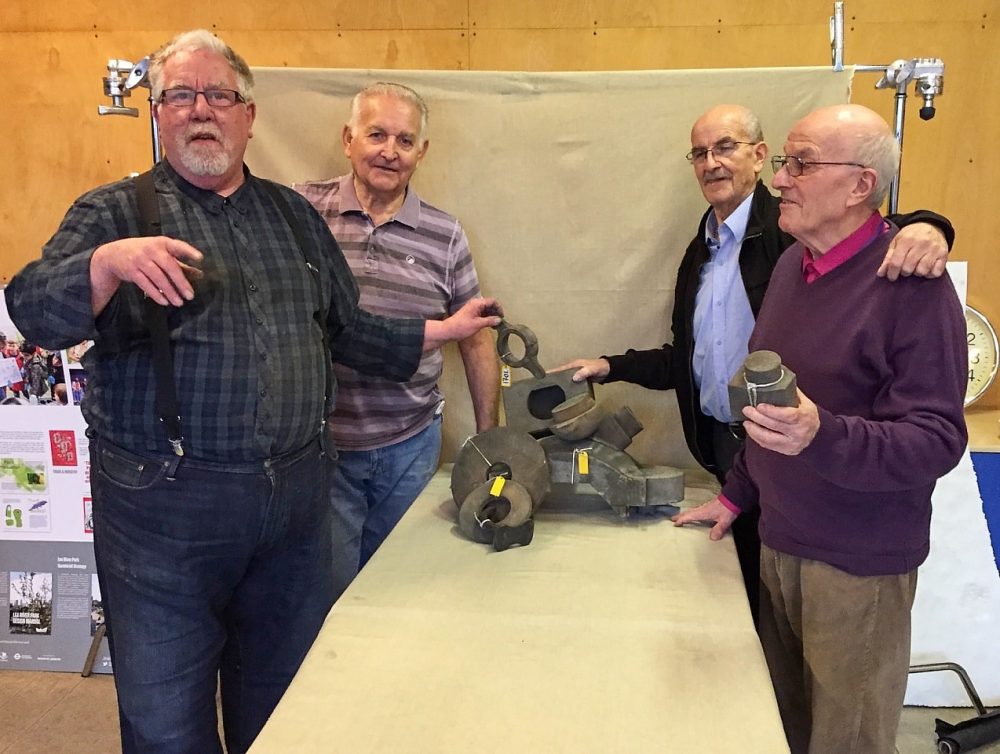 Photo by Cecilie Gravesen and Robin Stein
On this day, the Bow Geezers had kindly agreed to act as models for a photo shoot that I was doing in collaboration with American photographer Robin Stein. My idea here was to shed light on the 'hidden' collection of more than three thousand wonderful timber patterns for casting that are kept in an unfrequented room at the mill. The building operated as a tidal mill until 1941 (at various times producing flour and gin), and the wooden patterns acted as a 'ghost print' providing a model of every single steel part of the various machines, so that if any of the working parts were to break, a one could easily be cast. The House Mill Trust is keen to display the patterns to the general public, but for financial reasons and for issues of health and safety this unfortunately remains a dream.
To an artist eye, the patterns are graceful sculptural objects in their own right, with marks and layers of dust adding to their attractiveness. I was interested to see these objects 'escape' the mill and become part of the general consciousness of people in the surrounding area, so I decided to set up a photo studio where they could be photographed in the hands of people who currently work, or have previously worked, in the local area. In addition to the Bow Geezers and local residents, I had workers from the Tesco Superstore and the 3 Mills Film studios generously agreeing to take part.
Photographer Robin Stein, whom I am collaborating with on this project, is interested in industrial landscape, and is also specialised in accessory photography for fashion, which means that he is brilliant at working with hands and objects. We had made a large pre-selection of patterns, and had a group of conservators from University College London help us ensure that they were laid out sensitively. The Bow Geezers chose objects from our long table that they found interesting or intriguing, and then we spent time together taking photographs of their hands, individually and as a group, holding the patterns and stacking them in new combinations.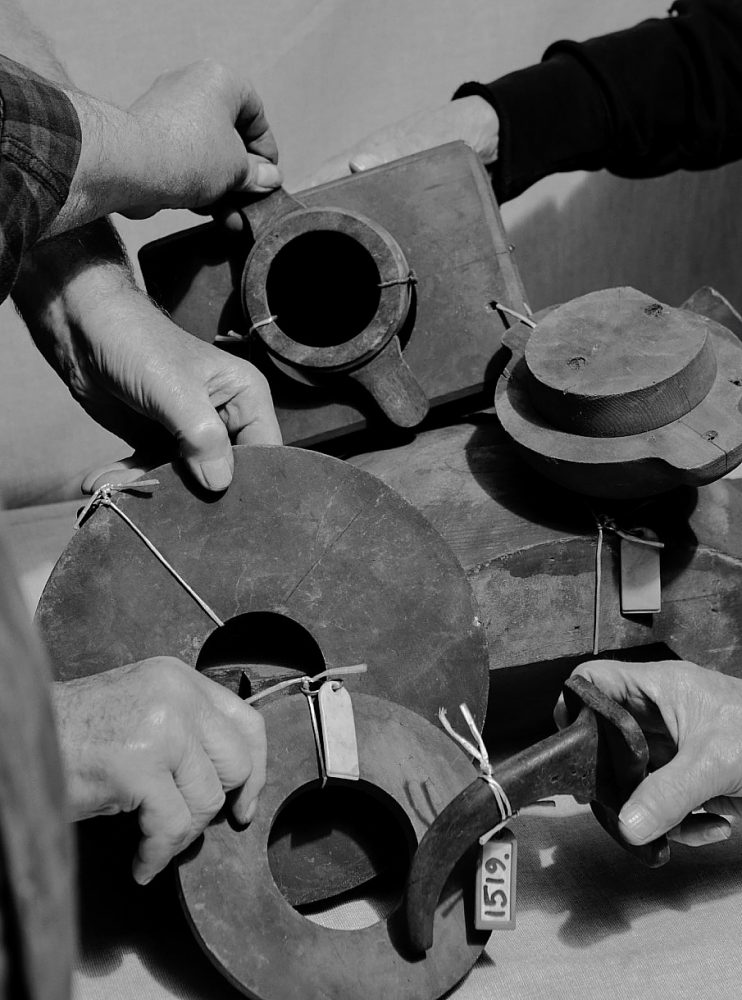 Photo by Cecilie Gravesen and Robin Stein
It is great to get a chance to really investigate these fascinating objects, and what is more, they work brilliantly as conversation pieces. So whilst the Bow Geezers were putting all their energy in to the modelling job, we managed to have some great conversations about their own stories and connections with the area, which I recorded for a future sound montage about the mill.
Robin and I were immensely grateful to the Geezers for spending part of their afternoon with us, and I hope the experience of gaining 'secret' access to a hidden part of East London's heritage was worth their while. At the time of writing, the final format of the pictures hasn't been determined, but they will be printed and will work their way back into the community in ways that will hopefully be surprising. Watch this space!
– Cecilie Gravesen
Cecilie Gravesen's artist residency is hosted by a research project named Curating the City, where heritage professionals from University College London, Department for Archaeology and UCL Urban Laboratory, as well as University of Gothenburg, Centre for Critical Heritage Studies some together to think about how heritage sites can be used.
More info on Cecilie Gravesen