The Geezers visited the Shepherd Neame brewery in Kent on Thursday  4th May.
We took high-speed trains from Stratford International which took an hour to get to Faversham. The brewery was about a 10 minute walk from the station.
Eddie Snooks had booked us on a brewery tour led by Glyn Williams who gave us an all-encompassing overview of brewing in Faversham.
Glyn told us that, as everywhere, it was the monks in the now ruined abbey who started brewing beer here nearly 900 years ago! The abbey was destroyed in 1538 under King Henry VIII. He sold off their land to fund various wars.
The monks took water from a 90 foot deep well which is still used by Shepherd Neame. The water is naturally filtered through chalk, and is perfect for brewing ales.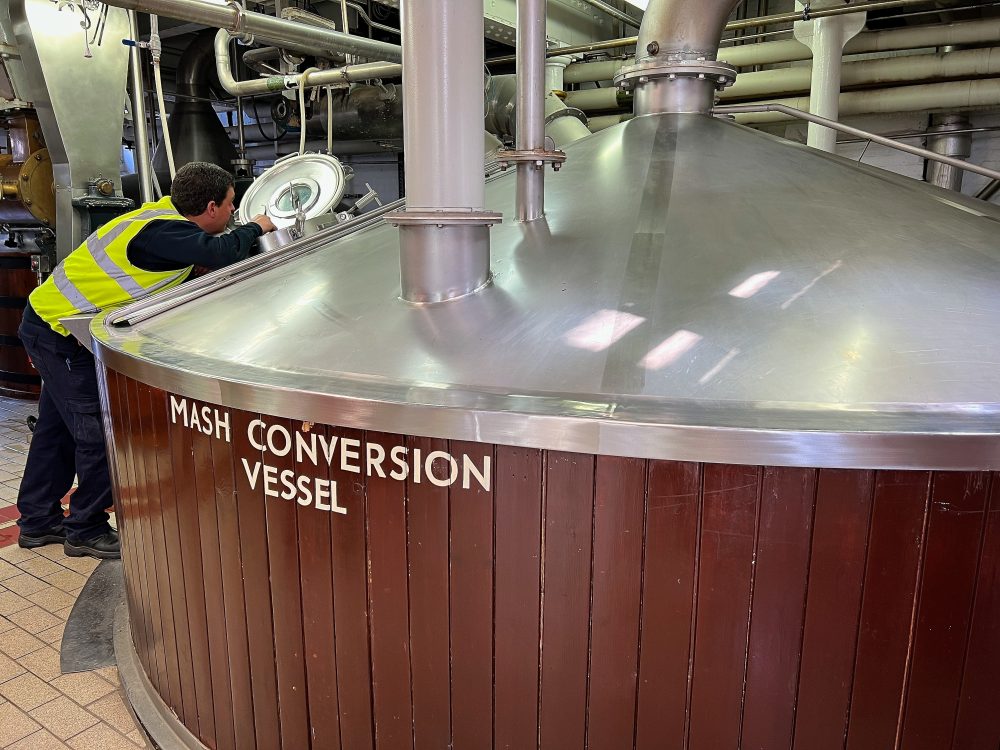 We were kitted out in high-vis jackets and led into the brewery by Glyn, first to see the Mash Tuns. Glyn told us that there were 63,000 pints of wort lager in one of them!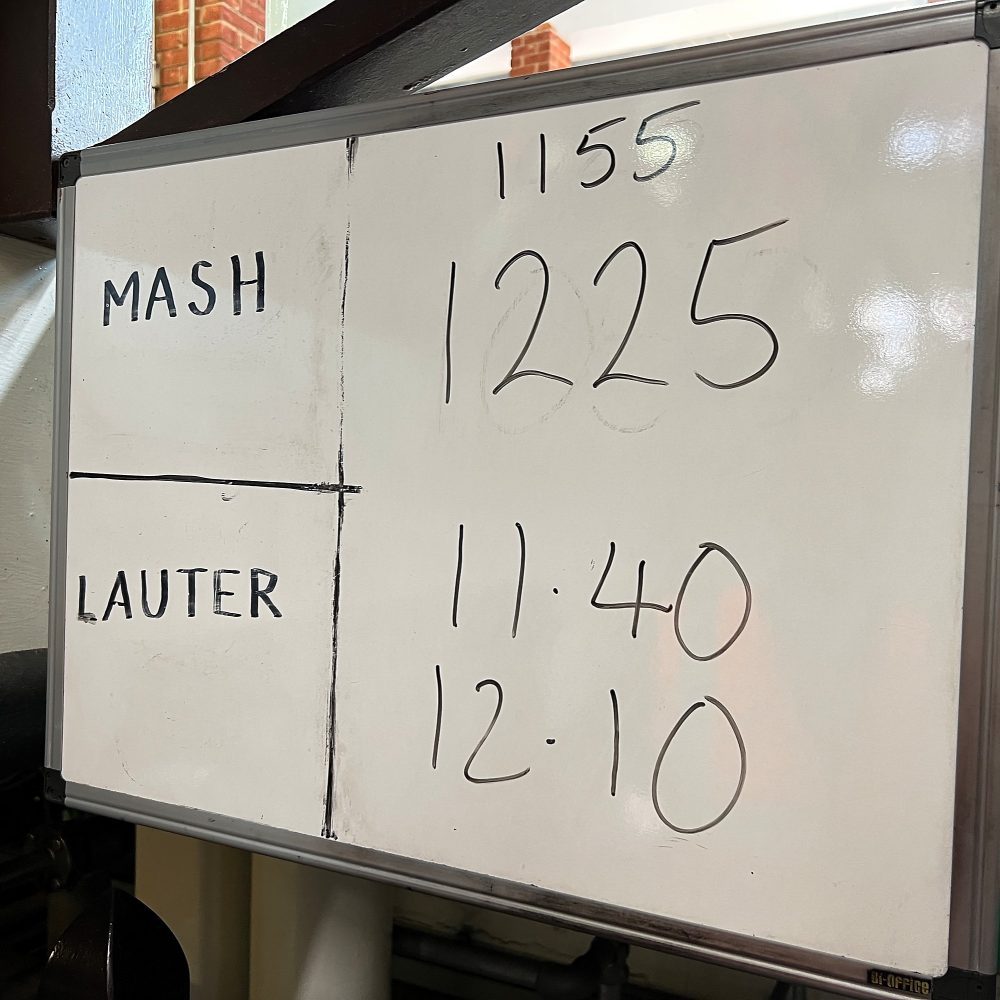 Glyn showed us samples of the different malts and grains used to brew different beers. A combination of pale barley and crystal malt goes into Whitstable Bay pale ale.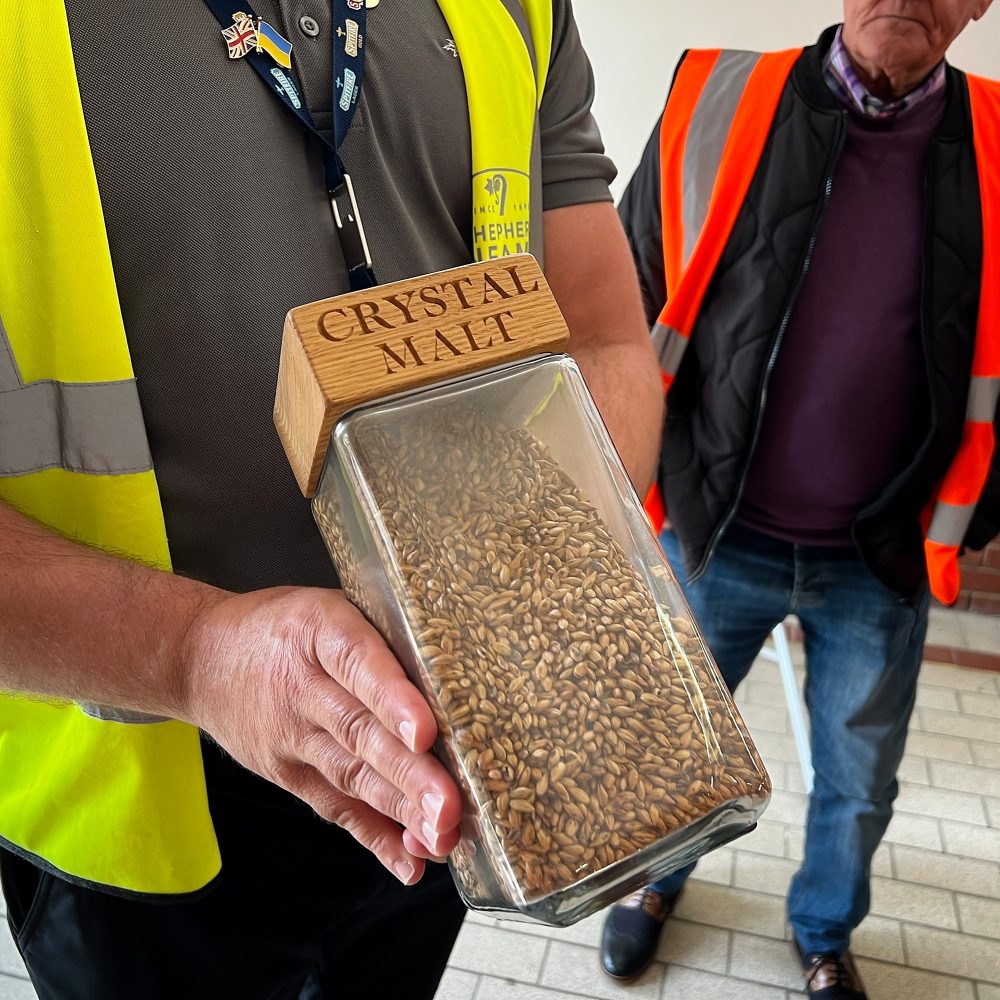 In the mash tuns hot water is mixed with the grains and starches are converted by natural enzymes to created a sugar rich liquid. The solids are drained off and sent to local farms as animal feed.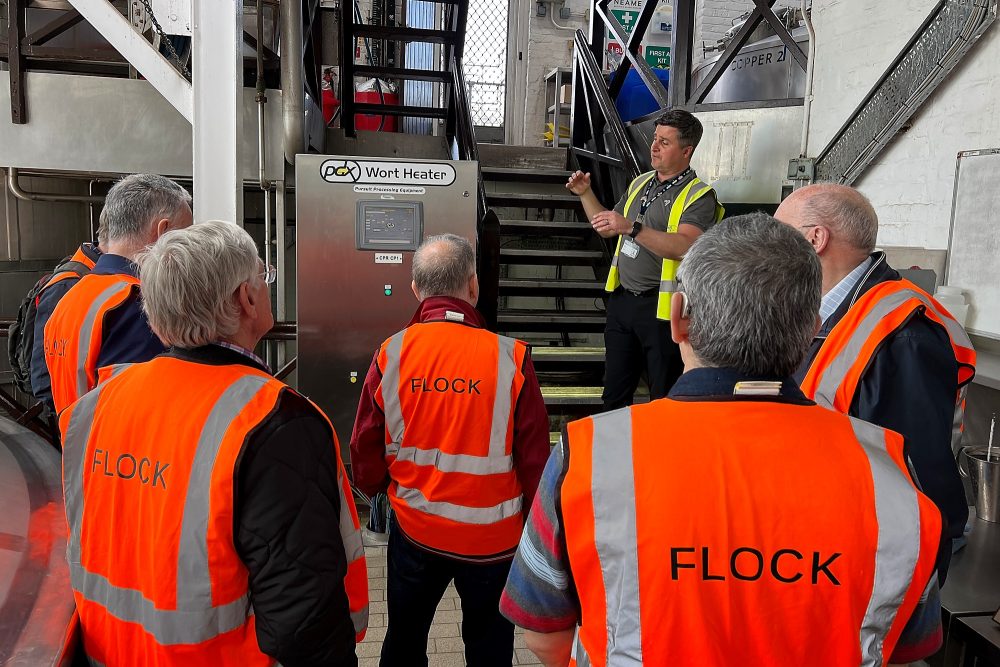 Hops are added to the sugar rich liquid which is heated by steam in a lauter tun. Boiling sterilises the wort, and hops are added to provide flavour. 80% of the hops are grown locally in Kent. After the liquid has cooled it is moved to the fermentation vessels where yeast is added. Each brewery maintains and preserves their own special yeasts.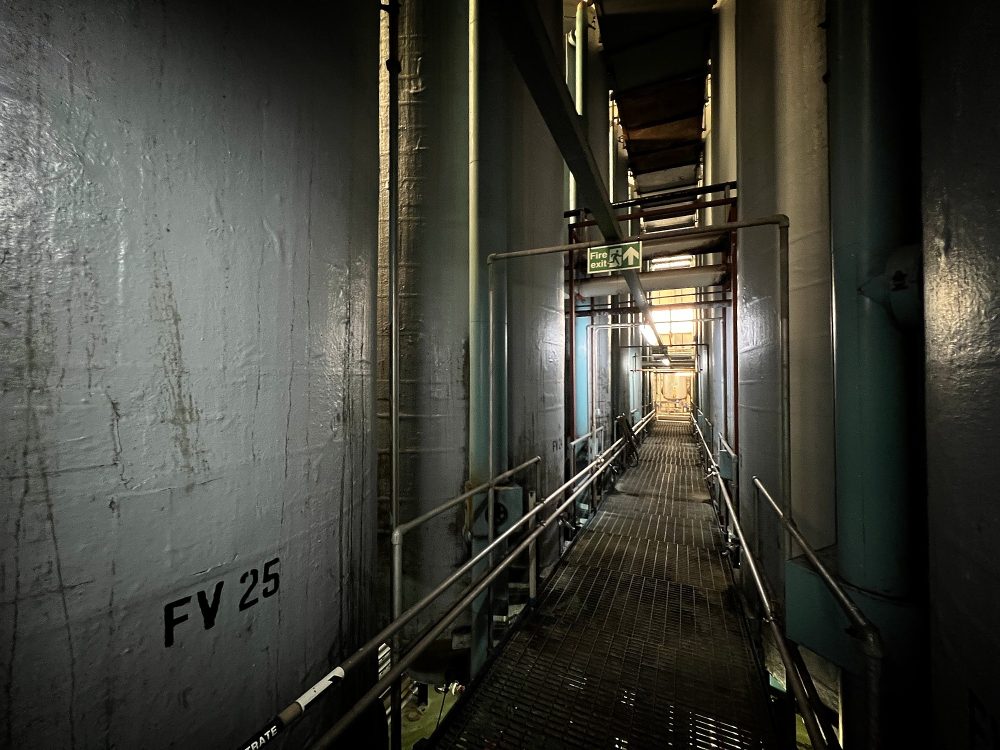 Shepherd Neame has 58 fermentation vessels, holding 3-4 million pints of beer at any one time. I had thought we were visiting a small brewery, but was soon put straight. Their new automated bottling plant bottles 600 beers a minute.
Shepherd Neame is still a family run business and was founded officially in 1698, but has origins going back to 1570.
Their beers include 1698, Bishops Finger, Dragonfire, Master Brew Kentish Ale, Spitfire, and Whitstable Bay pale ale. Over the last weekend they added Coronation English Ale. They also make lots of lagers.
Dragonfire references that Shepherd Neame were the second brewery anywhere in the world to use steam power. In 1789 they installed steam engines made by Matthew Boulton and James Watt.
Spitfire Amber Kentish Ale was brewed in 1990 to commemorate the 50th anniversary of the Battle of Britain which was fought in the skies over Kent in 1940. It proved so popular that they're still making it in huge quantities.
The Brewery is licensed to hold Civil Ceremonies, and I was fascinated to discover that it can create bottles of personalised Wedding Ale to the customers choice of flavour.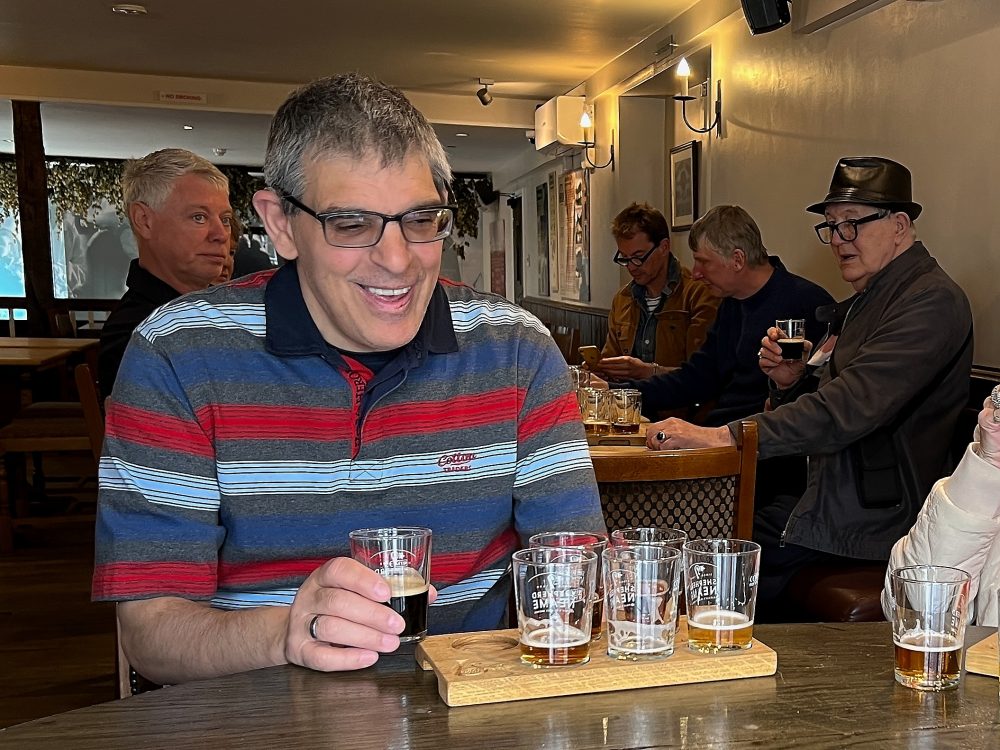 Our brewery tour ended with a guided beer tasting session. We then split into different groups and went on a pub crawl around Faversham. As a precaution we counted people onto the train at Faversham and off the train at Stratford!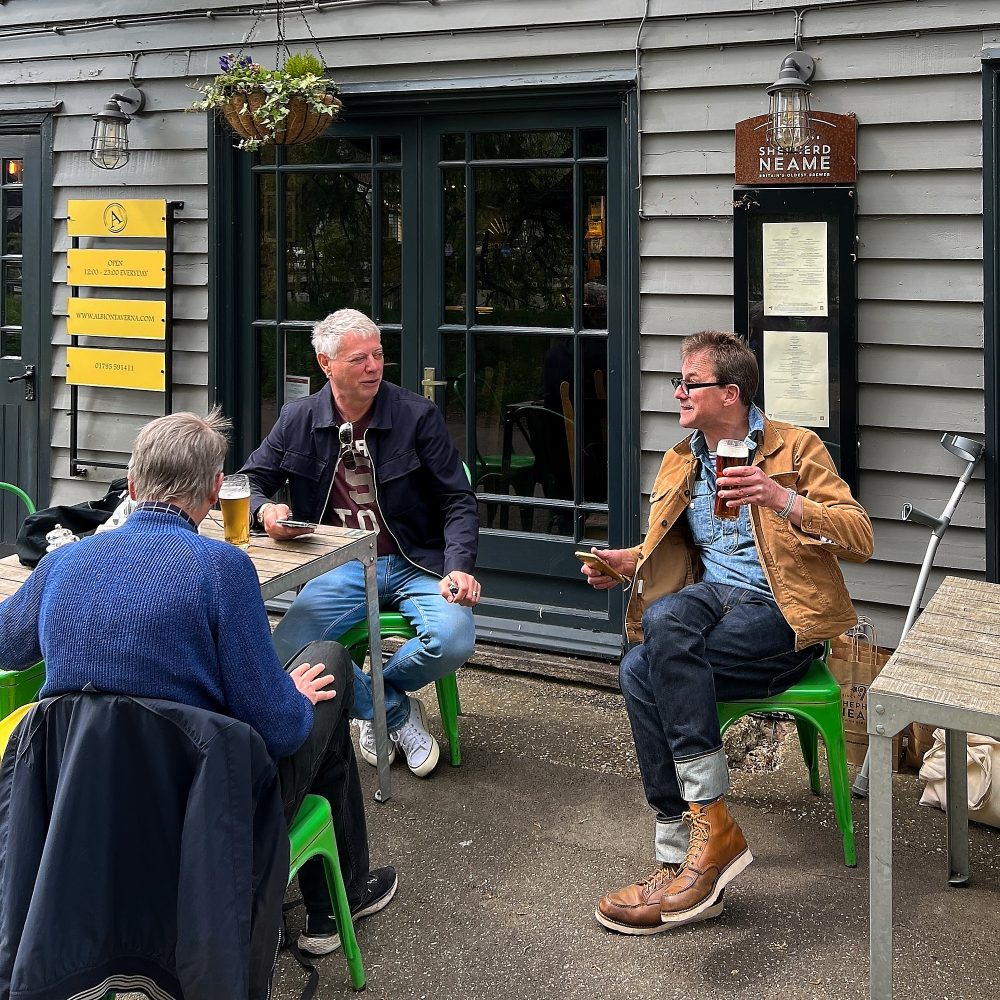 We had a wonderful day out and can thoroughly recommend the brewery tours at Shepherd Neame, and the various delightful pubs in Faversham.
Alan Tucker