Dave Hime is  Victoria Park's  Community Development Officer.  He's getting out his water wings again this year to jump into the pool at Mile End Leisure Centre and swim 5K to raise money for Sport Relief.

Support Dave and raise money for Sport Relief  by clicking here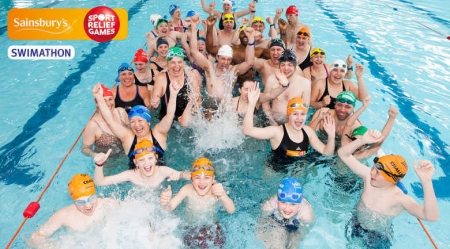 You too can raise money for Sport relief and keep fit by entering the Swimathon  on Friday 12st – Sunday 23rd March at a swimming pool near you.
Swimmers in Tower Hamlets can take the plunge at Mile End Park, Tiller, St Georges and York Hall Leisure Centres.
To find out more, sign up and get swimming and sponsorship tips click here for the Swimathon website.
The Swimathon is the UK's biggest fundraising swimming event with thousands of people jumping into pools around the country. You can choose from 1.5k, 2.5k or 5k individual distances.  For those who prefer a team challenge, you could also form a relay squad to tackle the 1.5k and 5k distances with your water-loving friends and lap up the glory. Alternatively, if you are unable to take part in one of the 600 Swimathon pools, try SimplySwim, which lets you choose your distance and complete your challenge at any pool.