Last Monday 12 Year 5 students from Old Ford Primary School joined the Geezers and The Bow Belles at their afternoon session at the Tredegar Centre to play indoor carpet bowls.  And the students really bowled them over with their friendliness and intelligence.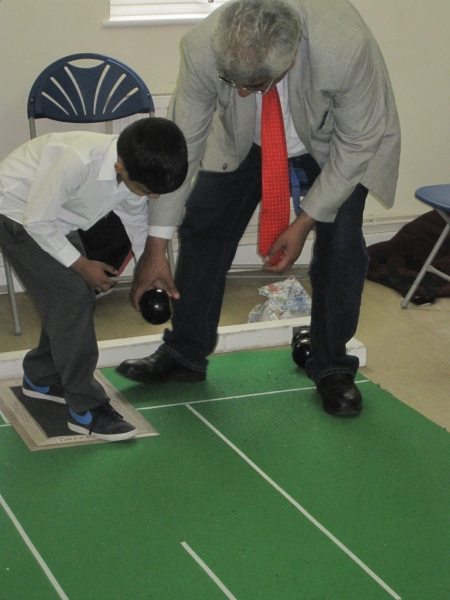 Tony Basra from the Geezers shows how to release the bowl.
The day was part of the Geezers and Bow Belles ongoing commitment to intergenerational work.  In the morning  6 students divided up into two camera teams to learn basic film making skills, before going on to interview members of the Geezers and Bow Bells about their memories of School.  They then took the elders on an enlightening and interesting tour of the School.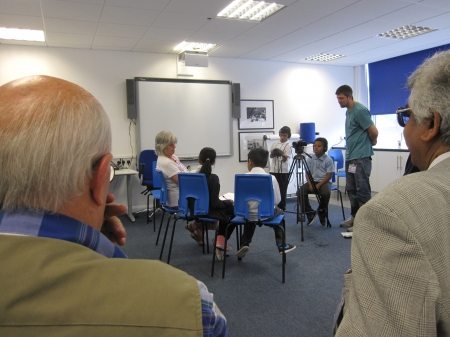 Two of the Geezers watch on as Year 5's interview Bonnie from the Bow Belles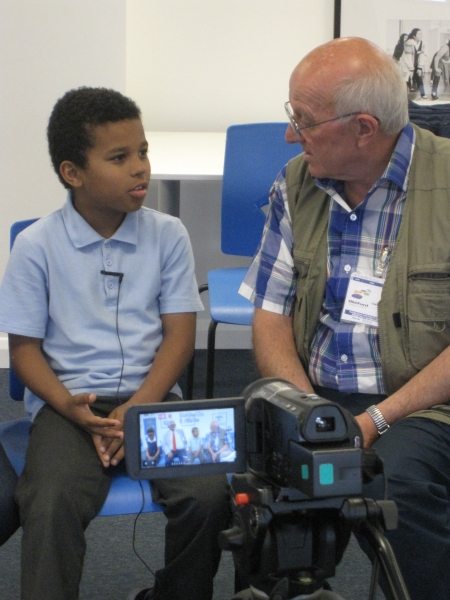 Interviewing Geezer Ray Gipson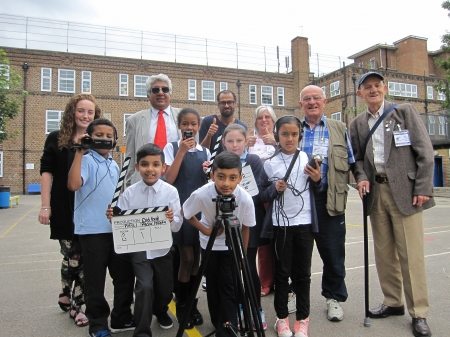 The film crews pose for photo opportunity after the morning session
In the afternoon they filmed the Bowls session.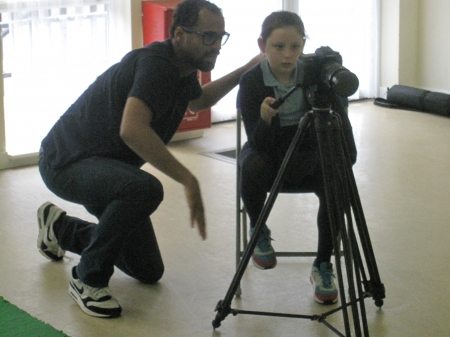 Film Maker Lee McKarkiel helps student  shoot the bowling
The material is being edited into a film which we will screen at the school and then on OurBow.  Watch this Space!
Ray Gipson who co-ordinates The Geezers explains why he thinks intergenerational work is important:  'Older people often see groups of young people hanging about on the street and are frightened by them.  And younger people often think that the old people don't like them.  What we try to do is to create situations where the two groups can spend time together and get to know each other better.'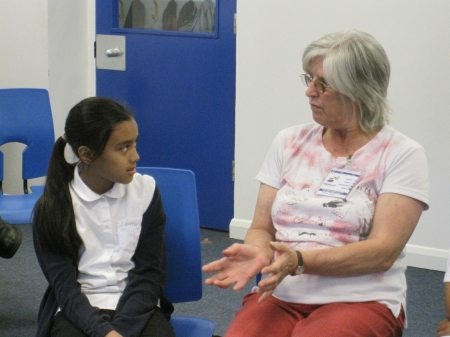 In conversation with Bow Belle Bonnie McClaughlin
A previous film  Bow: Then and Now  made with boys from Bow School won an iCoCo  (Institute of Community Cohesion) Award.
The Geezers would like to thank Old Ford School, and in particular Kevin ( Principal Designate) Katie (Teacher) and Josie (Teaching Assistant) for inviting us into the school and giving us their support.