Talk at Nunnery Gallery
On Thurs 14th March The Gentle Author is giving an illustrated talk on the work of East End painter Dorothy Rendell (1924 – 2018). It's at The Nunnery Gallery, 181 Bow Road, London, E3 2SJ from 6 – 9pm. Tickets are £3-£5 – which you can book here.
Concert of choral music in the Art Pavilion, Mile End Park
This is a free concert on Thurs 21st March 7.30-8.30pm. It will be followed by a glass of wine. See the poster below.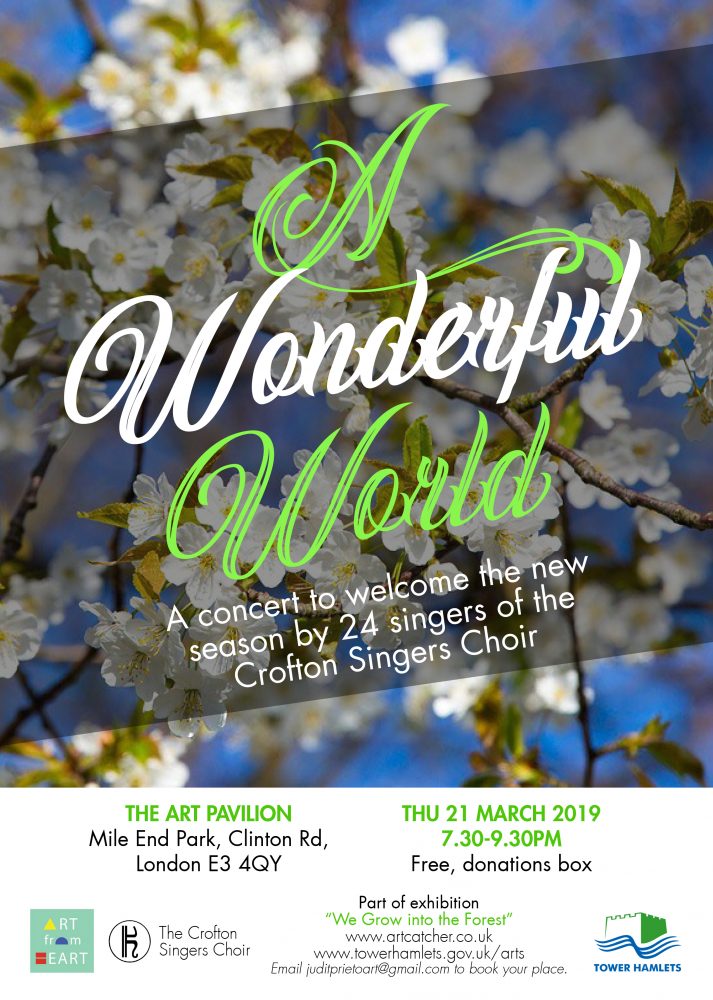 The Bootleg Beatles
The Cliffs Pavilion at Westcliff opened way back in 1964. I remember being taken there by my parents to see some impressive shows when it was brand new. I took the top photo here from the Cliffs Pavilion a while ago on an old swing-lens panoramic camera. More recently The Geezers have see some great shows there, and are on their mailing list. It's about a 7 min walk from Westcliff Station.
On Tues 26 March at 8pm they have a performance by The Bootleg Beatles. The show traces the Fab Four's journey through the swinging 60s in meticulous detail. Expect replica costumes, authentic period instruments, and the witty "Scouse" banter. They've had some great reviews: The Times said they were entirely convincing. Book tickets here.
Tree planting Victoria Park
There's a tree planting event on Sat 30th March. To find out more, or even volunteer visit Trees for Cities.
Get funding to set up your east London social enterprise
Bromley By Bow Centre are running their Beyond Business programme. Do you have a great idea for a new social enterprise but need funding to set it up? Our Beyond Business programme in partnership with Investec, offers start-up funding for new or emerging social enterprises across Tower Hamlets, Hackney and Newham. Express your interest by 26 April.