Only 4% of people in Tower Hamlets travel by bicycle on 5 or more days a week. Most of them are well off young white men under 35. (Source page 8 Bike Life document. Beware of all the assumptions, could's and would's).
Tower Hamlets aims to make Tower Hamlets the most cycle-friendly borough in London. But they consulted with the cycling lobby before residents.
Residents have other priorities and needs.
91% of residents from poorer socio-economic groups in the borough never cycle and a third of them consider cycling is simply "not for people like me".
While safety is a concern for people who don't currently cycle there are a lot of other reasons they prefer to walk or use public transport – lack of cycle storage facilities, need to carry children, poor weather, living too far away. Only 29% of residents even have access to an adult bicycle.
Women cycle less often than men. Research shows their journeys are more likely to involve 'trip-chaining' (multi-stop journeys) which tend to be for a balance of child care, work and household responsibilities.
Closing a few streets in Bow is not going change these issues, but its all OK because the 12,000 (mostly fit young men) will be able to cycle faster (that's out of the 317,700 population of Tower Hamlets).
The mantra for Labour at the last election was "for the many, not the few". This has been turned on its head in Tower Hamlets. It's no wonder the Liveable Streets consultation has provoked strong reaction.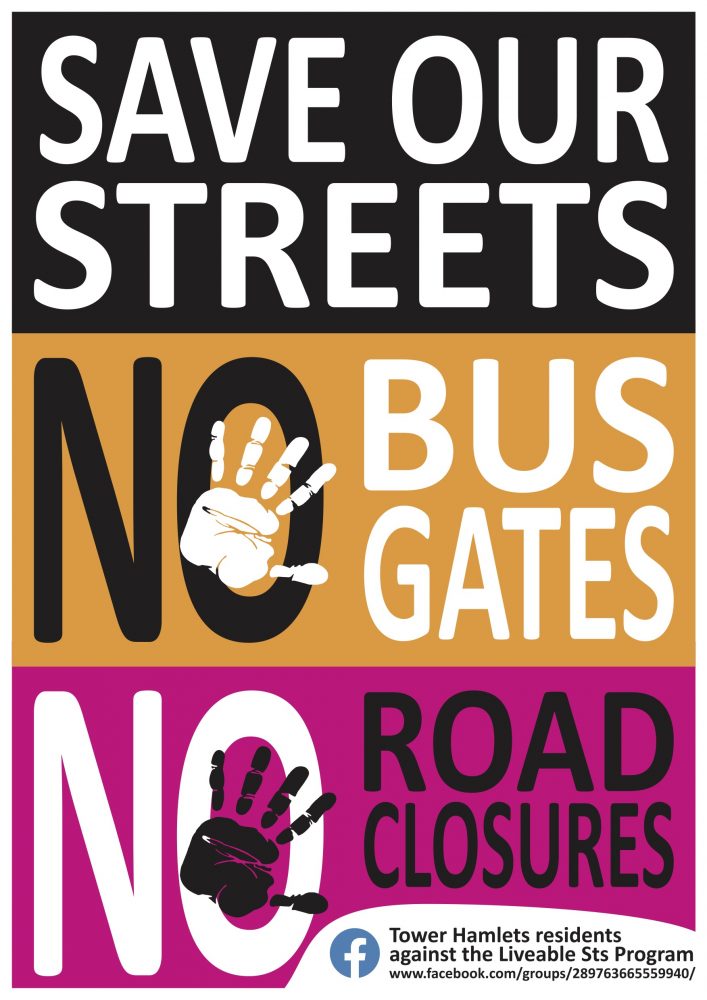 Car ownership in Tower Hamlets is already the third lowest of the London boroughs, but still 30% of people in Tower Hamlets use their car or van to go to work. The disabled use cars and taxis more often than the rest of us. Young mums drop children off at school, social activities or sports, mostly short distances. Shop keepers need to get deliveries, their customers need to reach them.
The people who lobby for road restrictions think the rest of us can just walk more, or accept that car trips will take longer in future. Just suck it up – it's good for you.
No impact assessment was carried out before the consultation was started. No one knows what effect the proposed changes will have. However Ace Cars already report that some journeys are taking 5 times longer due to the closure of Old Ford Road.
John Biggs said he would respect the need for "residents to "use their cars for work, for family". Its time for him to show he represents everyone in Tower Hamlets.
Article and research by Bow resident, Sheila Kelly.
---
Since this article was published one of the Geezers has been ringing around the membership to check their current thoughts on the Liveable Streets proposals. He's given me some details, but his last line was: "Basically they all hate it!…"