Wapping Bus Gate
Last Sunday I cycled across to the Wapping Bus Gate to see what it looked like. Since I was expecting to find a new area of red paint on the road I walked past the traffic signs to the Town of Ramsgate and realised that I must have missed it. As a pedestrian I had managed walk through a bus gate without even noticing it. Walking back I worked out that the bus gate must have been somewhere between the signs by the mini roundabout and the single camera on a pole. It was only back home when I looked at my photographs that I noticed the three feint lines on the road (top photo).
If you turned left at the mini roundabout from Sampson Street into Wapping High Street your wheels would be immediately on the "bus gate". Given that drivers are looking out for pedestrians and other road users, and that the signs are quite high up, it would be very easy to unintentionally drive though it. Follow the money – that's why it was set up this way. If this was by a private company they would not be allowed to get away with this. Why is Tower Hamlets Council?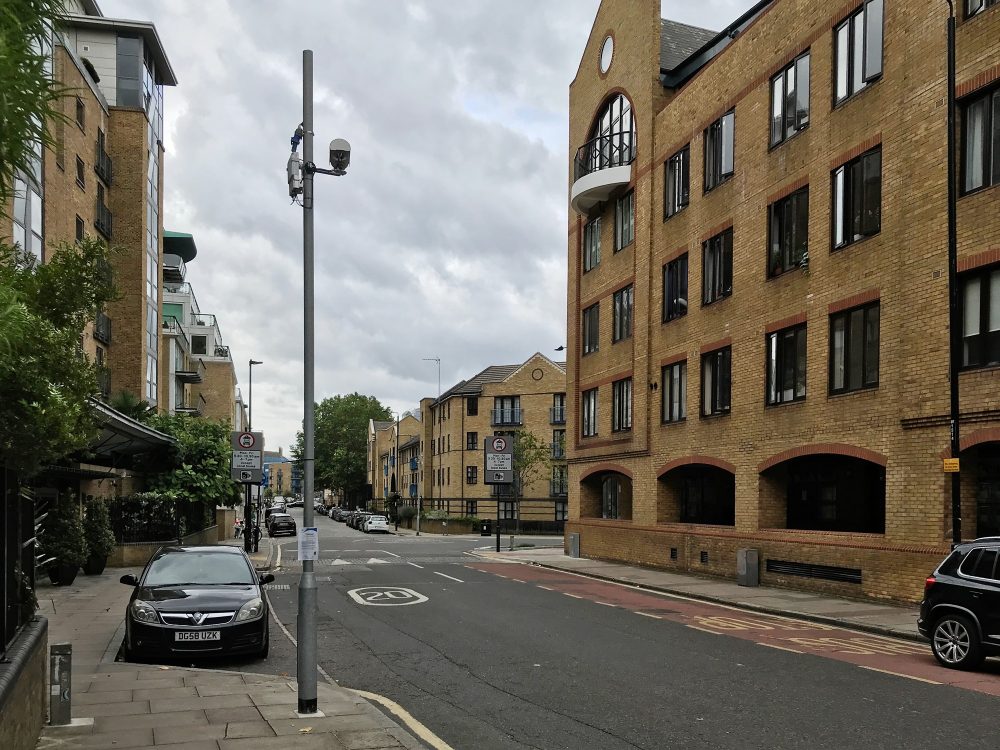 The Desirability of International Trade
Over 100 years ago police arrested team of pick pockets on a train at Crewe, 30 miles south of Manchester. They were surprised to discover that they were members of the Titanic gang from Hoxton. People do need to move about.
Lomard Street, in the City, gets its name from the goldsmiths from Lombardy (northern Italy) who set up shop there in about 1300. There's nothing new about international trade.
Before the Brexit referendum both sides of the debate were making arguments in favour of international trade. Remainers were saying they wanted to stay in the United States of Europe. Leavers were saying that they weren't isolationist, but were in favour of less tariffs and more trade with the US, Australia, and other countries outside the EU. Both sides were arguing that free movement of people, goods, service and capital will give everybody a higher standard of living.
The Liveable Streets plans will make it more difficult to move about inside our own borough. People in Bethnal Green trying to drive through Bow to get to Stratford will be regarded as rat-runners. They in turn will be blocking out delivery vans, traders and residents coming from Shoreditch. Trying to pick up your grannie from five miles away to give her a day out will become a logistical nightmare. Very strange.
The good news is that we are still a democracy. Ordinary people will have their say. Big upsets have been happening in the democracies of the western world as people rise up against the managerial elites who have decided that they know what's best for them.
The Titanic gang took their name in 1907 after reading newspaper reports of plans to build a series of giant, invincible passenger ships. They were linked to a gang of female shoplifters known as The Forty Thieves. Eventually there were a lot more than forty of them. Add in all the associated jewellers, pawn shops, wholesalers and retailers to dispose of the loot, and you are looking at a big industrial sized operation. But perhaps not as big as the public funded jobs bonanza sparked by Liveable Streets.
The Geezers think that Liveable Streets will be a Disaster
One said that: "They do not know what the hell they are doing."
Another said, "I live in a Cycle Superhighway area, I know what a pain in the *rse the unregulated cyclists are. Closing streets etc. on the basis of making it better for them is completely illogical. Liveable Streets will affect businesses massively, and practically destroy Roman Road."
Two Geezers both said that it is a nightmare, the Old Ford Road bridge is horrendous.
A couple of members said that the traffic on Tredegar Road drives too fast, making it dangerous to cross. But that does not mean that they support the idea of blocking streets and causing gridlock.
One Geezers wife went to one of the meetings and came back to say that: "Everyone was against it but they took no notice!" I've been hearing the same from other people.
Alan Tucker, Bow