Bow East resident, Sheila Kelly reports
What a Mess!
Two weeks into the Tower Hamlets consultation on Liveable Streets and what a mess it is. Over 1,000 residents have formed a facebook group against the changes. Petitions for and against are being signed Local councillors are aligning themselves on one side or another, and now one councillor is calling for a pause on the whole process. Now the Mayor has got involved. It all looks like catch-up and it could all have been avoided if Tower Hamlets Council and its project team had followed their own engagement policy.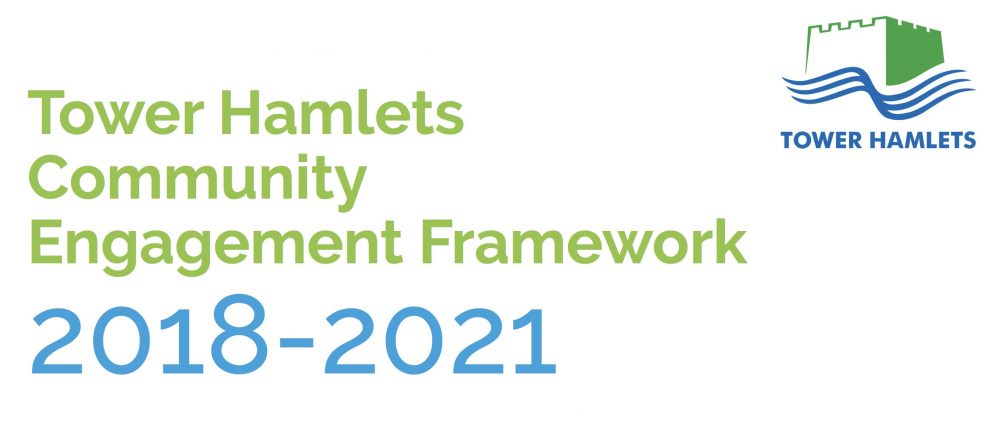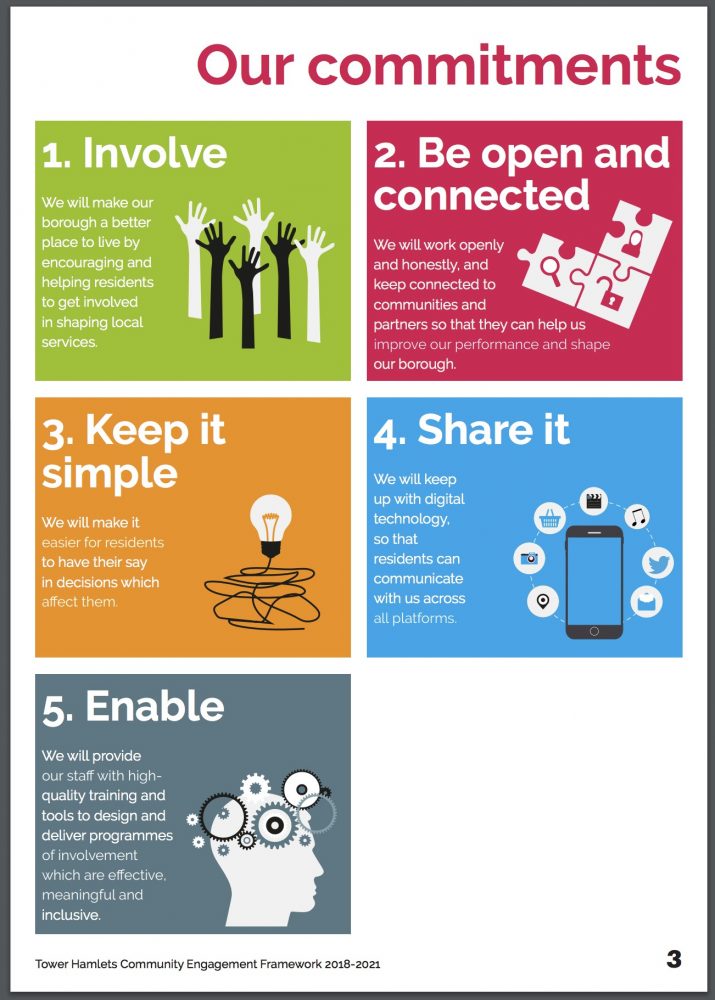 Involve Everyone – not just the select few
The first time that most people realised something was happening in Bow was when Old Ford Road at Skew Bridge was closed, ostensibly for coronavirus reasons. It caused gridlock in other streets. This coinciding with the Liveable Streets consultation to block Old Ford Road and St Stephen's Road gave the impression of special pre-consultation input for people in just one part of Bow. This was not helped by residents and local councillors in Old Ford Road setting up photo opportunities where they gloated as their children played hop-scotch in the street (beside a park). The closure of Old Ford Road is due to end on 25th August but there are concerns that the Council will continue the restriction without waiting for the consultation which ends on Weds 29th July. If this happens it will be clear that the consultation is a sham.
The Tower Hamlets Liveable Streets consultation leaflet and website describing the programme sets out 7 schemes which are interlinked. The full impact will be felt in Bow East. The through roads running East to West will be closed or open only to buses and bicycles. Coborn Road, one of the few points where cars can get under the railway will be closed, pushing traffic down Fairfield Rd or on to the A11 to join the already congested A11/A12 roundabout. Roman Road at the market end will be pedestrianised every day, not just when there are markets.
The introduction to the consultation leaflet presents the programme in glowing terms as though it has all been agreed and that this is just a fine- tuning exercise. It talks about having had more than 1,000 comments and ideas before the development of the schemes.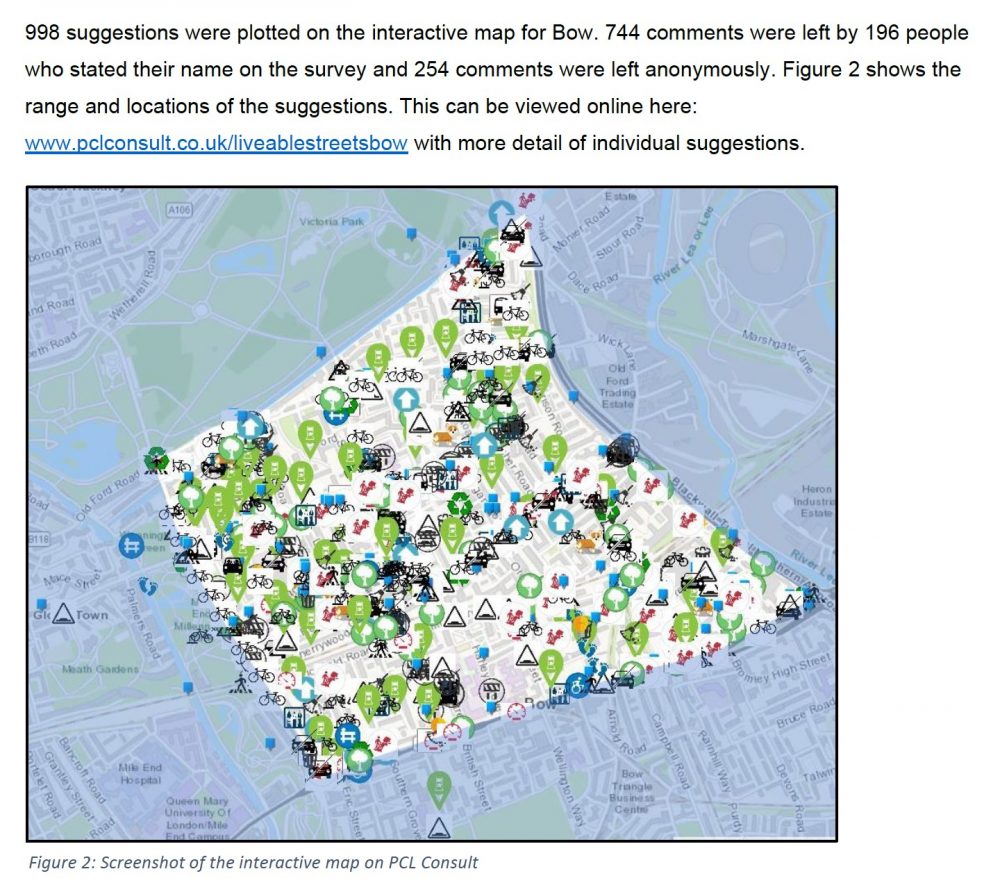 It glosses over the fact that the initial online survey had only 309 participants and the workshops held before the detailed proposals were developed involved only 142 people, not limited to residents of the area. More than 27,700 people live in Bow East and West!

The presentation used in the workshops was anything but balanced and was strongly biased towards getting the result that was wanted.

For example, the 14 Roman Road traders who were involved in the workshops were very concerned about how they would get deliveries or customers if the road is closed to traffic every day. This isn't mentioned in the leaflet. Suggestions such as increased electrical charging points were made in the online survey but these were not picked up.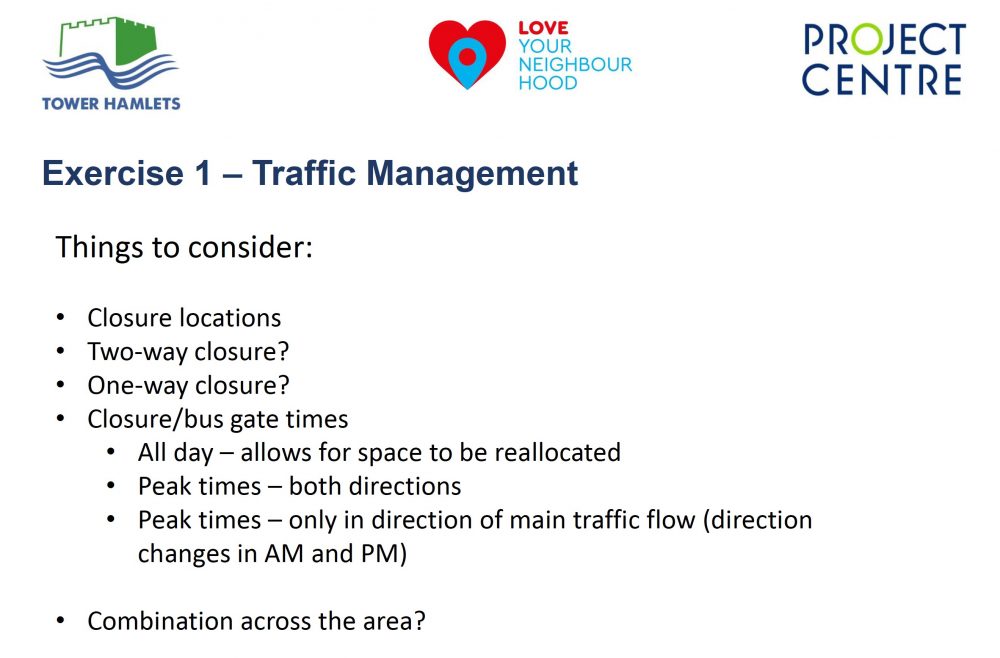 The presentation was economical with the truth when it came to air pollution. Instead of presenting the official Tower Hamlets annual report a slide showing a graph with much higher levels was presented (below).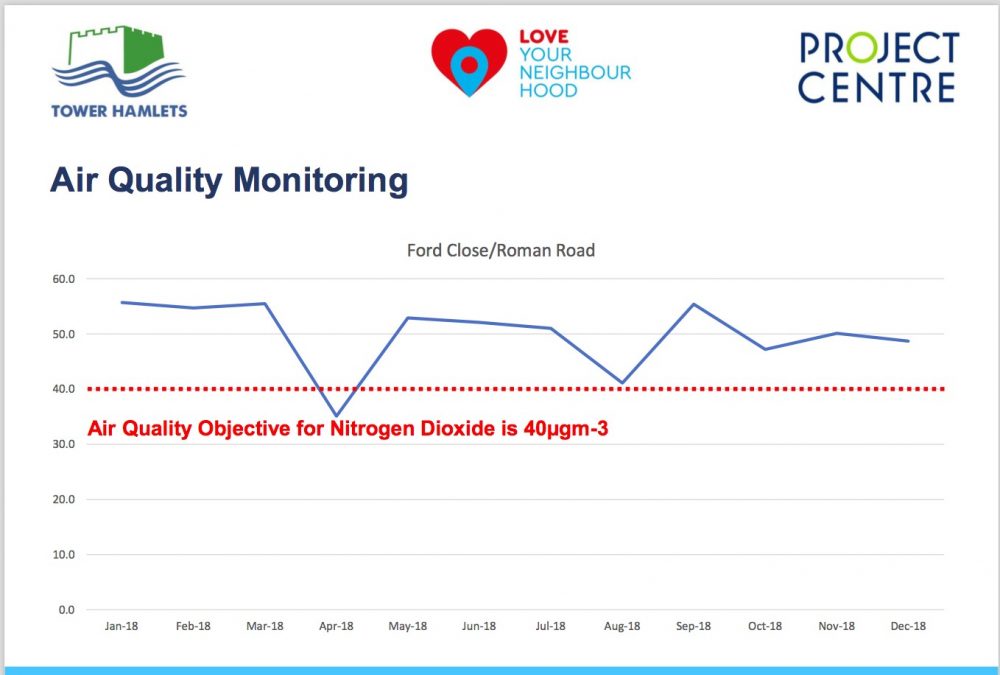 The Tower Hamlets annual report (page 16) for Ford Close/Roman Rd gives an average of 38 (microgrammes per metre cubed – ug/m3) for 2018. The Council's aim is to get it below 40 ug/m3. The slide above is not referenced so the information source cannot be checked but it would have certainly given the impression that pollution is much higher than it actually is.
At no point during the workshop presentation is an alternative case presented nor are the participants asked to consider any downsides of the suggestions they are making. The exception to this is the workshop held for the 14 local business owners. They were very concerned about suggestions to make Roman Rd a pedestrian area every day not just on market days. They clearly considered this would make pick up and deliveries difficult and would impact on the number of customers in their shops or in the market. These concerns were not mentioned in the current public consultation.
Be Open and Connected – not just to the cycling lobby.
People on social media are pointing out that 5 local councillors live in Bow West close to Old Ford Road, where direct east/west access is still possible. They may benefit financially from the closure of Old Ford Road. Newcomers to the area are being blamed for driving a gentrification agenda. The views of working class people who were born and raised in the area are being ignored. Voters and residents who pay Council Tax clearly don't count. Roman Road shopkeepers and traders fear for their businesses at a time when they are already badly hit by the coronavirus lockdown. To add insult to injury many households did not receive a leaflet at all, and it was only available in English.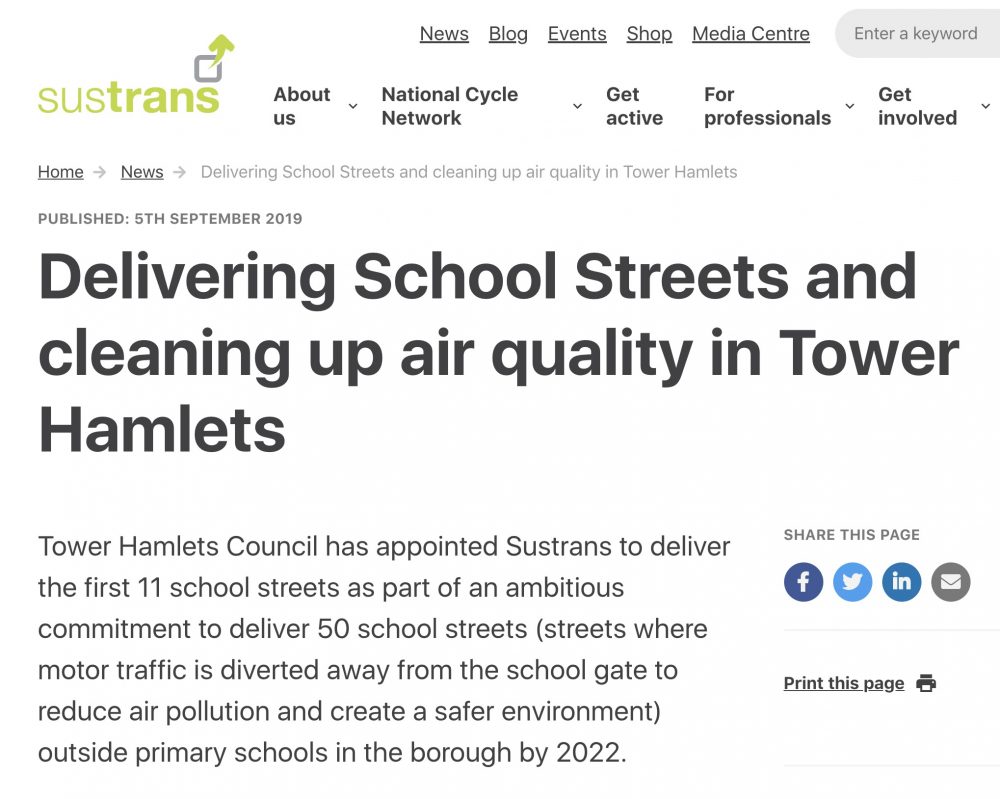 Tower Hamlets Council is clearly connected to the cycling lobby. There were a lot of pre-consultation discussion with Sustrans which has a budget of £45.7 a year to promote cycling (page 15 of the link). On page 4 of the Mayor's Report to the Council, 15th Jan 2020 you can see:
Two air quality projects, one funded by our Air Quality Fund and another funded by the Highways Department, have won awards from Sustrans.
Many of the suggestions in the liveable streets programme are word for word to be found in Sustrans publications. The whole programme is anti-car. There are no exemptions to the restrictions for car owning residents or for taxis or minicabs or even for carers and key workers.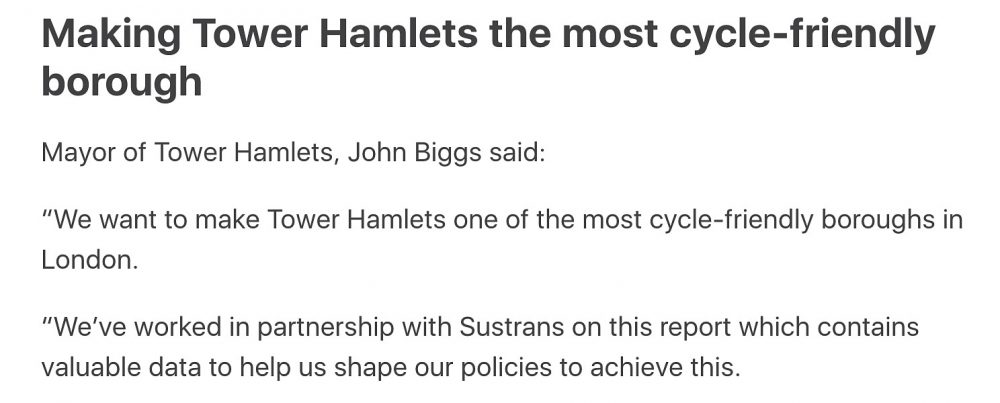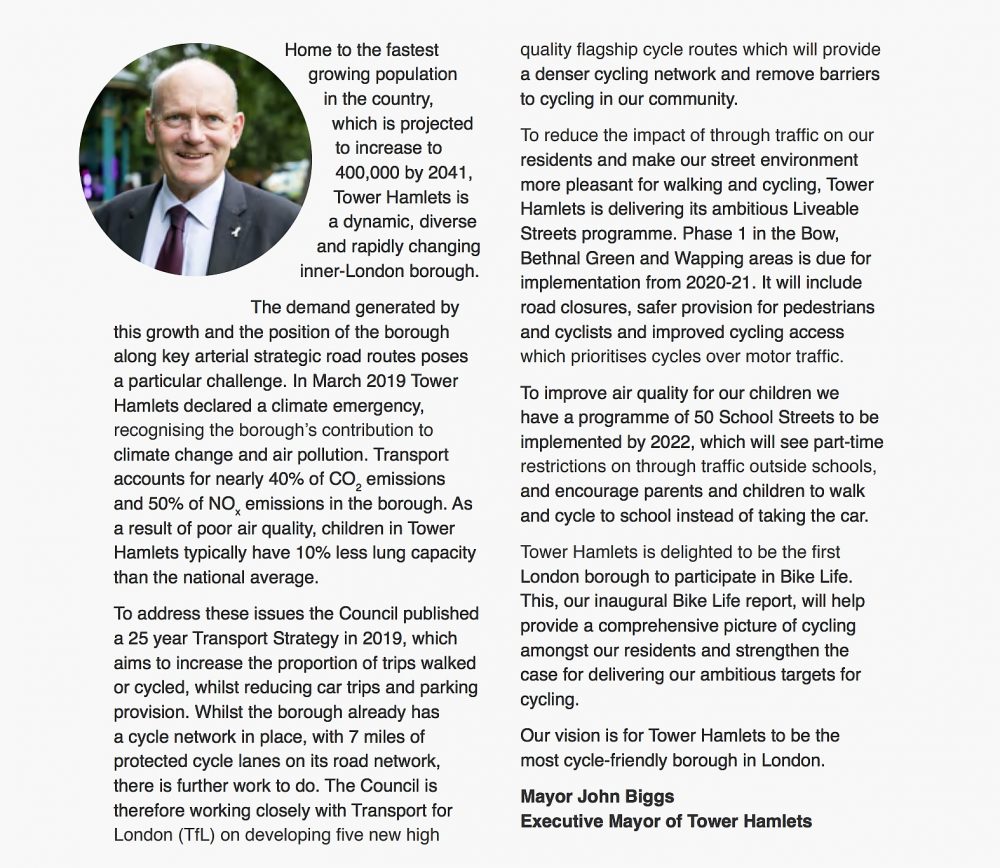 Admit it – this programme is anti-car
Most people in Tower Hamlets already get around by walking or use public transport. Women walk more than men.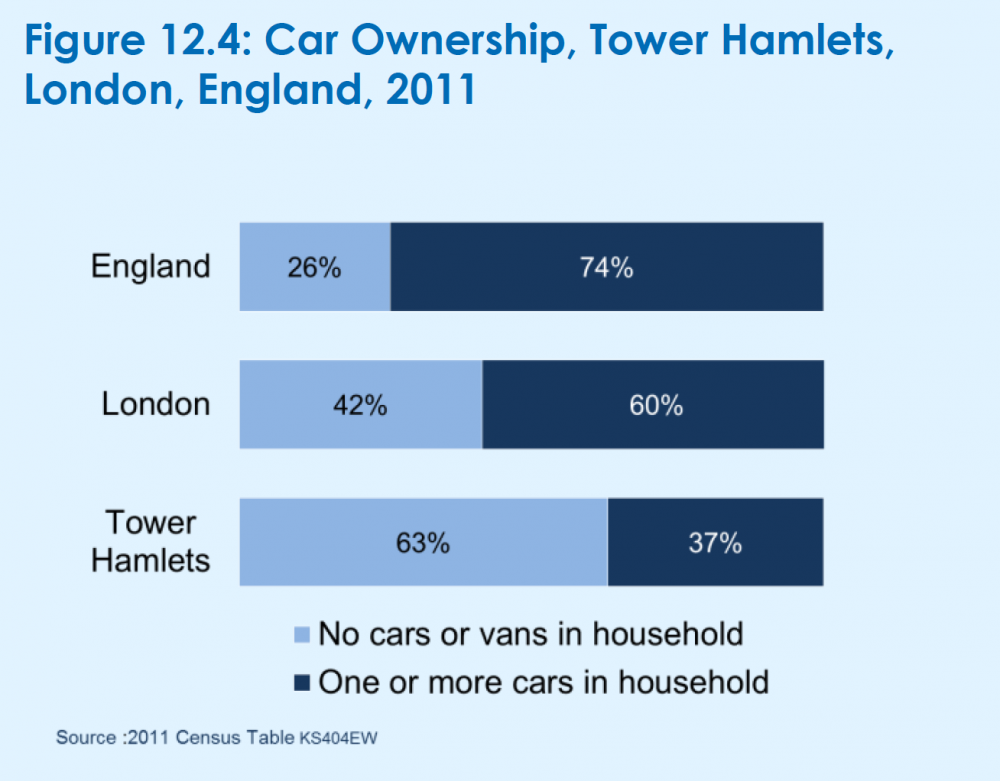 Just 11 per cent of local people use their cars to go to work, the fourth lowest of the London boroughs. At 37 per cent, car ownership is half the national average (74 per cent) and means Tower Hamlets has the 3rd lowest level of car ownership amongst the London boroughs.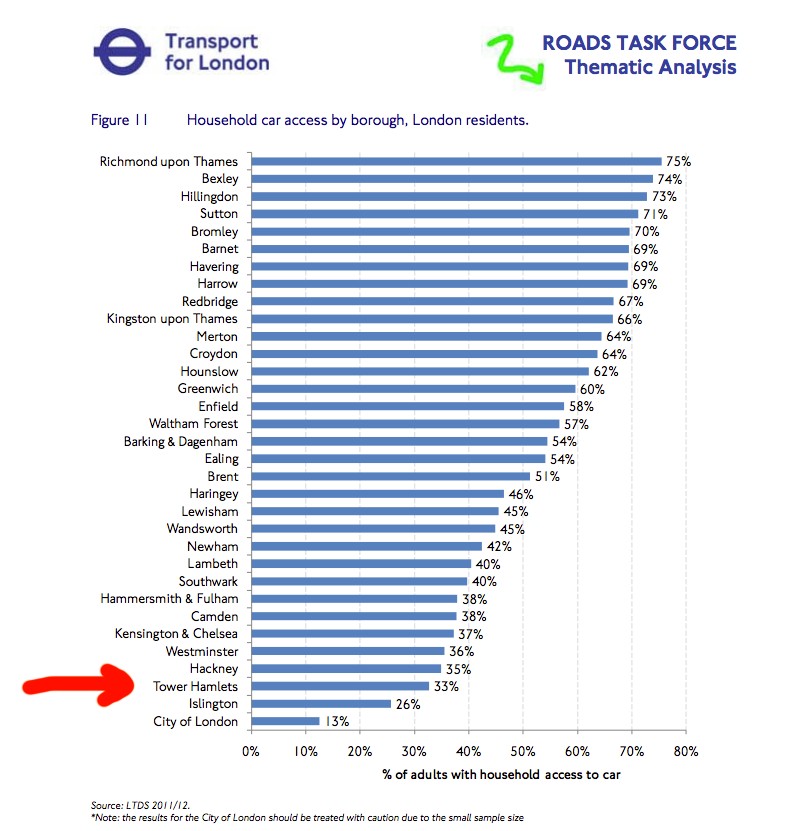 Of all the ethnic groups, Bangladeshi and Pakistani residents are more likely than others to have cars. Households with children and residents travelling between 20km to 59km to work are more likely to have cars. It is probable that these people are driving because it is necessary, not because it is a preference.
People with mobility problems also need to be involved. They aren't going to take up cycling. They are low users of public transport and use cars or taxis more often. They also have carers visiting by car and this does not seem to have been considered.
The Labour manifesto for Tower Hamlets is explicit about their ambitions to increase cycle usage in the borough but it does recognise that "local people need to go about their lives, for many carers and workers, a car or other vehicle is a necessary part of life. Households with children and residents travelling between 20km to 59km to work are more likely to have cars. The lack of a consultation leaflet in Bengali is even more striking when you know that of all the ethnic groups, Bangladeshi and Pakistani residents are more likely than others to have cars. The Tower Hamlets database for parking permits means the Borough could survey drivers directly, but it hasn't done so.
One size for all won't fit cyclists
The 11% of people who cycle regularly are not a homogeneous group. There are gender, ethnic and economic reasons why people do not cycle. In 2019 data in the Bike Life report for Tower Hamlets, conducted by Sustrans showed that only 6% of women cycled regularly compared with 16% of men. 91% of people from lower economic groups D and E never cycle. White residents are far more likely to cycle than minority ethic residents (16 vs. 7 per cent).
The Borough's transport strategy aims to double the number of people who cycle regularly. As the Borough's population grows this target might be reached without any intervention. Closing Old Ford Road and restricting cars on Roman Road and St. Stephens Road will not of itself increase the number of cyclists. Any programme which is serious about tackling this issue needs resources which are more sophisticated than just road closures.
Commuters or so called rat-runners are not the enemy.
A lot of people who drive from the East to Tower Hamlets do so because they work in the borough as can be deduced from reports of daily traffic flows.
The proposed road restriction will not affect this. These people will continue to drive into Tower Hamlets adding to the congestion on Bow Road and slowing down the traffic even more. As stationary and slow moving traffic creates more pollution than fast moving cars the restrictions which are proposed won't help reduce pollution. Residents who live east of the restrictions will have to drive east and double back to do any west bound journey. So they will add to the problem. Even residents travelling into Bow East from the west will be travelling further than necessary if Coborn Rd is closed. Fairfield Road will be one of the few points to access Bow East and will bear the brunt of increased traffic and pollution. As one person commented on social media – "we, the residents, will become the rats."
Keep it Simple is the aim of – Tower Hamlets communication – but it's too simple
The consultation leaflet and survey about Liveable Streets are simple but, more importantly, are not balanced. The introduction sets out all the positive reasons for supporting the Liveable Streets programme and gives the impression that people will be living in idealised surroundings. Replacing two parking spaces with seating and plants (a so called parklet) is supposed to transform Roman Road into "a local destination and support the local economy to thrive and attract more visitors to the area."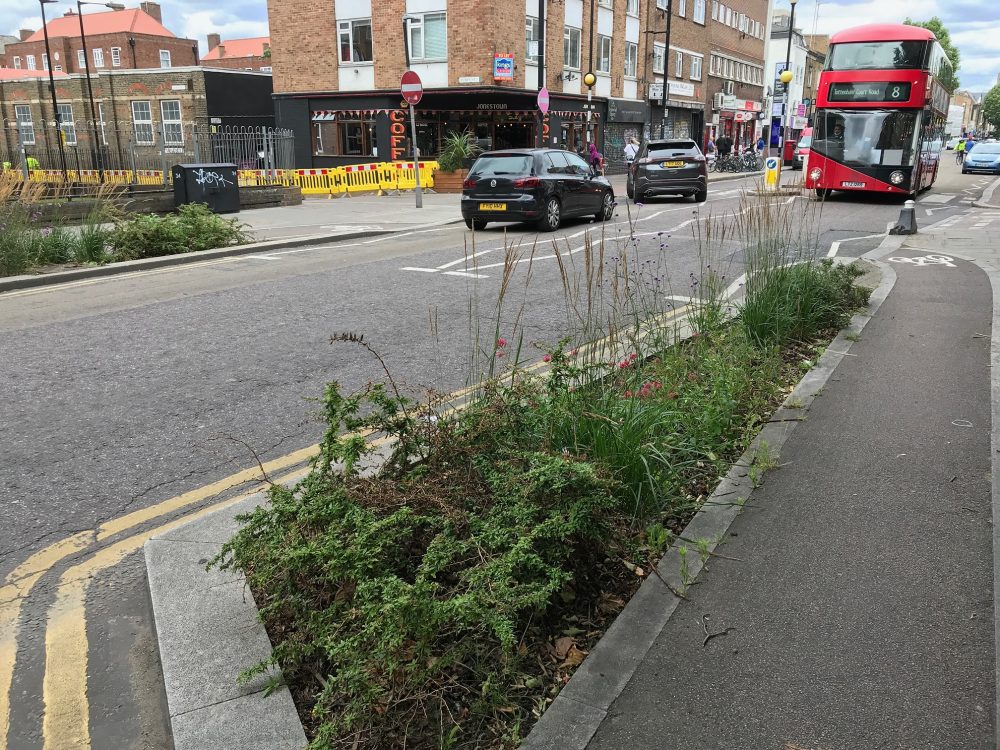 The installation of a bus gate (red paint & camera) at Roman Road/St Stephen's is a significant part of the new proposal. The leaflet does not explain what a bus gate is, nor that cars which go through it even by accident will be fined. The going rate at Wapping is £130 a time, reduced by half if you pay quickly. The bus "gate" will be monitored by cameras with number plate recognition. A system could be put in place to allow residents, taxis, and registered keyworkers through, while still deterring people who are just driving through. This is already working in other parts of the country. It is self-funding, yet it is not mentioned as a possibility.
Where do we go from here
Around a year ago Tower Hamlets tried to introduce road blocks at Tredegar Road and Coborn Road (as an experiment). The reaction of residents was so strong that they only lasted one day. Normally law-abiding people were outraged at the lack of consultation. The Council hasn't learned from this experience, nor from the strong resistance to road closures in other boroughs. This is not good for democracy.
One of the local councillors (Councillor Puru Miah) has suggested a pause and an equalities assessment. This may be the best way forward now. If the consultation does start again then the deficiencies of the first round need to be addressed. Sound and independent data should inform proposals, and full engagement of the local community ensured.
Do make sure that you fill in the consultation survey by Weds 29th July 2020.
There is a new petition on the Tower Hamlets website
You'll find it here:
This petition is set up to get the Local Council to stop using the Blunt instrument of road closures to stop Rat running through Tower Hamlets, whereby this also affects all the Local Business and non cyclists. We Residents want the council to think smarter, use tech to stop Rat runners, Use existing techniques to charge "Out of towners" fees to use our roads, Encourage local Electric vehicle use by locals, Build more Electric vehicle infrastructure, all "Smarter" thinking ideas rather than forced st closures. We do not accept the heavily weighted Cycling lobby effect on the current proposals and want the current consultancy company to be dismissed and have a real locally led feedback of forums, set up democratically and led by locals for locals. We need smarter and fit for purpose solutions. not Draconian closures.
Sheila Kelly, Bow
I am 71 years old, now retired, and I have lived in Bow East for 35 years.
I still have a car but rarely drive in London now. I get around by walking or using public transport. I am using taxis a bit more often now because of the pandemic.
I didn't have a bike when I was a kid. My parents couldn't afford one. I did have a go at cycling to work but I gave that up when I fell off and broke my wrist for the second time. I wouldn't try cycling now. I am not scared of the cars, but am afraid of the behaviour of other cyclists. Some cycle much too fast and they push through at traffic lights. There is no room now for nervous cyclists like me.
I love living in Bow. The shops on Roman Road were a god-send during lockdown and I hope they will recover. We need to be thinking what we can do to help them, not making life even harder by blocking potential customers and delivery lorries.
Personally, I would prefer that the Council addresses the trip hazards of uneven flagstones and tree roots pushing up the tarmac.
I sincerely hope people will respond and reject the proposals. I want the Council to scrap them and focus on the challenges of our post Covid world.