Hastings pier became dilapidated and unsafe and closed in 2006. In 2010 it was destroyed by fire. Two men were arrested for suspected arson, but were not charged because of a lack of evidence. Hastings Borough Council compulsorily bought he pier in 2012.
Hastings Pier Charity was setup and 3,000 people bought shares for £100 each which raised £477,000. They managed to get a £11.4 million grant from the Heritage Lottery Fund, plus other grants taking the total to £14.2 million. Great work.
Architects dRMM were appointed Their website says, "Reinventing traditional pier design, Hastings Pier provides an open space, able to support a variety of events…" But each time I visited open space is all I found. Piers are supposed to be a bit of fun. What was built was a big flat deck. There's never been any sign of anything to generate the kind of cash required to maintain a metal and wood pier exposed to the sea in all weather conditions.
The pier reopened in April 2016. It won the 2017 RIBA Stirling Prize. RIBA president, Ben Derbyshire, said: "The architects and local community have transformed a neglected wreck into a stunning, flexible new pier to delight and inspire visitors and local people."
The pier was projected to contribute £1.2 million a year to the local economy.
Within a month of winning the Stirling Prize Hastings Pier Charity went into administration (late 2017). It said it was spending over £800,000 a year to maintain and operate Hastings Pier. The Heritage Lottery Fund paid to keep it going through 2018. The administrators were not only looking for the bidder who offered the highest price for the pier, but someone with a proven track record. The pier was bought in June 2018 by local businessman, Abid Gulzar, for £60,000. He also owns Eastbourne Pier.
The Hastings Pier Charity were working on a rival bid but I understand that they has been unable to agree a new three-year business plan with its major stakeholders – Hastings Borough Council (who had put £250K in), East Sussex County Council, and especially the Heritage Lottery Fund, which pumped millions in.
At the end of 2018 Hastings Pier was closed for 'essential maintenance and improvements'. It reopened in April. The last time I visited it was shut.
The cautionary story is that running a successful pier isn't easy. The charity restored a heritage site. Running a pier is a business, a very different kind of project. In this case the charity hadn't worked out, or prioritised, how it was going to generate the large sums of money it would need.
The Whitechapel Bell Foundry is a business. It's operating in a competitive market.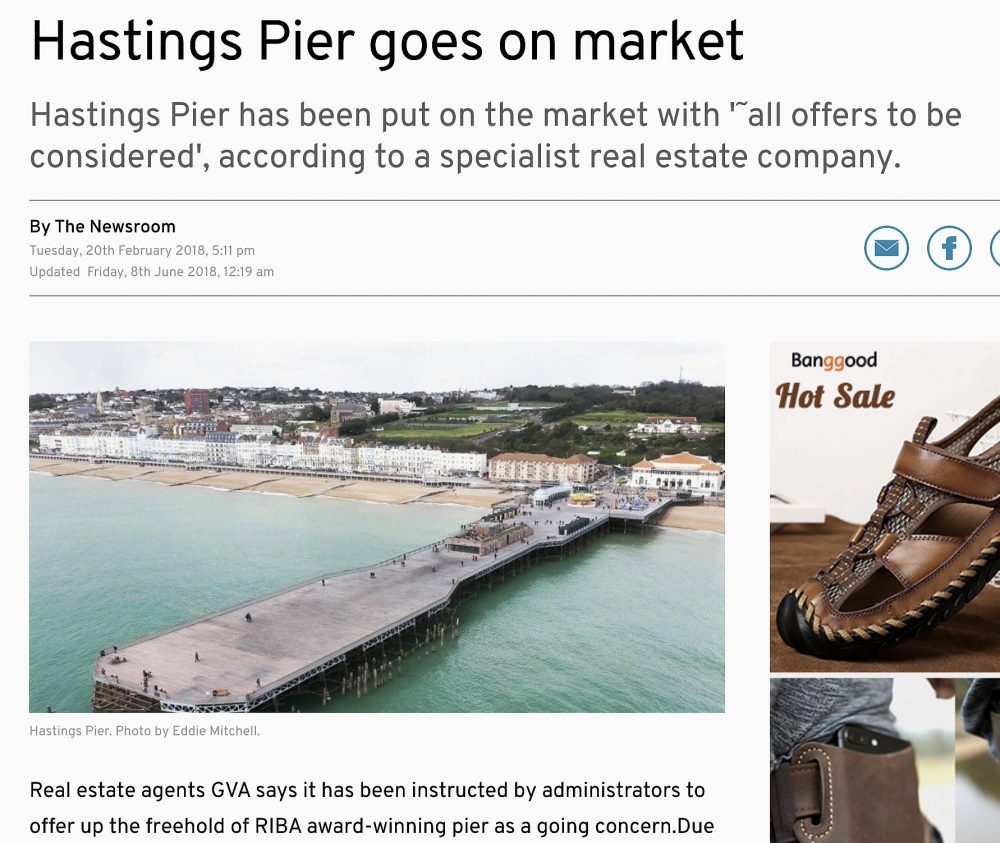 Hastings Pier update
Aug 2020. Under its new owner Hastings Pier now has a 600 seat, socially distanced Bier Garden, and is hosting live music.
Update 28th Oct 2020. Hastings Pier (Hastings Pier Facebook) appears to have been open from mid-June until the end of Sept 2020. Eastbourne Pier has been shut all year. This is not helped by both Covid-19 and never-ending road works on the A27 at Polegate. The road works also stop drivers from the west from bothering to drive to Bexhill and Eastbourne.
Update March 2021. A management company called Hastings Pier Entertainments Limited has gained a three year lease to run the pier. It's open.
Alan Tucker