Above new book from Hoxton Mini Press.
On Sunday Sept 15th dog owners can treat their dog to a day out at London Fields. This free event is organised by Battersea Dogs & Cats Home. More information and registration here.
London Open House weekend is Sat/Sun 22-23rd Sept. Explore the listing here or download the app. There are 40 places to visit in Tower Hamlets alone
On Sunday 23rd Sept there's a guided walk.. Stalking East End Mulberries: Stepney to Victoria Park – details and booking.
Horton Mini press have a new book coming out called "The Isle of Dogs: Before the big money". It's full of photos by Mike Seaborne. I remember him from a long time ago when he was working for the Museum of London. Read more here.
New play at Stratford: "Ambreen Razia's restless new thriller POT delves into the hidden lives of Britain's invisible children, adrift in the care system, and at the mercy of gang culture…" This play is on from Weds 26th to Sat 29th at Stratford Arts Centre. Tickets are £13-15 follow the link for more info and to book.
Down near the Balfron Tower The Cabin (82 St Leonards Road, E14 0QU) has the following regular events on this autumn: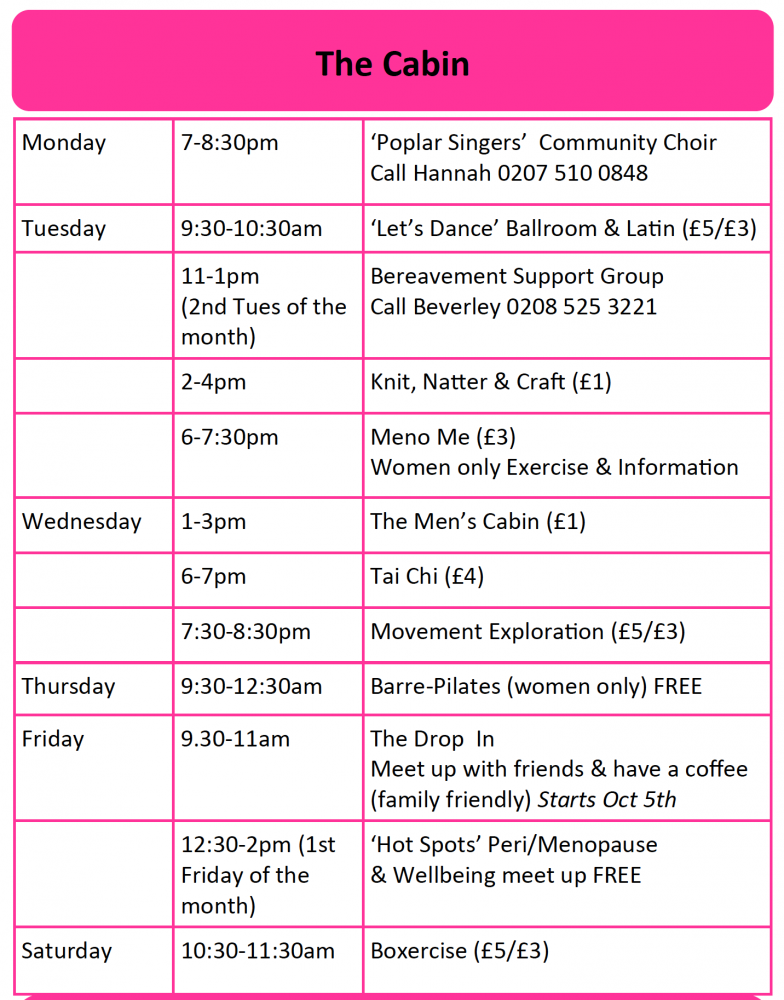 And at Burcham Street Centre (96 Burcham Street, E14 0SH) there are more: