On Thursday 28th of June the Mayor of London, Sadiq Khan, wants to hear from you. Join the conversation with #SpeaktoSadiq. This free event is being held at the O2. Booking and details here.
---
Also on at the O2, but £20 adults & £10 children, is an exhibition of priceless film memorabilia called The Heart of Hollywood World Tour. The tour started in London and  runs until 17th July 2018 before heading off on a 60-city run. Details and booking. I guess it had to be in the O2 because they've got the "H" from the original Hollywood sign – it's the height of four double decker buses!
---
On Saturday 30th June at 7.30pm the Crofton Singers will be giving a FREE concert in St Barnabus Church at the junction of Grove Road and Roman Road, E3 5TG. See poster below.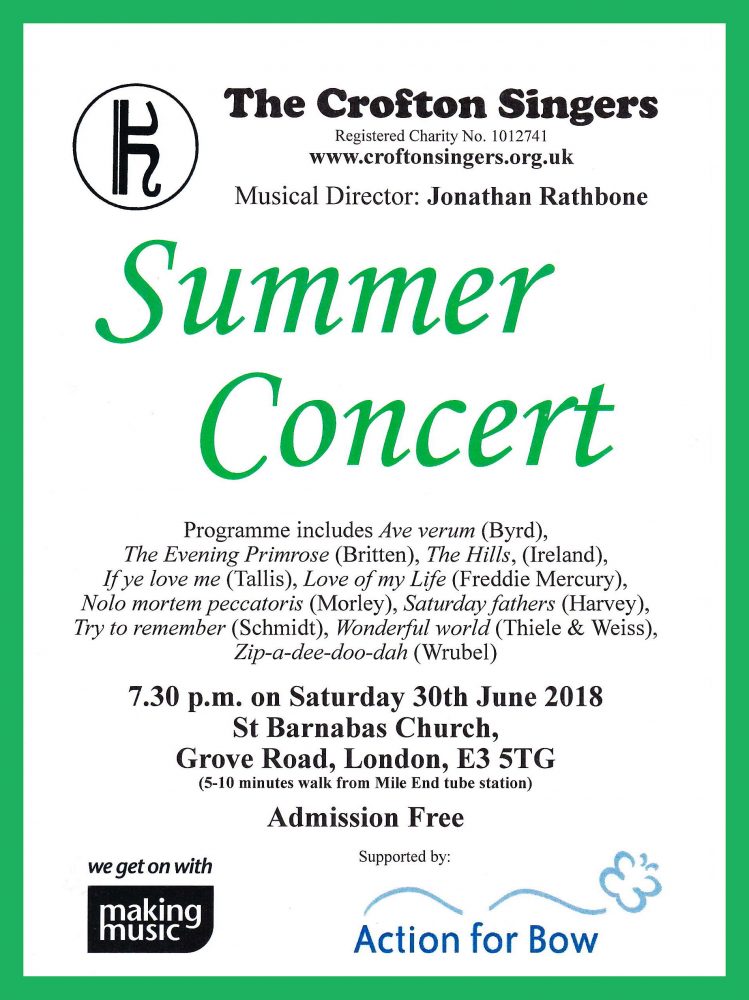 ---
Until 1st July there's a free exhibition called A Child's Guide to Brutalism on at the Royal Festival Hall (Archive Studio, Level 2, Blue side). Details here.
---
London Transport Museum will be opening it's huge storage facility, the Acton Depot, over the weekend of 7-8th July 2018. Full details. There's crazy amount of stuff to see here. This weekend is particularly geared to children and families They say:
"Discover, learn and do – and have fun – in amongst our marvellous collection of vintage vehicles, quirky objects and fascinating inter-actives.
Join in on Make and Take activities with London Transport Museum and the Museum of London
Visit our original London Pirate Bus, and historic London Battle Bus from the First World War
Hop on a heritage bus for a scenic tour of the surrounding area
Take time out with the little ones with soft play, book corner and storytelling sessions
Relax and have fun with all the family, with face painting, bouncy bus, ice cream and a pop up vintage food village."
---
On 22nd July you could join an intriguing podcasting workshop and become a roving National Park City reporter! The event starts at Wimbledon Station – details here.