Tower Hamlets Local Elections
Voters go to the polls between 7am and 10 pm on Thurs 3rd May 2018. There are two votes: one to elect the Tower Hamlets Mayor, and one to elect local councillors in each ward. Tower Hamlets Council has published this really long list of the people hoping to be elected as Borough Councillors. It's alphabetical by ward, so you might need to scroll down quite a bit. Bethnal Green, Bow East, Bow West and Mile End each elect 3 local councillors. Bromley North and Bromley South each elect 2.
This article is about the mayoral election.
Until eight years ago the cabinet of Tower Hamlets Council elected the mayor mainly as a ceremonial figurehead. The Respect Party (remember them?) proposed moving to a Directly Elected Mayor with more powers. Islamic Forum Europe organised a petition for a referendum to decide what sort of mayor we should have. On 6th May 2010 60,758 people voted to change to a directly elected mayor with 39,857 voting against.
The vote for the mayor was held on 21st October 2010, and it was a Lutfur Rahman landslide as you can see in the table below from this Wikipedia page.

My understanding was that Lutfur had been Labour's man – but they panicked and kicked him out just four weeks before the election. He triumphed as an independent. I was fascinated by this, and out of curiosity I went along to his first council meeting as Mayor on 28th Oct 2010. The place was packed with his supporters and I managed to sneak this photo before the proceedings started.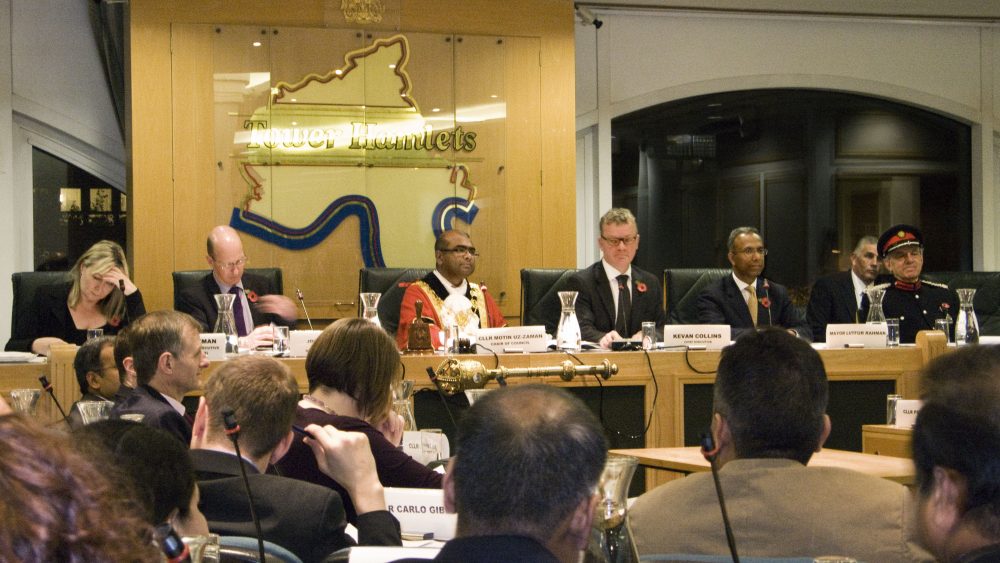 There had been warnings. Five years earlier George Galloway became the MP for Bethnal Green and Bow by defeating the sitting Labour MP, Oona King.
In 2015 Lutfur Rahman was removed from office and the poll for his 2nd term of office was declared void after he was found guilty of electoral fraud. (source BBC article here). The subsequent rerun elected John Biggs, Labour, as the mayor. At the bottom of this article I've provided links to more information about this.
The Current Candidates for Tower Hamlets Mayor
I was hoping just to supply factual information, but it ain't easy!
The candidates are listed below, and I've provided links to their parties and what they say about themselves – as best as I can find! Underneath each candidate I've given links to newspaper articles.
Abul Monsur Ohid Ahmed – Aspire
Anwara Ali – Conservative Party
Elaine Sheila Bagshaw – Liberal Democrat
John Robert Biggs – Labour Party
Ciaran Alasdair Jebb – Green Party
Rabina Khan – People`s Alliance of Tower Hamlets
Hugo Curtis Pierre – Trade Unionist and Socialist Coalition
Most of the candidates above did attend the Tower Hamlets Wheelers hustings on 5th April. "Overall, all five candidates spoke very favourably about improving conditions for cycling and walking…"
Not Good Enough
In researching for this article I struggled to find basic information or proper websites for most of the candidates using Google. They appear to be speaking to each other internally, or going to hustings attended by low numbers of people.
The first Tower Hamlets Executive Mayor
In October 2010 Lutfur Rahman became the borough's first directly elected mayor. This BBC News article headed: Lutfur Rahman wins Tower Hamlets mayoral election starts with the words, "A former leader of Tower Hamlets Council who was dumped by Labour then stood as an independent has been voted in as the borough's new mayor."
What subsequently happened is described in detail in this Wikipedia article headed Erlam & Ors v Rahman & Anor
Under the heading  Judgement it says: "Lutfur Rahman was found personally guilty by the court of making false statements about a candidate, bribery, and undue spiritual influence. The court also found Rahman guilty by his agents of personation, postal vote offences, provision of false information to a registration officer, voting when not entitled, making false statements about a candidate, payment of canvassers, bribery, and undue spiritual influence. A finding that corrupt and illegal practices for the purpose of securing Rahman's election, and that such general corruption so extensively prevailed such that it could be reasonably concluded to have affected the result was also returned."
There is a huge list of references listed at the bottom of the Wikipedia page.