Ray Gipson from the Geezers and OurBow does.  It was instant recognition when they met up again in the Cardigan Pub at the leaving party for the Fireman from Parnell Rd Fire Station in the Cardigan Pub
The man in the picture is Tommy Benham, and he'd played in the team that Ray managed in the 60's with Jack Morgan.
The RayJack football club played on Hackney Marshes and ran out of the Hand and Flower Pub that Jack managed.  The club played in the Hackney and Leyton league.  The Hand and Flower pub was next to the Fire Station. Its now the Sini restaurant.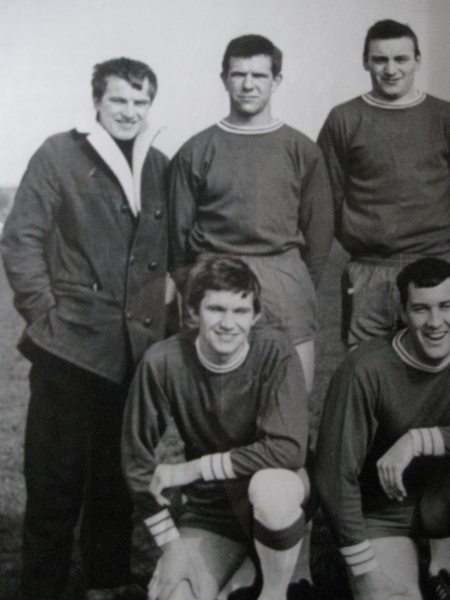 Ray is far left in the top row in the picture
That night the pub was packed to the rafters with Fireman old and new who had served in that particular Station. The tales and  stories flowed all night.  Tommy is now 70 and served as a fireman in Bow for 30 years upto the year 2000.  Ray and Tommy had a great chat about those days.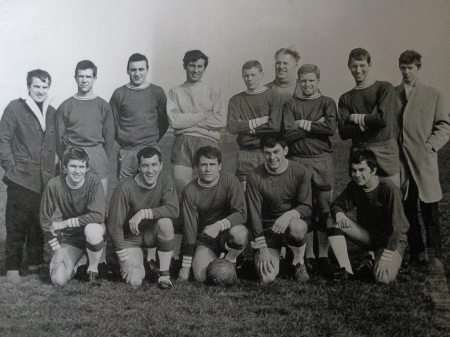 Do you know anyone in this picture and what they have been upto since then?
Let us know in the comments below and we'll get in touch and write it up for OurBow.Com.
The photo has brought back a lot of memories for Ray.
Digging this team Photo out as brought back some great memories for me. This is one of many I have, when I run some very good Football teams in our Pubs in Bow. This particular Photo was taken one Sunday morning in the mid 1960's. Before we played a game in The Hackney & Leyton League on Hackney Marshes. Our Team name was RayJack.

We played out of The Hand & Flower Pub. Where the long standing Landlord Jack Morgan was a great aspiration and benefactor to his Teams, but also local grassroots football as well. We both had honorary positions on the Leagues Management Committee. When Jack passed away in the 1980's. The Players and Supporters presented a Cup to the League (The Jack Morgan Trophy) which still to this day is played for annually in the League.
When Jack died, the team went to the Ordell Arms, in Ordell Rd another one of the Great Pubs we now have lost in the Bow area.  Two, then young brothers John and Richard Petch were the Landlords, also very good footballers, who once again sponsored and played for the team.  Now under the name Ordell Arms F.C. where we once again had some very successful seasons.  Not only winning many League Trophy in The Hackney and Leyton League. But also London wide. When we won the London Sunday Intermediate Cup in seasons 1991-92 and 1992-93 seasons. Sadly by the mid 1990's the team ceased, due to age mostly.   So if any one reads this latest on our Web-Site and remembers the times. Perhaps you were a Player,Supporter.  Please leave us a reply. Ray Gipson.