Update Oct 2020: Bow Food Bank has moved from Bow Church to the Bromley by Bow Centre (St Leonard's Street E3 3BT). It's open 8.30-12.30 on Mondays. It is open-access, and no referral is necessary.
Bow Food Bank is open every Monday morning from 9.30am to 12.30pm. It operates out of Bow Church, which is in the middle of the road near the junction with the A12 (230 Bow Road, London E3 3AH).
Bow Food Bank has moved from Bow Church to the Bromley by Bow Centre (St Leonard's Street E3 3BT). It's open 8.30-12.30 on Mondays. It is open-access, and no referral is necessary.
They say: Our mission is to provide food and support to anyone in need. We are an independent food bank and provide 10 food items every other week to our clients, many of who are ineligible for support from other foodbanks.
The Foodbank was started in 2014. Initial talks were between St Mary & Holy Trinity Church (Anglican), Bow Road Methodist Church and The Church of Our Lady and St Catherine of Siena (Catholic). Very quickly other concerned individuals and organisations got involved. I visited on 23rd & 24th June 2018 and witnessed a smooth running collaboration.
The food is delivered on Sundays. About 50% is bought from Tesco as they are able to place a specific order based on existing stock levels and knowing their clients needs. Since Bow Church is in the middle of the road, Tesco deliver to the nearby Catholic Church and it is brought across the road by Father Javier Ruiz, Deacon Daniel Herrero and other helpers from Our Lady & St Catherine.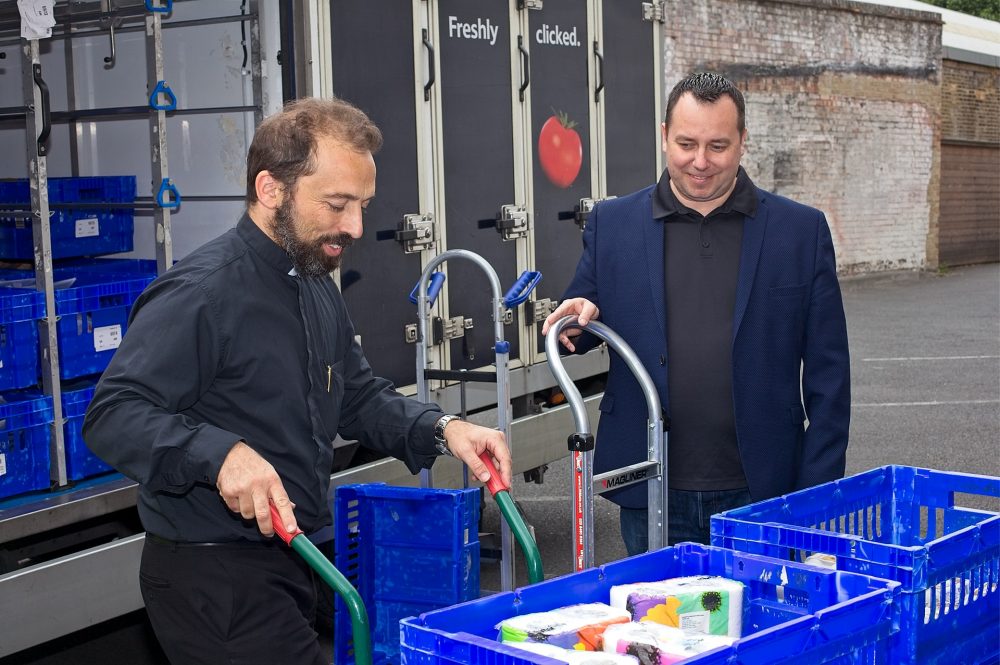 The food is sorted and stored in the vestry of Bow Church by volunteers so the "shop" is all set for opening on the Monday morning. The idea of a shop is significant. People in need of support are not given a package – they can choose any 10 items they need, including household products.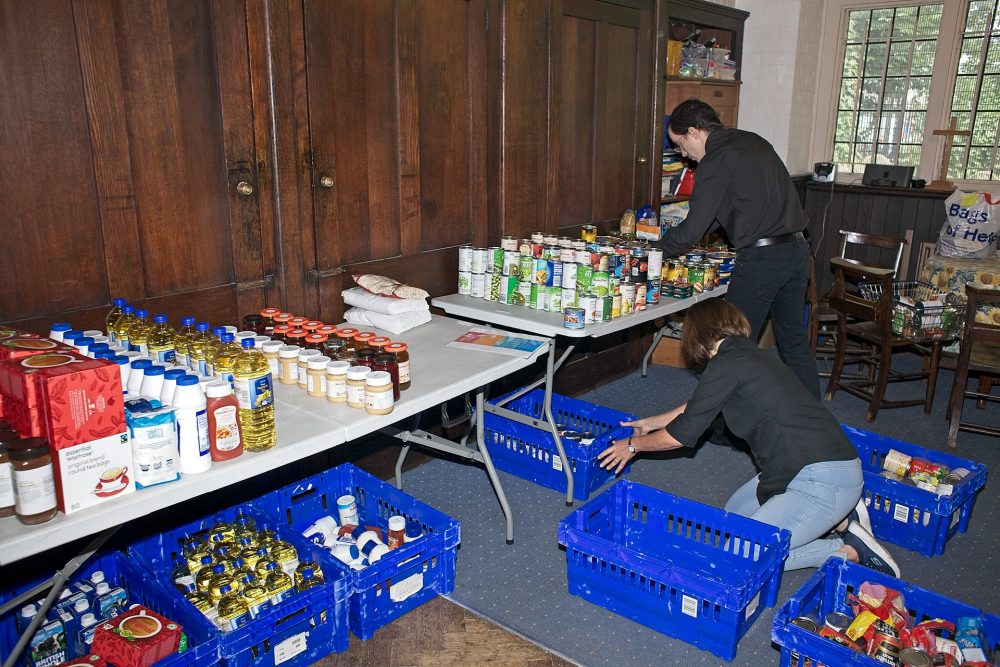 On the Monday, when the food bank opened, volunteer Trevor Blackman explained to me how it worked. When people come in they are offered fresh coffee and tea, sandwiches, home-made cakes, and fresh fruit. They can stay all morning and have as much as they like. The calm welcoming atmosphere, and the TLC are important to people going though a stressful time in their lives.
Clients then register (if it's their first visit) – they only need to give a name, nothing else. Then they wait to be called to the shop to choose their 10 items. They can then visit once a fortnight for up to 15 visits, about seven months.
Trevor is from Lady Catherine's, the Catholic Church across the road, and said, "The Food Bank is run by a mixture of three churches, the local mosque, volunteers, the Gurdwara, and some of the primary schools who've helped out by getting the kids to donate food. There's also people from Queen Mary [students].
"We usually get between 30 to 80 people come in on average, but at Christmas we get overwhelmed, and this Christmas we had 210 at one time."
"Here  you just need to turn up, tell us who you are – it's a very basic form that you fill in. Then you're entitled to either 10 items or if you've got children you get an extra three items per child, and it is so simple.
"We've also, from the local Bromley by Bow Centre, got an advisor on Debt and Money Management, and she'll give you advice on housing, benefits, whatever the situation where you need help."
Trevor agreed with me that when people are at a difficult period in their lives the do not need extra complication. He went on to say, "We've got people, who because of the bedroom tax, where they're getting taxed on having additional extra bedroom, have found themselves homeless. They couldn't afford the rent and the house has been repossessed. They are on the streets or are couch surfing, and they've got no food."
Volunteers told me about Jagmohan Singh Bhakar who brings in the fresh fruit. I asked him about it and he said, "I am one of the Trustees of the Bow Foodbank, secretary of the local Gurdwara [Cambell Road], and a member of the Rotary Club of Tower Hamlets.
"I am pleased and grateful to be a member of the Bow Foodbank team because serving food to the needy plays a big part in the Sikh culture. In Gurdwaras it's a tradition to serve food (Langar) to all. 'Rotary' believes in selfless service to all. So I feel blessed having an opportunity to play a little part in the community.
"From the beginning of April 2018 I started taking some fruit to the Foodbank on Monday mornings. It was a touching experience to see how much it was appreciated. From 23rd April the Foodbank management team permitted me to purchase fruit and vegetables to the value of £50 from their account once a week. I go the Spitalfield's Market (Leyton) every Monday morning at 7am to buy fresh fruit and vegetables. Normally suppliers give me little extra voluntarily."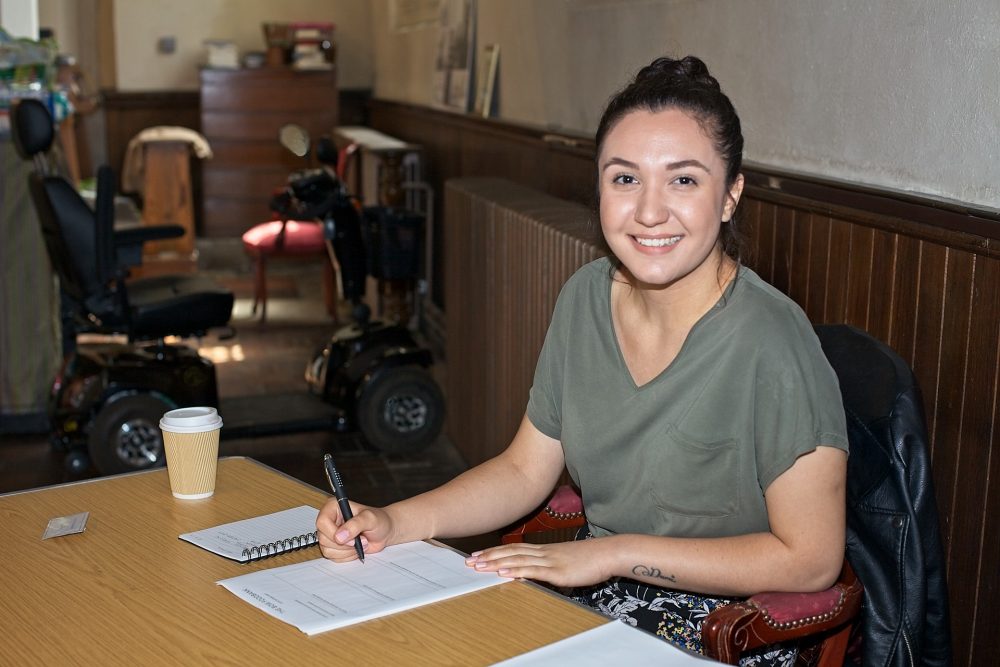 In a five minute gap between clients I got Busra Bakar, the regular legal and benefits advisor to talk to me. Busra is from the Legal Advice Centre and Bow Food Bank is one of her outreach locations. I asked what sot of problems people faced here: "Mainly housing crisis. The majority of the clients here are homeless or sofa surfing – staying with friends. They've ended up in this situation maybe due to benefit sanctions, or they've been unable to pay their rent due to financial issues."
Busra says they have people in work who can't go into private renting because it's too expensive.
"I also advise clients on benefits, and there are debt matters – so clients have multiple debts which they are unable to pay off."
I was shocked to hear how badly our country treats it's citizens who are going through a difficult time in their lives. I had no idea that it was this bad.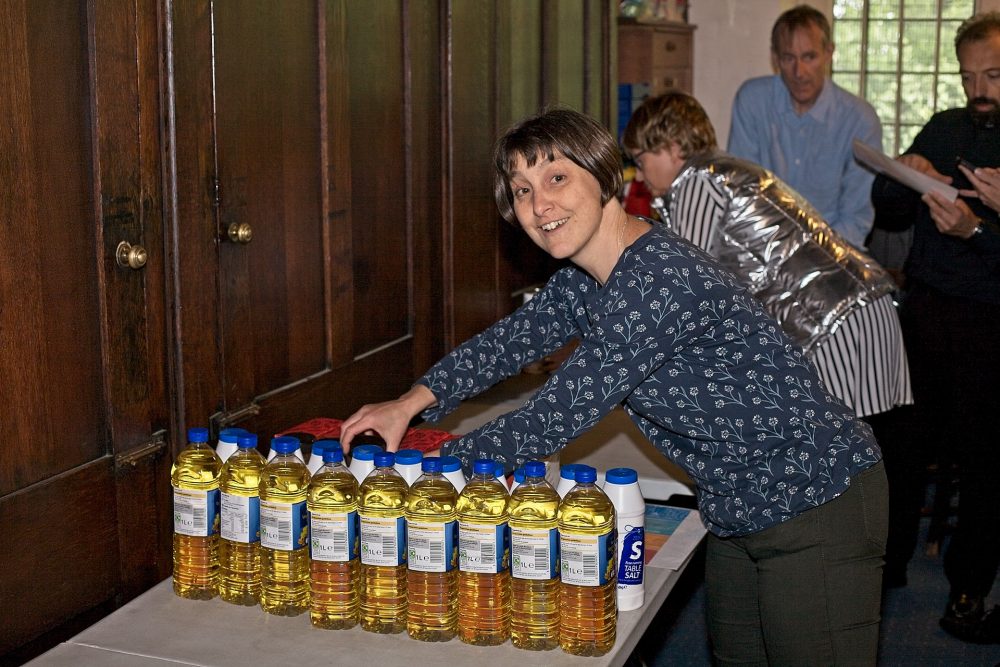 I was very impressed with what I saw happening at Bow Food Bank – the care, the unintrusive approach, and the volunteers doing what they can with limited resources.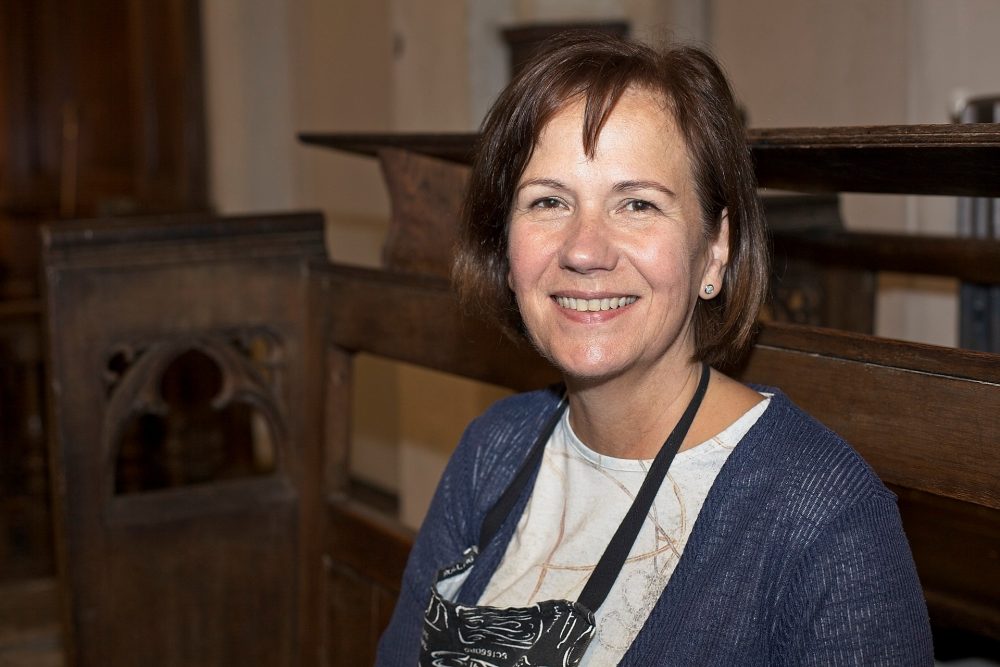 Whilst I was there Rev Debbie Frazer of St Mary & Holy Trinity Church (Bow Church, 230 Bow Road, E3 3AH) said, "Our clients are often very stressed, sometimes the stories we hear are heart-breaking, with people spiralling into really difficult situations."
If you would like to help Bow Food Bank they need, money, food and volunteers. You can donate money using this page. If wish to donate food please take it to Bow Church on Sundays between 1-2pm or on Monday between 9-11am.