The Geezers club are a group of older men meeting weekly (except during the pandemic) in the East End of London. Their organisation was set up in December 2005 with the aim of relieving the poverty and social isolation of older men living in the London Borough of Tower Hamlets, thereby improving their quality of life. Before coronavirus a number of coach outings were held each summer. Our top photo shows one to Eastbourne.
Many of the Geezers, now in their 70s and 80s, suffer from feelings of isolation and loneliness after a working life of comradeship. Some have lost their partners. The majority are on low incomes, restricting opportunities for socialisation and involvement with the wider community.
During the lockdown the Geezers were isolated in small sized accommodation. Most do not have home wifi, smartphones, tablets or laptops. Using Zoom or ordering online are out of the question. Collectively they suffered more from the negative impacts of being trapped indoors. A number of the Geezers are at much greater risk of catching Covid-19 due to ongoing health problems and had to "shield".
They were unable to meet up as group from March 2020 to June 2021, as well as unable to play indoor bowls within a mixed wider social group.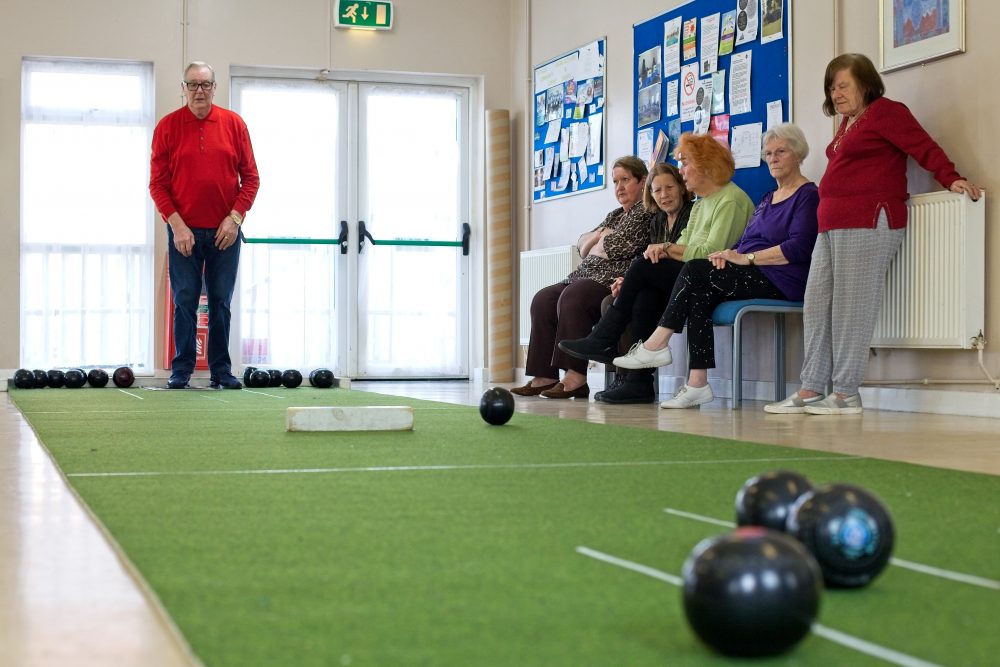 Nicola Humberstone from Tower Hamlets GP Care Group Patient Experience Team came to visit The Geezers on Tuesday 6th July. Nicola introduced the work of the team and explained that feedback from patients is key. She then asked the group about their experiences of the lockdown and the implications of lifting of Covid restrictions. Nicola kindly set us her notes from the meeting (below) to use on our website.
A range of views were expressed:
The lockdown affected the members in different ways. One said he felt as if under house arrest. Another said it made him feel half asleep and he needs to be able to get out. He has a wife to care for and when he was able to go to short mat bowls recently he said he had never enjoyed anything so much in his life.
There was a general view that lockdown should have happened earlier and it was not done thoroughly enough, letting people from abroad in and enabling the virus to spread.
Sleep patterns affected some and made it difficult to sleep.
There was concern about low take up of masks and vaccinations and awareness of the issues surrounding Covid. Nicola explained that their work has exposed many different reasons for people not having the vaccinations- including ideas of conspiracy, belief that Covid is a mild illness or doesn't exist, religious views, naturopathic anti vaccinations approaches etc.
Restrictions being lifted were viewed philosophically 'We have got to live with Covid. It's up to the individual.' There was awareness by some of the continuing need to wear masks on public transport and also understanding that some people cannot wear masks because of breathing issues.
Most people there agreed that masks keep people safe. Sneezing and coughing were seen as risk factors on buses and tubes. There was praise for bus drivers who insist on mask wearing.
Many of the Geezers feel that vaccinations should be compulsory. Care homes were viewed as being treated badly and that the government should be held responsible for unnecessary deaths. Care staff and health staff should be vaccinated. There was doubt about the ability to check for vaccinations eg at football matches and the ease at which people could use someone else's. Passports were viewed as a better plan with photo proof.
Volunteers have to do PCR tests weekly which is good practice.
The Test and Trace scheme is viewed as inefficient.