During the last week deaths from Covid-19 were averaging 40 a day, but deaths from all causes averaged 1,240 a day. Journalists are reporting that it's impossible to get hold of a breakdown of that figure. That won't be an accident. There's a whole industry out there wanting to maintain restrictions.
My research trawled up that in the week ending 11th June average deaths from flu and pneumonia were 166 a day. Data from pre-covid years is available, listing heart disease & strokes, cancer, dementia & Alzheimer's as the big killers. We need to put the current 3.2% of deaths from Covid-19 into perspective.
Back in March 2020, when people were dismissing Covid-19 as being like the flu, launching a wartime-style propaganda drive, with the collusion of the media was the right thing to do. But now that 46 million people have had one vaccination and 36 million have had two (in England & Wales) it's time to change the approach. Over half of young people aged 18-24 have had one vaccination now. The majority of people hospitalised with Covid-19 are young or unvaccinated. Young people aged 18-24 are 35 times less likely to die from it than someone aged 50-64. A friend who works as a hospital doctor reports that most people arriving with Covid leave within 2-3 days. So when, as last night, the 10pm news on Sky reported that hospitalisations were going up, you need to notice that they chose not to qualify what that meant. The number of people on ventilators looking at death's door are, thankfully, much reduced.
But it's still the case that we all need everybody who can to get vaccinated.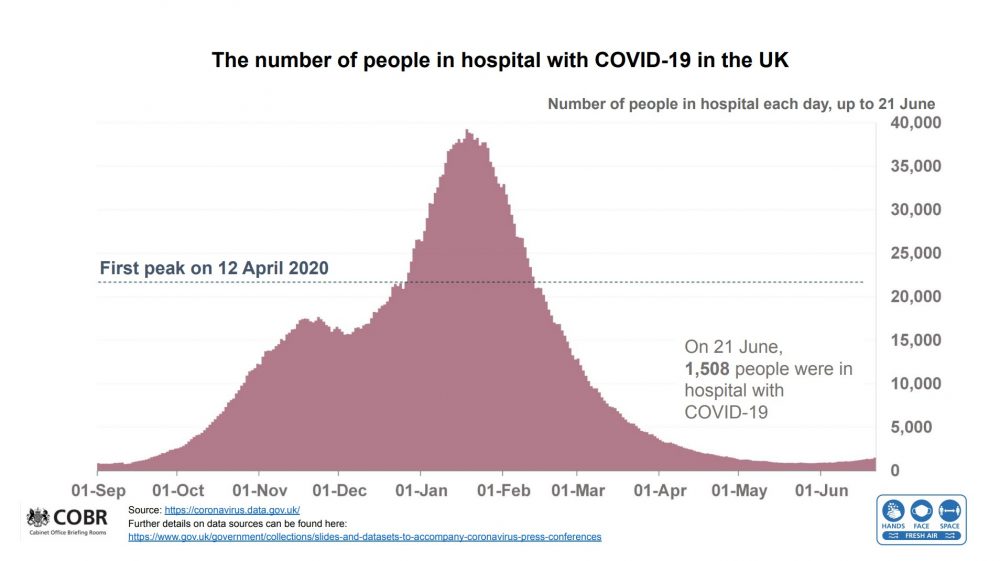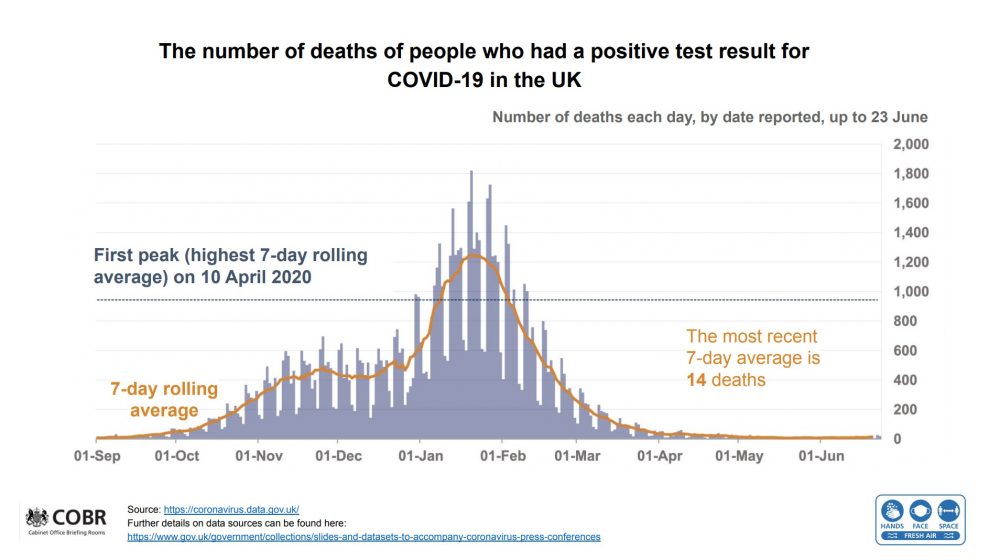 Grab a Jab in Tower Hamlets
In his latest update (15th July), Dr Somen Banerjee Director of Public Health for Tower Hamlets said: "Cases of Covid-19 continue to rise in Tower Hamlets and elsewhere across London. Last week, our rate was 263 per 100,000 and this week it is 336 per 100,000 – an increase of 28 per cent. The highest number of cases we are seeing is in young adults. Cases in people aged 60 or over continue to be much lower than younger age groups. While admissions to hospital due to Covid-19 remain low, they are rising.
"Since last week 6,000 more residents have had their first vaccination and 5,000 more have had their second dose. In total 190,000 people in Tower Hamlets have now had at least their first dose and 97,000 are fully vaccinated with two doses. This means two thirds of Tower Hamlets have had at least one dose of the vaccination which is excellent. However, there are still more people we need to vaccinate."
As best I can establish there were 16 deaths from Covid-19 in Tower Hamlets last week.
Toynbee Hall is open this week for walk-in Pfizer vaccinations:
Wednesday 21 July – 3pm to 9pm
Thursday 22 July – 3pm to 9pm
Friday 23 July – 3pm to 9pm
Saturday 24 July – 11am to 5pm
Sunday 25 July – 11am to 5pm
Address: Toynbee Hall, 28 Commercial Street, London E1 6LS.
Anyone eligible can just turn up; a booking is not needed. If you do not have ID, don't worry. No questions will be asked. If you're coming for your second jab, please make sure it is at least 8 weeks since your first Pfizer jab.
Alternatively you can book your vaccination in advance in Tower Hamlets with a range of different centres available.
---
A State of Fear by Laura Dodsworth, subtitled How the UK government weaponised fear during the Covid-19 pandemic was published in May. I ordered a copy immediately.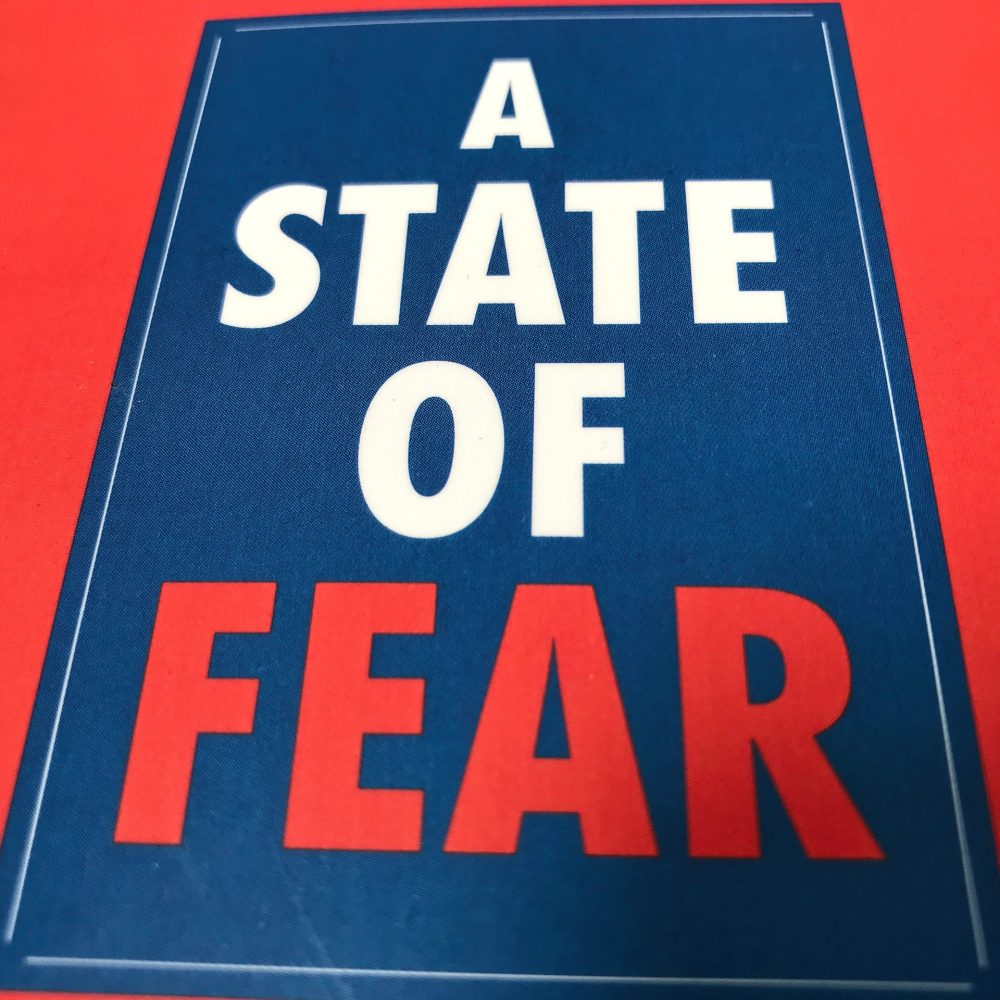 The book is about the use of fear as a political management tool. Now that the coronavirus pandemic has been tamed the Whitehall apparatchiks don't want to let go of their new powers over the rest of us. As Lord Sumption says, it is a major challenge to democracy.
Alan Tucker