Retrofitting London's skyscrapers
New London Architecture say: "A significant number of London's tall buildings, built in the 1960s and 70s, are now in desperate need of refurbishment…" They are running a free breakfast talk just off Tottenham Court Road on Friday 13th Sept 2019 between 8.30 – 9.30 am. For full details and to register visit New London Architecture.
---
On Saturday afternoon (14th Sept) there are two different free events taking place in Bow. Hopefully you'll be able to fit in both.
Tudor Sights & Sounds
Courtier, or commoner, whoever you were in Tudor London daily life was an assault on the senses. Visit Bow Church between 1-5pm to hear A Merrie Noyse (top photo) and some of the Bow Church singers bring to life Tudor music.
You might even be able to join in. There'll be other fun activities too, which will give a glimpse of the lives of our predecessors. Bow was once a quiet hamlet by the bridge over the River Lea. Meet some minstrels, quiz them about the music, their instruments, what they're wearing – and why.
This free event is at Bow church Sat 14 Sept 2019 from 1-5pm.
Chisenhale Dance Space – on the streets of Bow
On Sat 14th Sept from 1pm Chisenhale Dance Space are putting on free dance and arts festival at five different locations around Roman Rd Market.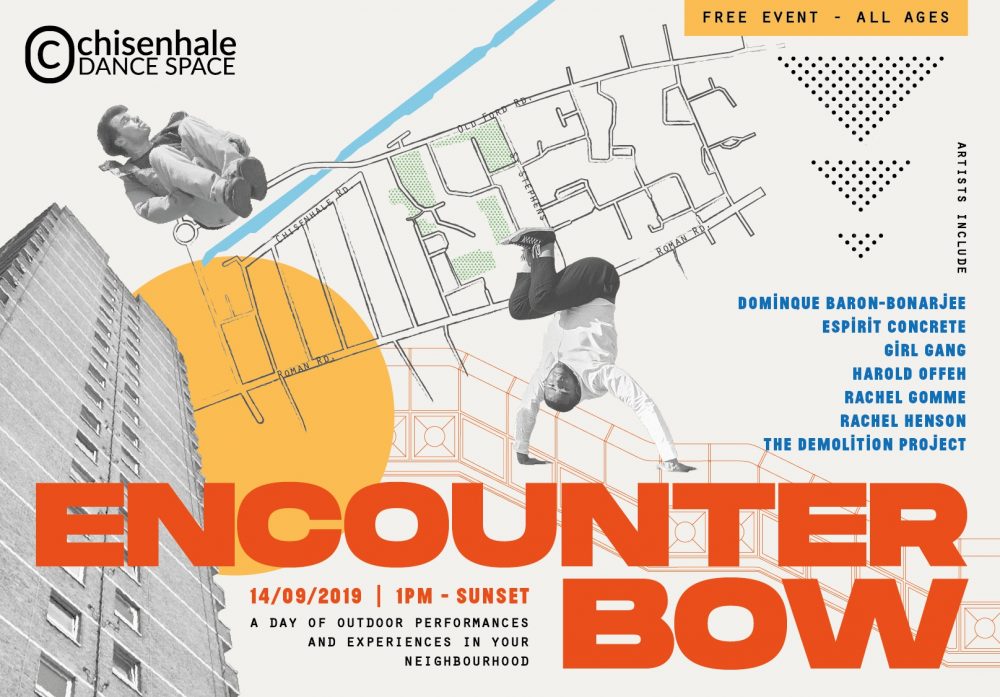 Full Programme:
Location 1 – The Common Room, next to Roman Rd car park
1pm onwards – The Street: A User's Guide by The Demolition Project. A guided walk, using your smart phone.
1pm onwards – The Human Clock by Janine Harrington. A performance. Come and watch at any point.
2 pm and 4.30pm – Selfie Choreography by Harold Offeh. A workshop using your smart phone. All ages.
3.30pm and 6pm – Undergrowth by Rachel Gomme. A guided walk.
Location 2 – In front of Wilmer House, Daling Way
1.30pm – T-Break Workshop by Mickael Marso Riviere and Mad Dope Krew. A street dance workshop. Kids age 8+.
3pm & 4.30pm – T-Break by Mickael Marso Riviere, Mad Dope Krew and Mendi Singh. Street dance and tabla music performance.
Location 3 – Gunmakers Lane Bridge
6.30pm – Sunset – Collapse by Dominique Baron-Bonarjee. A dance performance. Watch at any point.
Location 4 – Roman Road Market
1-3pm – The Dance We Made by Casson and Friends. An interactive dance performance. Join at any time.
Location 5 – St Stephen's Green
3.45pm – Esprit Concrete. A parkour performance.
5pm – Discovering L'art Du Displacement. A parkour workshop. Kids age 7+. 1 hour duration.
Project funded by Action for Bow and supported by Arts Council England.