Two of the Geezers have spent most of their working life in Billingsgate market
Ted Lewis talks about his working life as a Billingsgate Fish  Market porter
Terry Bloomfield  was a photographer as well as a fish merchant and over the last twenty years he's been documenting the life of the Market and the people who work there.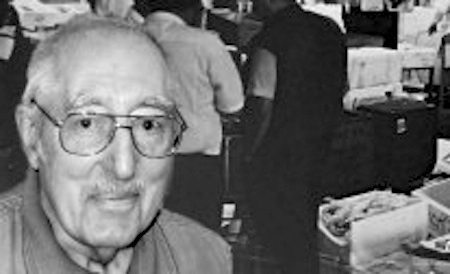 Click here to visit his website with its gallery of photos.
The photos are being scanned in by a friend.  Here is what she writes on his website.
Mr Terry Bloomfield is a retired Billingsgate Fish Merchant who started working at the Market aged just 15 in 1949. Over a period of 20 years Terry documented life at the Market using his trustee 35mm SLR camera. Although Terry retired in 2008 he is still a regular vistor to the Market.
Fortunately Terry's original negatives are in good condition and he has plans to store them in a local archive facility in the near future. For the time being I am in the process of scanning Terry's negative collection so that a digital record is available for anyone wishing to look through the images.
Please feel free to leave comments if you enjoy the site or make contact, and remember… this is a work in progress which may take some time so don't forget to look in again soon to see new images added. If you have any queries for Terry regarding the photos please email us at: tbphotoarchive@yahoo.co.uk
Jo (Terry's friend- AKA The Lady with the Digital Scanner)