Knowing that there were three lamppost mounted EV (electric vehicle) charging points along Chisenhale Road in Bow, I took to the streets to check out the area. Between Kenilworth Road and Driffield Road, including Chisenhale Road and the blocks of flats I estimated that there were 600 households and 700 cars. So if Tower Hamlets Council were serious about increasing the use of electric cars, they're going to need a heck of a lot more vehicle charging points. At the 2011 census 42% of the residents of Bow West owned one or more cars.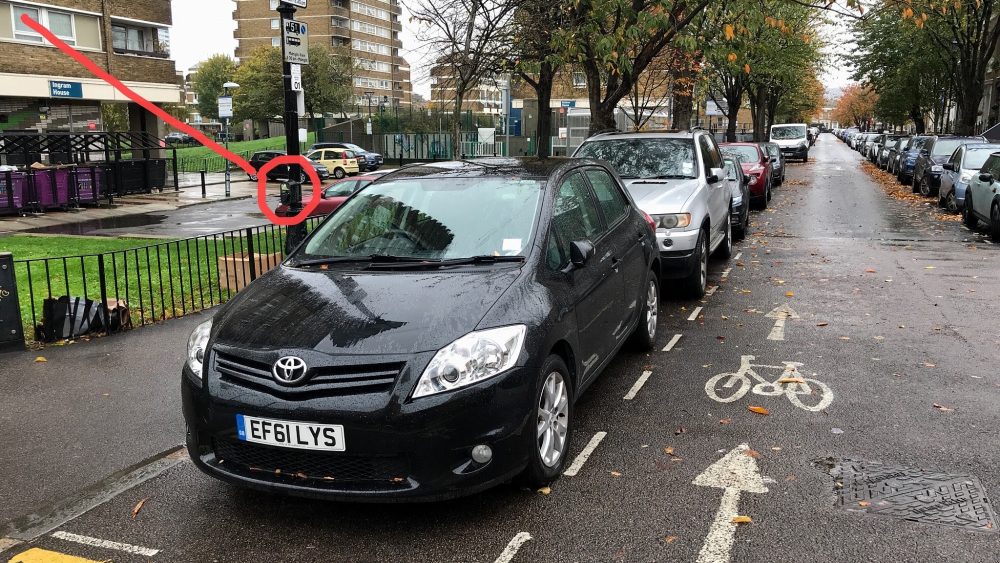 The charging points along Chisenhale Road are from Ubitricity. They charge at a maximum of 5kW. You need your own cable to connect your car. The Ubitricity smart cable costs £299, but you can use an app and a plain AC Type 2 cable – here's an example for £120. Charging costs are typically 24p per kilowatt . So a 3/4 charge of a Nissan Leaf (30 kW) will take maybe eight hours and cost £8. Three slow (overnight) chargers for an area with 700 cars. The electricity comes at a good price, but these leads can be stolen. Make sure you use a padlock.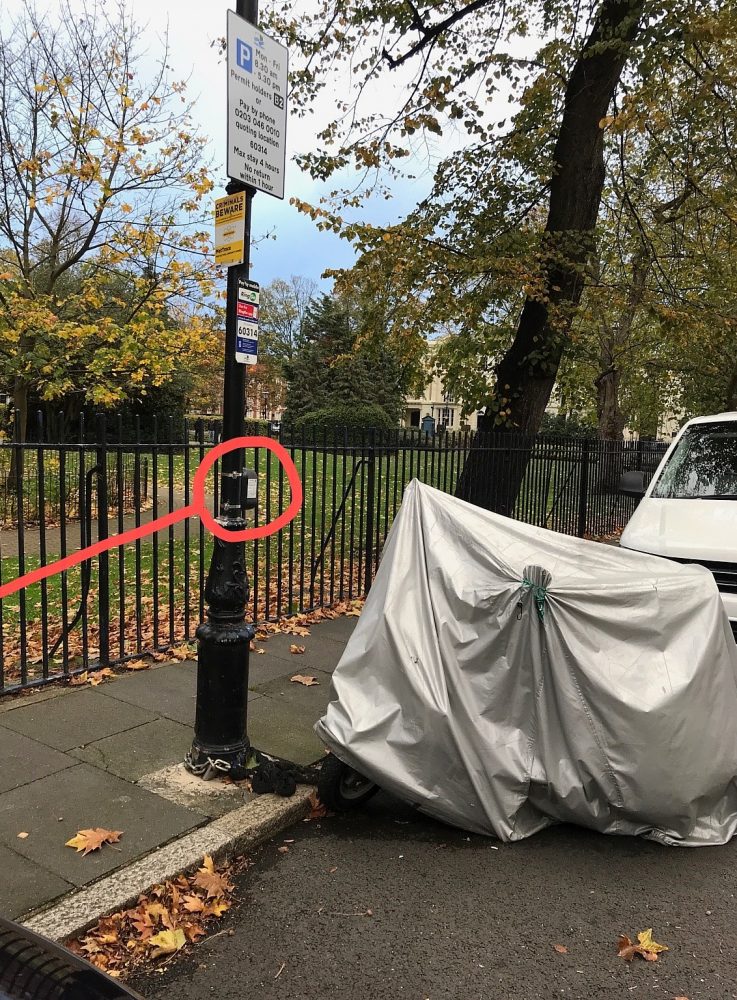 There are three identical Ubitricity charging points on Tredegar Square. At both locations I've yet to see a car being charged. The parking spaces are not dedicated for electric vehicles and are usually occupied by combustion engined cars. Having to buy your own lead, the unlikely chance of getting alongside a charger, and the slow charging rate are not going to encourage locals to invest in an electric car.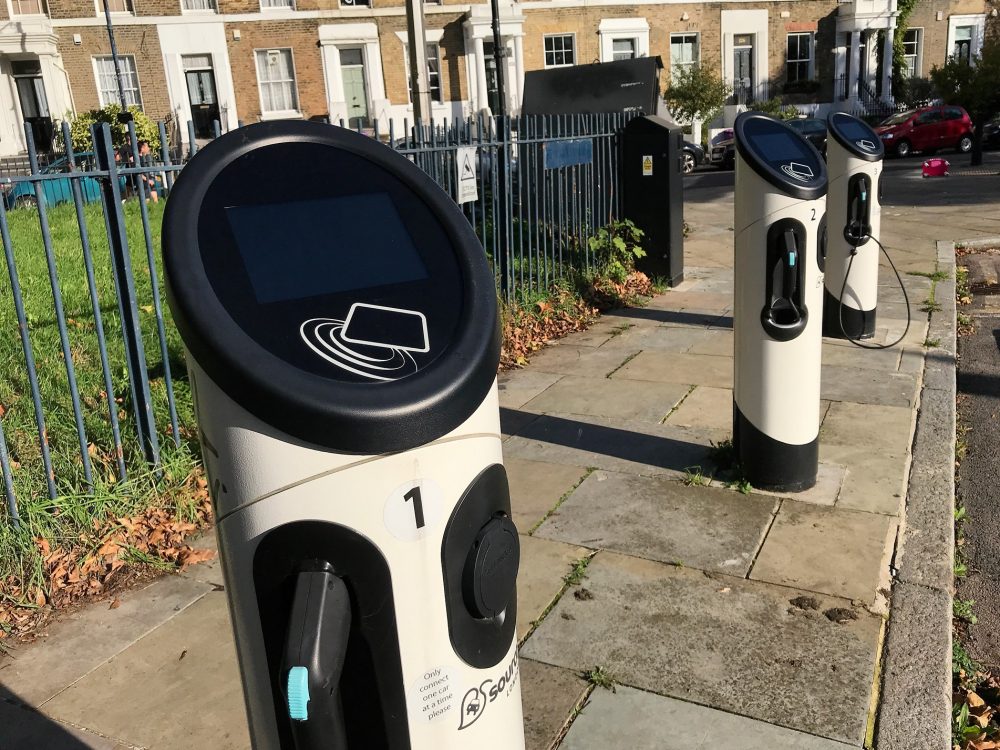 The only other public EV charging points I know of in Bow are the three outside St Mark's Gate in the southeast corner of Victoria Park. These are from Source London and charge at up to 7kW. They come with a built-in retractable Type 1 cable and a socket to fit your own Type 2 cable. Source say: "Our best value plan for customers who regularly charge their vehicle is our Full Membership, which incurs a £4 monthly membership fee and enables you to charge your vehicle from just 3.6p/min." So to put 30 kilowatt hours into a battery you might have to pay £11 on the £4 a month membership or £17 at the PAYG 5.9p rate. It will take about 5 hours to charge.
Are there better public EV charges near Bow?
Canary Wharf: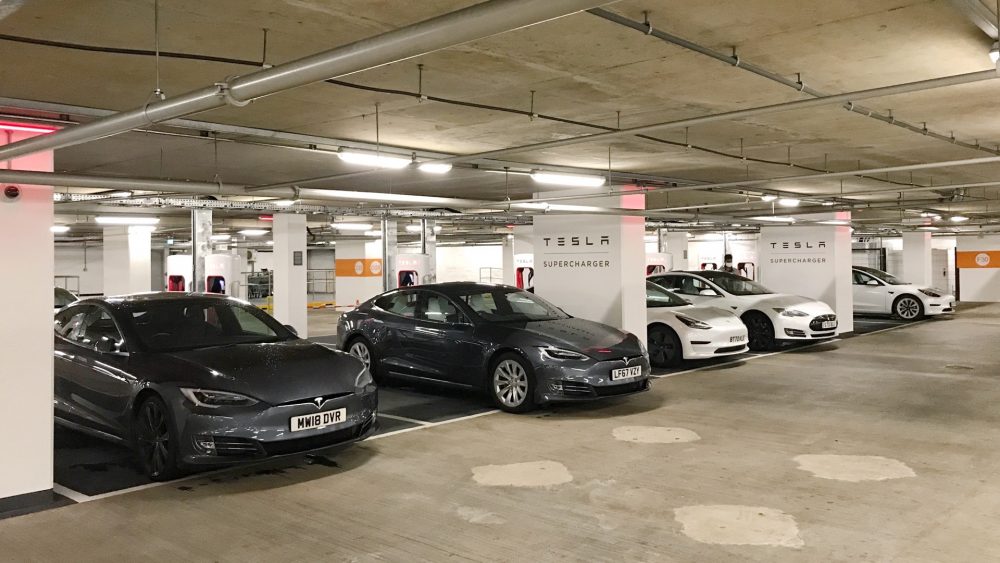 July 2021 update: Canada Square Car Park – Entrance on Montgomery Street (use E14 5EW for sat nav).
There are now twelve dedicated superchargers for Tesla vehicles on Parking level P3. Charging is free to Tesla's early adopters, but 26p per kW for more recent owners. Charging is likely to take less than an hour. Since these are in a car park you have to pay to park – £4.40 for two hours. But if you do a shop in Waitrose (£10+) and take your car park ticket along for validation you'll get 2 hours free in the week or 3 hours a the weekend. Other shops offer a similar discount at weekends – ask for your ticket to be validated at the point of purchase
Also on level P3 are fourteen charging points for Polar Plus members You need to bring your own lead. These run on the Polar Network – see their prices.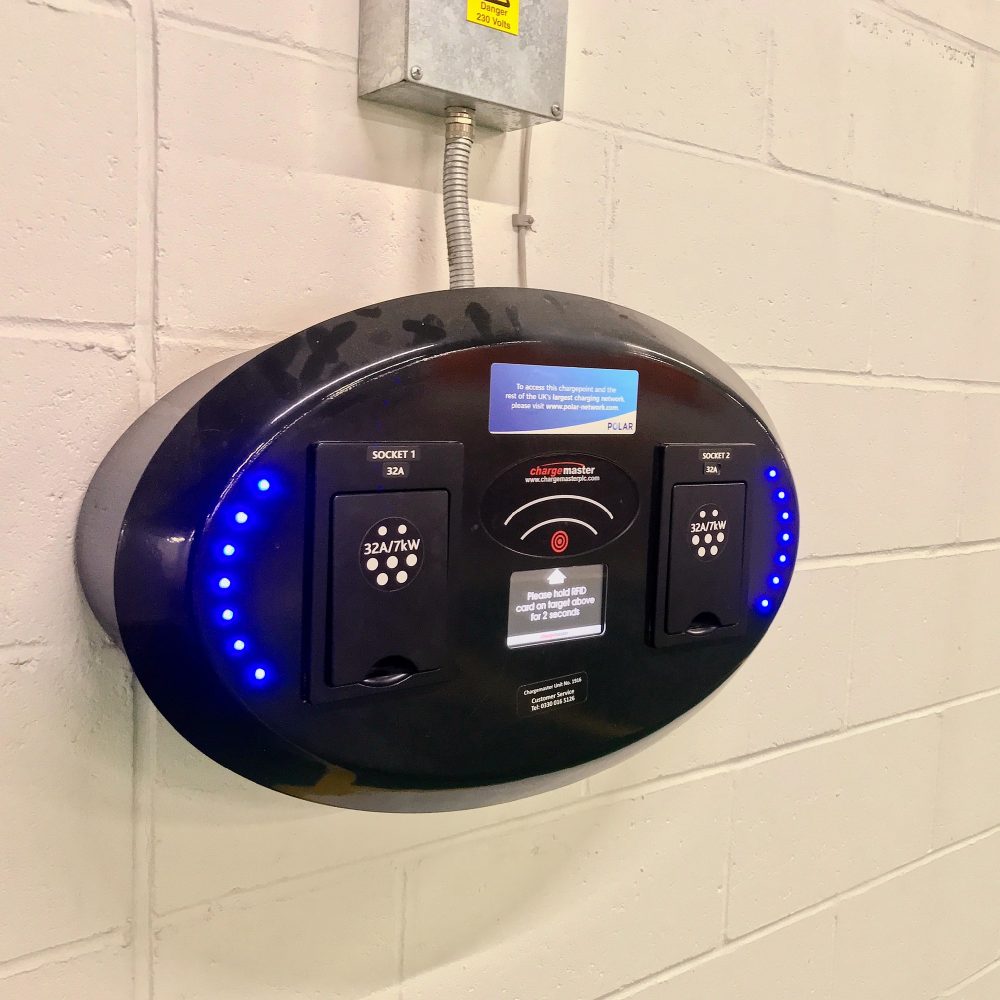 Westfield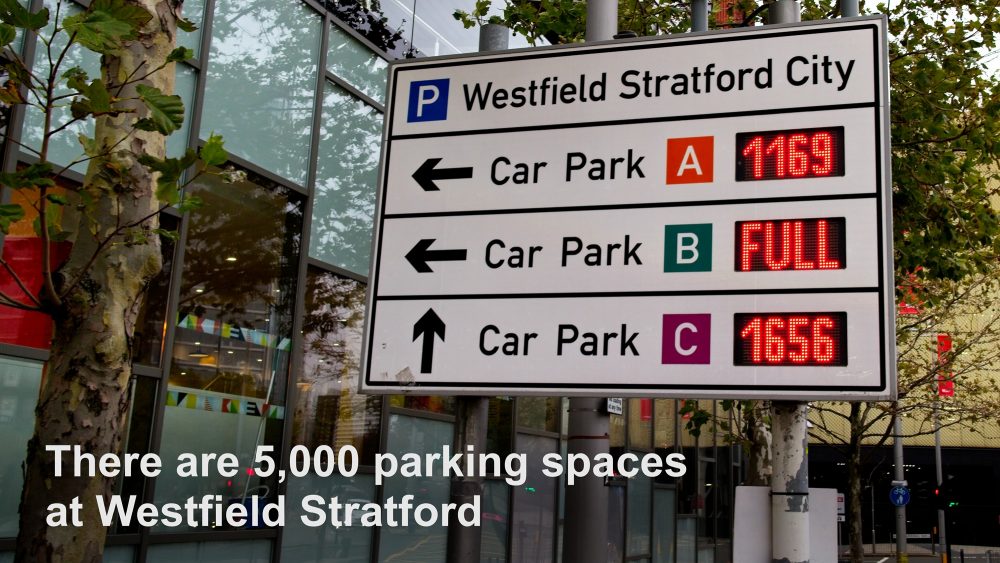 The car parks at London City Stratford (Westfield) have loads of Source 7kW hour chargers in them. There's a huge row of Source London 7kW chargers on level P4 aisle 45 of Car Park A. They were all out of order. There's no signage for any of these charging points. I had to keep asking people. Car Park C was closed.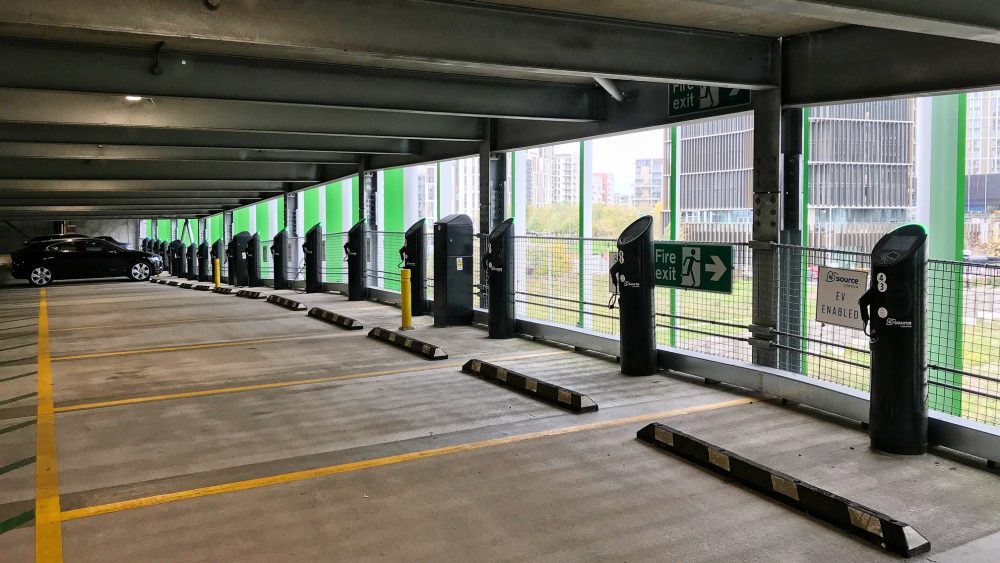 The Source London chargers above are on level 3 of the International Car Park. It's still close to the shops, just walk across in front of the International Station. Only one, of the Source chargers, behind the camera, had a 22kW sticker on it. The rest seemed to be 7kW. Parking charges apply, so a full charge will be expensive here.
The best EV chargers at Stratford are in this International car park on the ground floor by the exit. These are from Osprey and are 50kW – a big difference. You are likely to get your weekly tankful of electricity in about an hour.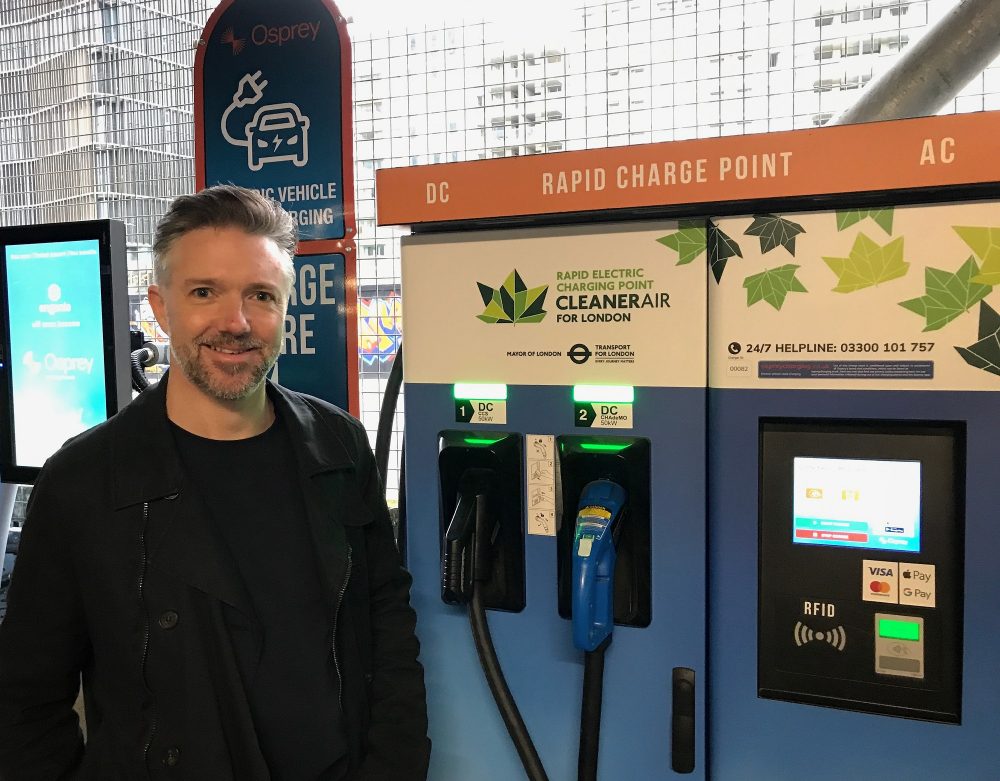 By chance, while I was taking my photos James Wehner from Osprey was there making sure that their new phone app was working properly. He explained to me that: "At Stratford International we actually give you 90 minutes of free parking when you charge and you don't have to do anything! Just make sure you're done within 90 minutes and the parking is on us." Details here. This works by automatic number plate recognition (ANPR).
The chargers look like petrol pumps, and I like that analogy. You have a choice of two rapid charger leads: CCS (50kW) and CHAdeMO (50kW) or you can bring your own Type 2 cable and plug it into the 22kW socket. You can charge, without an account, just using a contactless payment for 36p per kWh or download the Osprey app and pay 31p per kWh. Look for the chargers using Zap-Map.
The power and range of EV batteries has increased dramatically. The new Polestar 2 has a 78kWh battery in it Both the Tesla Model 3 long range, and the BMW iX3 have 75kWh batteries, and the Jaguar iPace has a 90kWh battery. The chargers in Bow are inadequate for the new cars coming out. They'll take 11-15 hours to take give the cars I've just listed an 80% charge. Visitors, shop owners and others from outside the area will also be needing to charge vehicles.
Home Charging in Bow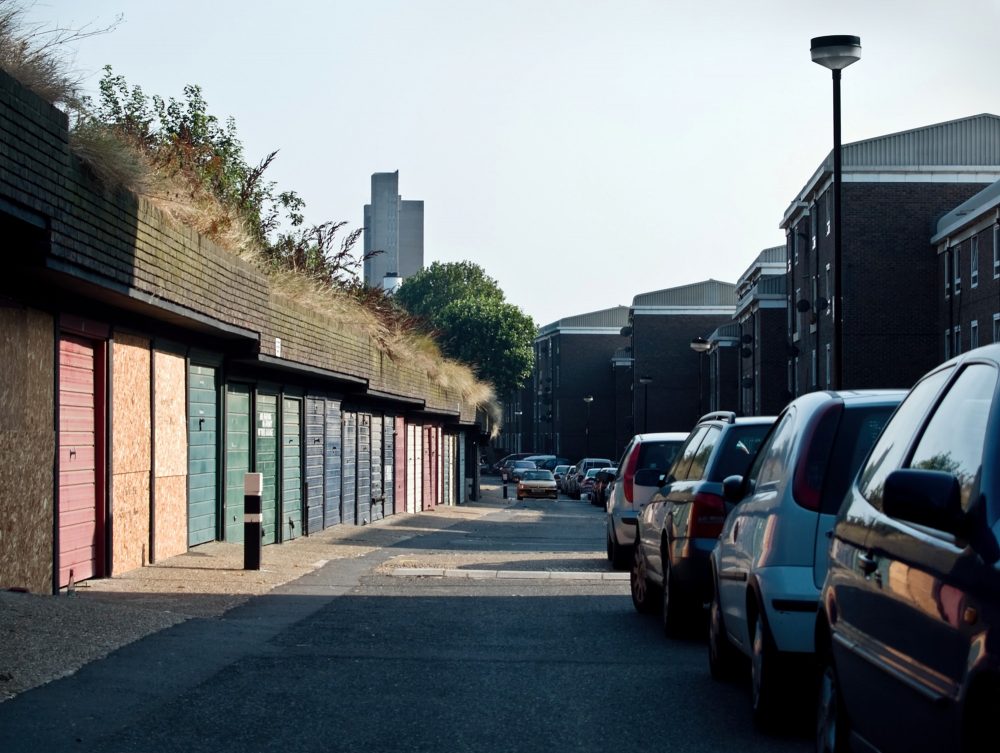 Ironically, inside the expanding ULEZ zone there are streets and streets of terraced houses. None of them are suitable for home charging. Every time a new car comes out it gets wider. The few people who do have garages where home charging might have been possible are likely to find that they are too narrow. Remember you've also got to be able to open a car door.
| | |
| --- | --- |
| Car | Width in metres |
| Ford Cortina Mk II 1969-74 | 1.65 |
| Hillman Minx 1964 | 1.54 |
| Nissan Leaf 2020 | 1.78 |
| Renault Zoe 2020 | 1.78 |
| Tesla Model 3 2020 | 1.85 |
The Tesla is a foot wider than the Hillman Minx.
The population of Tower Hamlets is about 180,000. It has 25,000 marked parking bays, but issued/sold 35,000 residential parking permits. Since not many people have off-street parking, it's down to the council to create EV points out of many of the parking bays it controls. These will need to be rapid chargers, not the token effort they've made so far. In October Tower Hamlets Council announced plans to install 182 new EV points from next year. The document says they'll be integrated into street lights. That means they won't be powerful enough!
Tower Hamlet's council's plans for 182 new slow chargers is not ambitious enough. If 10% of residents bought electric cars or vans they'll be needing 3,500 charging points.
What happens elsewhere?
Across much of Britain people drive everywhere all the time. For people living in small communities driving is the only option to get to work and to drive the children to school. When I visited Haywards Heath by train I was surprised to find a town awash with cars. They actually welcome cars here.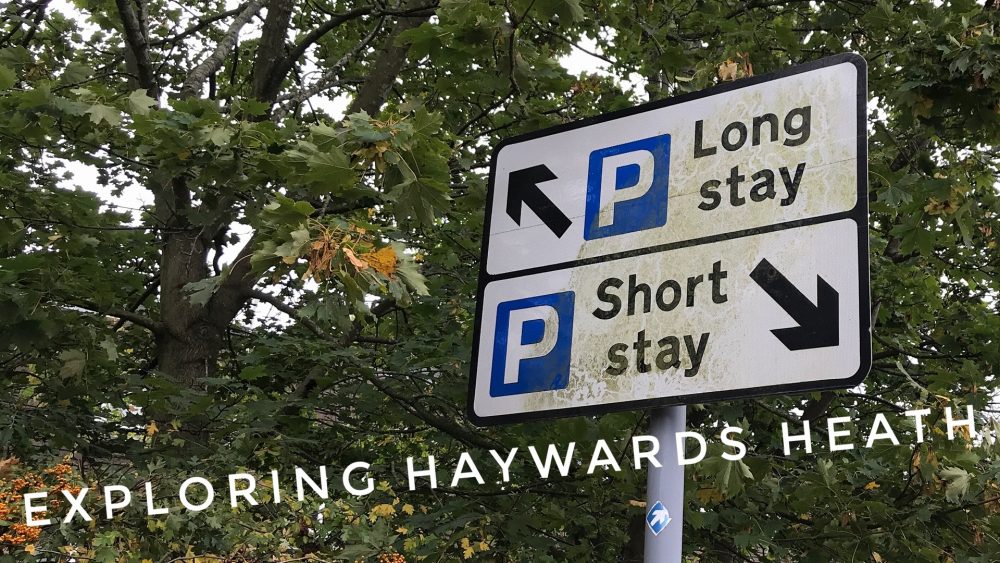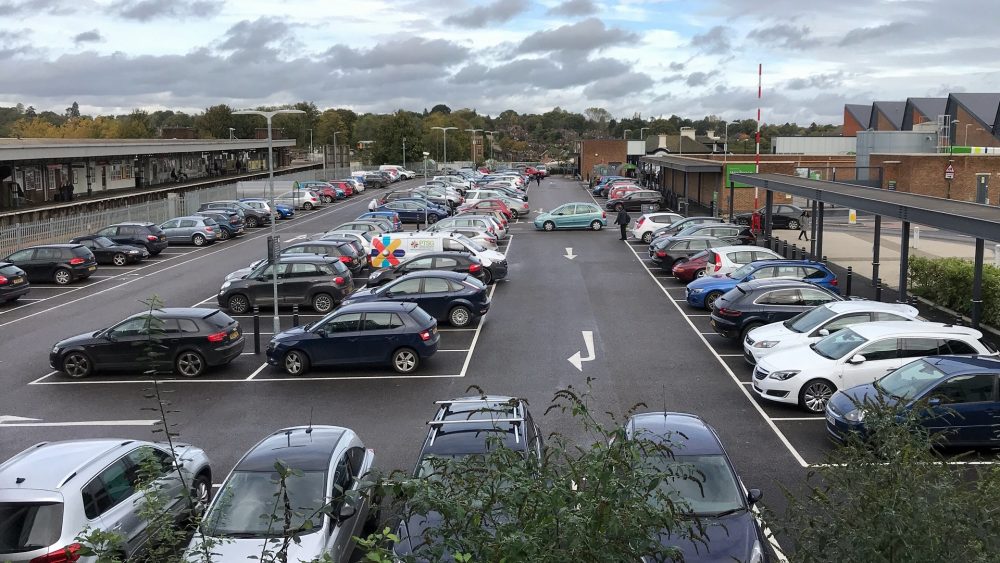 Sainsbury's at Haywards Heath also have a car park to match the size of the Waitrose one above.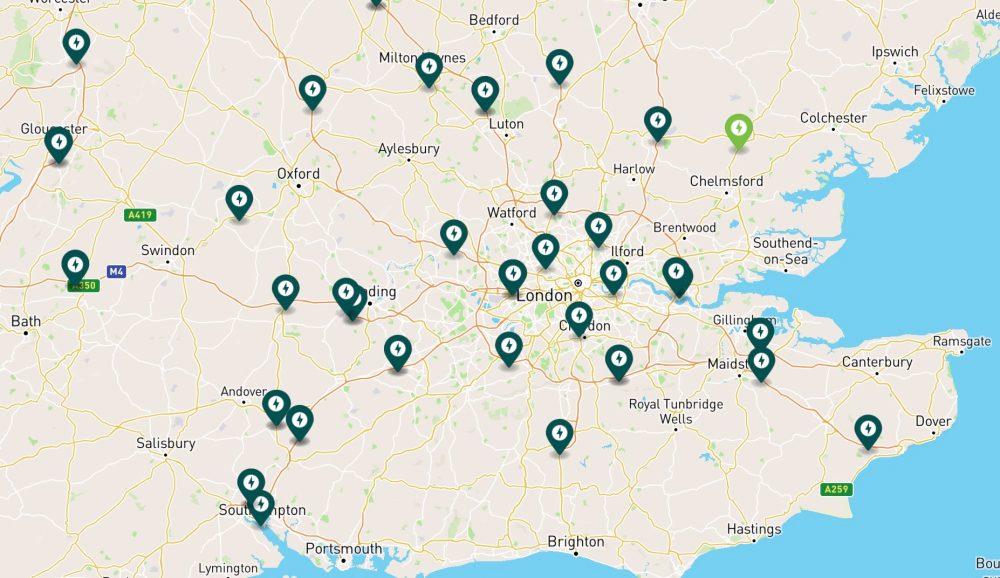 Update Feb 2022: Gridserve contacted me to say that they've been busy rolling out electric vehicle (EV) charging forecourts across Britain. See the Gridserve full interactive map here.
Summary
Personally I'm all in favour of electric cars, but not a buyer at the moment. Locally the charging infrastructure is almost non-existent. The best options for a Tesla in Tower Hamlets that I've identified is in the (privately owned) car park at Canary Wharf. For all other cars it's not in Tower Hamlets, but in Newham, across the tracks from Westfield, in the International Car Park owned by TfL & HS2.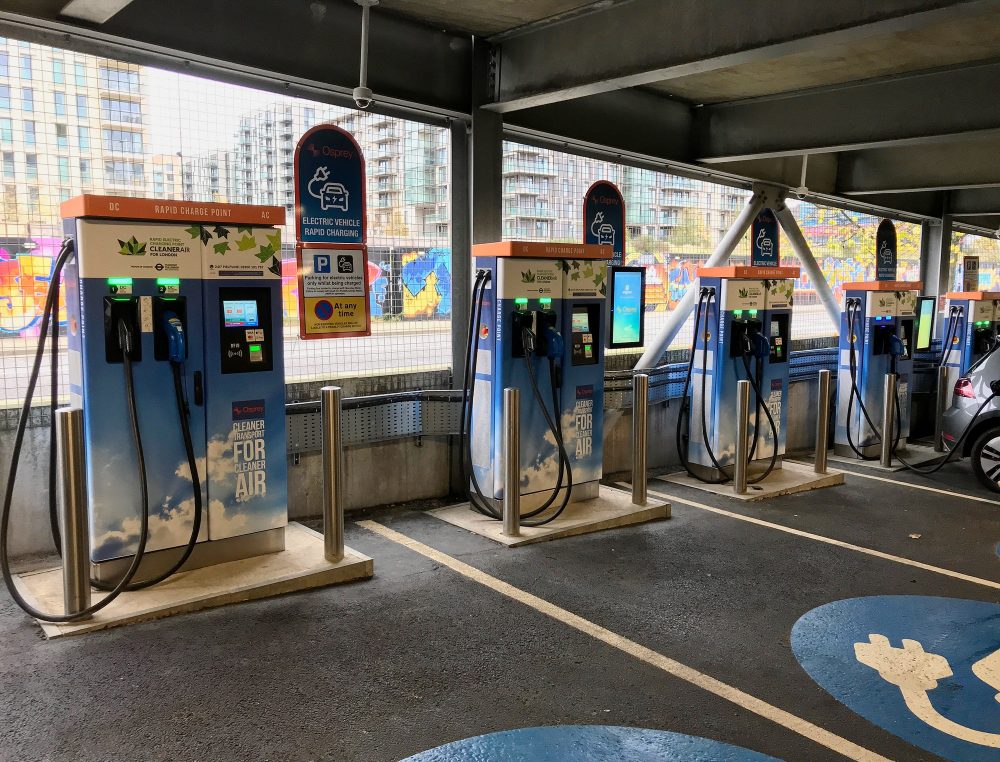 If you own an electric car in Tower Hamlets please leave a comment below. We'd love to have the benefit of your experience.
My previous article was called ELECTRIC CARS – ARE THEY ANY GOOD NOW?
Alan Tucker