The Geezers had a privileged view of photos of the East End taken by David Granick from the 1960 – 80s at the Tower Hamlets Borough Archives on Thursday.
David Granick was born in 1912 in Stepney. He became a member of Stepney Camera Club. I joined a camera club whilst still at school and can report that pictorialism was the style being pushed. The aim was to take beautiful photos with a pleasing composition. Judges in camera club competitions would also give high marks to photos of pretty villages in Italy, but scratch their heads if you showed photos of your own street. What makes David Granick's photos so valuable to us now is that he worked his way around the East End shooting colour slides on the streets.
His motivation – David Granick was also a member of East London History Society. He was documenting the local area as old buildings damaged by German bombs were pulled down rather than restored. He shot slides because it was the cheapest and best way of shooting colour. They enabled him to give illustrated talks on local history. His choice of shooting on Kodachrome would have been deliberate. As well as being punchy and saturated, Kodachrome was the only colour slide film which was effectively archival.
When David Granick died in 1980 his family gave his carefully preserved Kodachrome slides to the local archives. They were later discovered and recognised as real gems by Chris Dorley-Brown who scanned the slides at high quality. An exhibition was held at the archives in 2018 and the book: The East End in Colour 1960-1980 was published.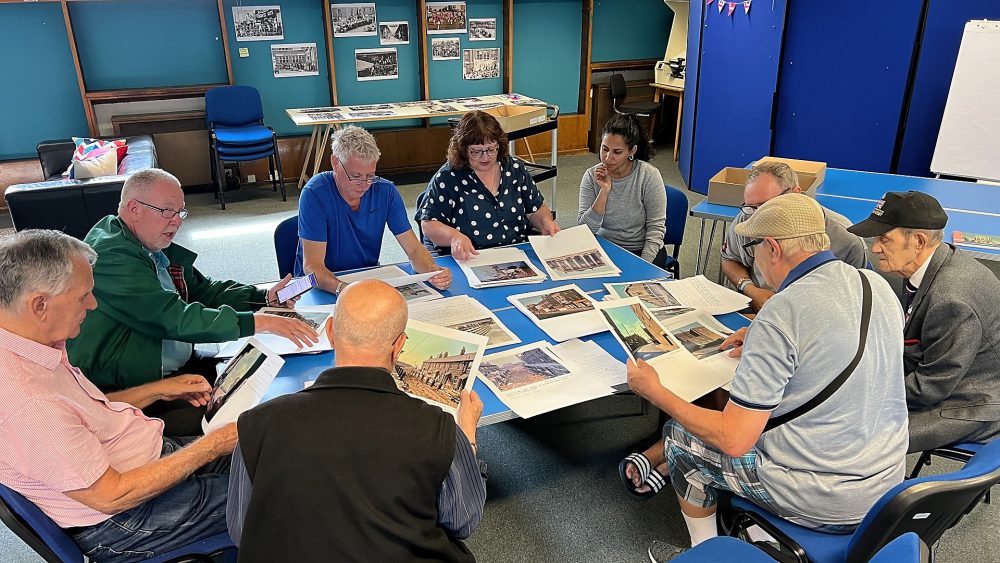 The Geezers had a wonderful time viewing and discussing photos of the streets and places they remembered. Streets with hardly any cars in them. Tin fences, and boarded up uninhabitable buildings. Ships unloading in the docks.
We'd like to give a big thank you to Sanjida Alam, Heritage Officer at the Tower Hamlets Archives in Bancroft Road, London, E1 4DQ for facilitating our visit.
Sanjida made suggestions about looking after our own family archives. She said that lots of official documents find their way into archives, but not enough oral history stories, stories of everyday life. She said that she'd been learning more about local history from listening to the Geezers.
The book of the photos we were looking at: The East End in Colour 1960-1980, can be purchased from Hoxton Mini Press.
Alan Tucker