Russell Brand supports the E20 fishing club which is threatened by eviction from its Canal -side site.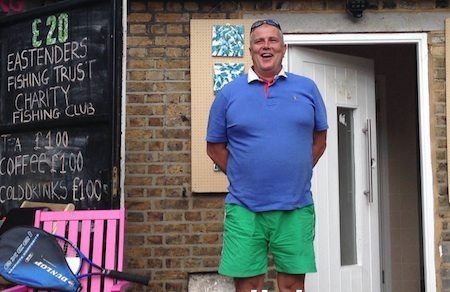 Mark Kennedy explains what it does and why it is important.
Dear Reader,
We are the E20 Eastenders Fishing Trust and need your help! The Canal and River Trust are attempting to evict us from their premise at lock cottage, old ford lock, dace road, London E32NN . They agreed to sell us their property and after we secured the funding they went back on their word and have given us two months notice as of the first of June. This would destroy the hard work that all the volunteers and I have achieved in the area. Having to move would be particularly devastating as lots of our  funding is tied to this location and we may lose the fishing rights as well.
The primary function of our charity is to support local fishers as well as to take disabled veterens, multicultural groups and disabled children out fishing. We fund these trips by running a tea room out out of the old stable block which for the previous twenty years was left unused by Canal and River Trust, along with donations from individuals and reputable organisations.
We provide a community centre along the canal side bringing together the diverse groups who enjoy the tow-path. We provide gear for fishers and lively atmosphere to discuss the catch of they day. We also function as volunteer lock keepers, always ready to help a boater whether they are a dingy or a narrow boat. We have a bike repair and recycle team for our two wheeled friends who need a fix. Regardless of if your here for a purpose or not you can relax with a cup of tea and a slice of cake.
Our presence has also helped to reduce crime in the area by providing eyes with ties to both Wopping and Olympic police but more importantly as a deterrent just by being around. There is also a group effort to maintain the local area, picking up litter, sweeping and also keeping an eye out for fly tippers on the bins.
If we manage to convince canal and river trust to overturn this decision we intend to revamp the area around e20 lock with facilities such as showers, laundrette, PO boxes and pump out facilitys.We would also start a recycling scheme for bottles and cans. We will also be able to continue our good works in the area.
This petition has been created in order to show the support people have for us and convince Canal and River Trust they are making the wrong decision. Please sign if you want us to stay as together we can make a real difference.
Thanks for reading,
Yours faithfullly, Mark Kennedy.
(if think you can help with more than a signature call me on 07930907312 or come over for a cup of tea)
For more information visit their website
And Click Here to sign the petition