Last Friday local firefighters and residents of Bow marched from Whitechapel to City Hall to present the Mayor with a petition with 7500 online and paper signatures demanding that Bow Fire station should be saved. This follows a consultation process which residents condemned as a sham. See our earlier post.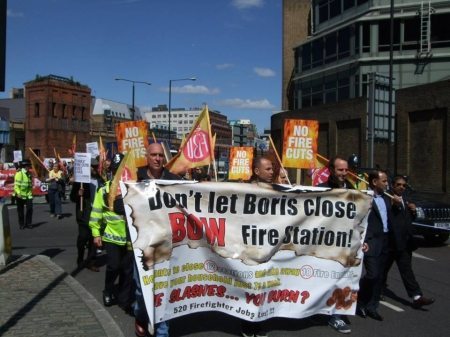 Mayor Boris Johnson wants to close Bow Fire Station by October 2013. This means the lives and property of the people of Bow will be put at major risk if these drastic measures take place. Twelve fire stations in London have been earmarked for closure, including BOW.
Bow is part of a borough which has the quickest growing population in Western Europe. Bow is under threat of closure due to the mismanagement of Government funding. The London Fire and Planning Emergency Authority voted to reject the closures of all 12 fire stations, however this democratic process has been over ruled by Mayor Boris Johnson with support of the Chairman of the LFPEA James Cleverly and the London Fire Brigade Commissioner Ron Dobson. Therefore these closures are set to go ahead.
Bow fire station's ground is mainly residential however but it also incorporates the following:
64 High rise buildings
13 Primary and Secondary Schools
2 Hospitals
1 University with multiple halls of residence
DLR and Tube Underground stations
Victoria Park
The A12 Urban Motorway
Numerous industrial and commercial parks
Crossrail sights
The Olympic Stadium (which is set to be used in the summer for pop concerts)
To name but a few not including the 3000+ residences which are currently in the process of being built in and around the area.
Firefighters at Bow will be redeployed to protect other Londoners at other stations. The firefighters from Bow are fighting for you and for your station and your safety to be saved.If Bow Fire Station closes many lives could potentially be put at risk.
1 LIFE LOST IS 1 TOO MANY!!
For updated information visit the campaign to save Bow Fire Station Facebook page.