Last Sunday saw the week long Roman Road festival come to an end with a street party on the Roman Road.  Tennis on the astroturf, music on the stage, pavement art, skipping, glorious food and interesting stalls.  The rain held off and even the the sun tried to shine.  Roman Road was really Blowing Bubbles (with apologies to the other East End  football teams!)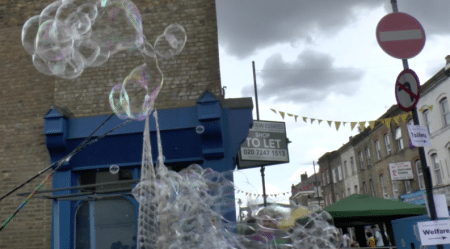 Next week we hope to bring you an interview with organiser Tabitha Stapely with her reflections on the Festival and plans for the future.  Plus some more photos.
Here's how it was reported in the East London Advertiser.
The final leg of the eight-day Roman Road festival boasted local talent through live performances, interpretive dance, FOOD
 stalls, craft stalls and much more.
At one end of the road queues wound round stands selling home-cooked jerk chicken and at the other end, crowds gathered to watch a WOMAN
 writhing and stretching into obscure shapes in the name of dance.
Natalie Clarke, 30, from the organisation, Chisenhale Dance, explained: "This is our community consultation. We're encouraging people to tell us what they've always wanted to learn or something they'd love to do for fun. [They called this designing their fun palace].
"You then give us your fun palace and we turn it into dance.
"Something like this is important for the community as we OFFER
 project support for body-based work of all kinds."
The VICTORIA
 Park Singers wowed crowds with eight upbeat songs.
Choir leader, Hannah Brine, said they squeezed in a practice in someone's back GARDEN
 before the performance, adding: "We did a lot of African and folky music today because it works a capella."
She commented: "A festival like this is absolutely lovely, it makes you really aware of what businesses are around and what's going on and it's nice to feel people are committed to having a community.
"It's nice to know who your neighbours are and I think people join a choir because they want to know the local people as well."