On Sunday Sheila and I headed off to Rainham Hall to try to get our money's worth out of our National Trust membership cards. I remember Rainham Hall from 50 years ago when you could look at it through the railings, but not go in. What I didn't know, was that even then, it was owned by the National Trust, and rented out. They just didn't have the money to restore it. Rainham Hall opened to the public in 2015, with an exhibition about John Harle it's first owner.
Rainham Hall was built in the original "Queen Anne style" in 1729 – not to be confused with the later revival or the American style. Queen Anne , the last of the Stuart line, died in 1714, and was succeeded by her second cousin King George I, so the house was built in Georgian times. This was a sturdy house, built of brick using the latest window designs. It was in the years 1670 – 1700 that industrialised glass production dramatically improved in England.
The house was built for a newly wealthy sea-captain and merchant, John Harle. The volunteer who gave us a short introduction to the hall explained that Harle was a coal merchant from South Shields. His brothers were still up north running the other half of the business.
In 1718 Harle married Mary Tibbington, a wealthy Stepney widow. He bought Rainham Wharf and paid to dredge the River Ingrebourne so that bigger ships could use his wharf. He then began trading in other building products: Italian marble, Honduran mahogany, pine from the Baltic, and blue Delft tiles. Business must have been booming because the house he built was a huge and expensive showcase for the products he sold. Harle only enjoyed 14 years in his wonderful house before he died aged 54.
Over the years the house the house has had many different tenants and uses. Structurally the building is little changed. Rather than restore the decor to as when built, the National Trust is running a series of exhibitions based around different tenants. This year is themed around when it was a childrens' day nursery from 1943 – 54. Many local people have contributed memories from their childhood spent here. Next year it will be the turn of Vogue photographer, Anthony Denney, who lived here in the 1960s.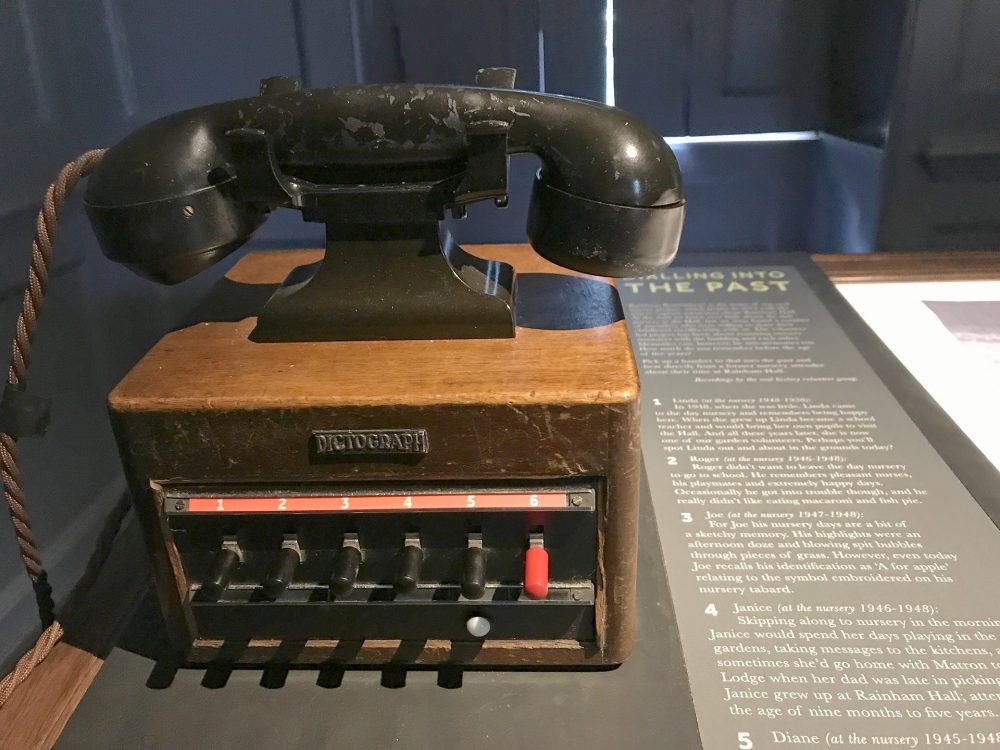 Rainham Hall is open Weds – Sun 11-4, adult entry is £6. It's very easy to get to from the East End – District Line to West Ham then a C2C line train towards Grays (live train times here). Once in Essex, Rainham is now part of London, and your Oystercard or FreedomPass will take you there. The Hall is only 200 yards walk from Rainham Station. We enjoyed our visit, and the staff were very knowledgeable and helpful.