Geezers Member Barrie Stradling
Millwall are always perceived in the media as Racist or Homophobic or Hooligans, anyone that you meet once you mention your team, go straight in to their preconceived vision of what we are, do other clubs get it? Strangely enough no.
This is because it is a perception that the media are happy to perpetuate, below is one very small bit of proof of what they will publish and what they will not.
I am not saying that we are all angels far from it, and I am oviously focussed more on my Millwall allegiance than non Millwall fans would be, but the Negative angle of Media gets on your wick, or should I say our Millwall wicks.
Below all coming during the same timeframe to start the negative Media lets take the piss angle –
On October 8th 2014 The Daily Mirror focussed on a MSC vote about the choice of our away kit for 2015/6 when they published a story with the Headline 'Let's all make Millwall play in pink next season'. What a laugh that would be encourage non Lions fans to vote for something that would wind us up, this is only a snippet, I could fill the entire website with Media stories of a scurrilous nature, but I will just leave you with this nugget.
Some 2014 information about positive Millwall related things that received local Media but little or no national Media coverage –
Firstly on October 18th 2014 Millwall FC presented a cheque pre match v Wolves of £25,000 to the charity Prostate Cancer UK, see picture below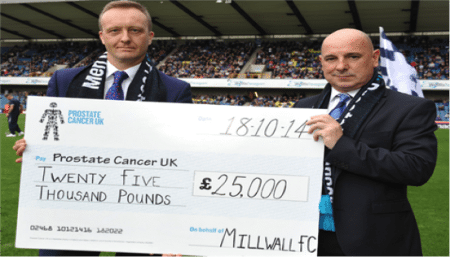 Secondly for the game v Brentford on Saturday 9th November 2014, Millwall wore a Camouflage coloured kit that they had been allowed to do, to raise money for Headley Court a rehabilitation centre for injured British Service Men, they donated £10 for every kit that they sold to the Centre, Sky Sports featured a video supplied by Millwall of this, so at least some acceptance I suppose, see all the pictures below for the reality –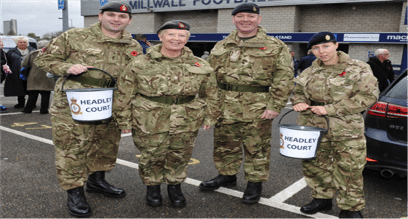 Headley Court Staff Collections Outside The New Den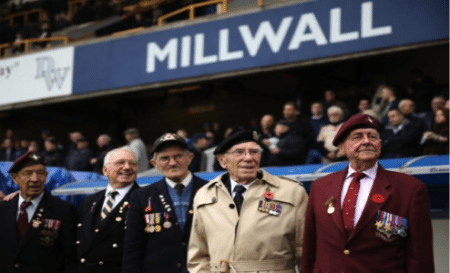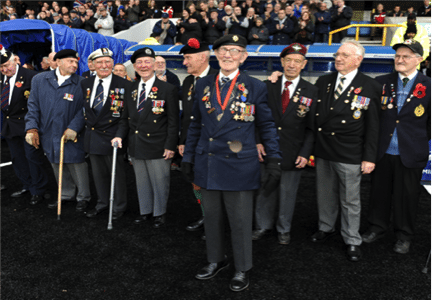 Old Veterans Inside The New Den Pre Match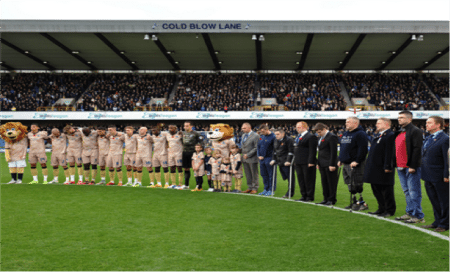 Millwall FC Lined Up Pre Match With Seriously Wounded Soldiers From
Headley Court For The Remembrance Silence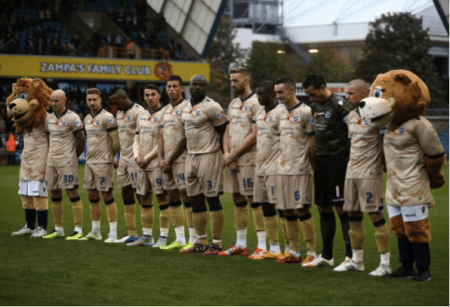 Millwall FC plus Mascots in especially designed Camouflage Kit that were
sold to fans to raise money for Headley Court 
Thirdly Millwall fan Sean McCarthy has sold Poppies near to Cannon Street station for years, specific Millwall specific poppies in the last couple of years, for reference when he became more focussed on his team in 2013 he raised £38,000 and in 2014 he aimed to raise £40,000, how does that compare to other fundraisers for the British Legion Poppy Appeal? Or is it because he is a Millwall fan, it is therefore positive in a Millwall related way so the national media can't be arsed to mention it!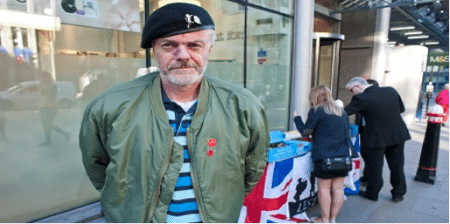 Sean McCarthy Millwall Fan And Poppy Seller Outside His Stall
In Cannon Street In The City Of London
Were any of those positive things featured widespread in the media? Were they b*llocks surprisingly they would rather highlight on something that they think is humourous, like the Away kit ruse, how we chuckled not!, or say focus on any minor incident involving Millwall fans as though it were the start of a Nuclear War!
I could expand this reality against a manufactured Media perception for many many columns, proving my case easily but I hope that what I have put at least gives you a brief insight in what Millwall fans have to put up with, something that I have had to endure in all my Millwall life which started in 1966.