Above: "East End's Amateur Art Students" Daily Sketch 13th April 1927.
Last week Sheila and I took the train to Southampton to see the big exhibition From Mile End to Mayfair, at Southampton Art Gallery which is on at until 6th Jan 2018. This features work by the East London Group of artists who are also currently on show until 17th Dec at Bow Arts, just north of Gladstone's statue.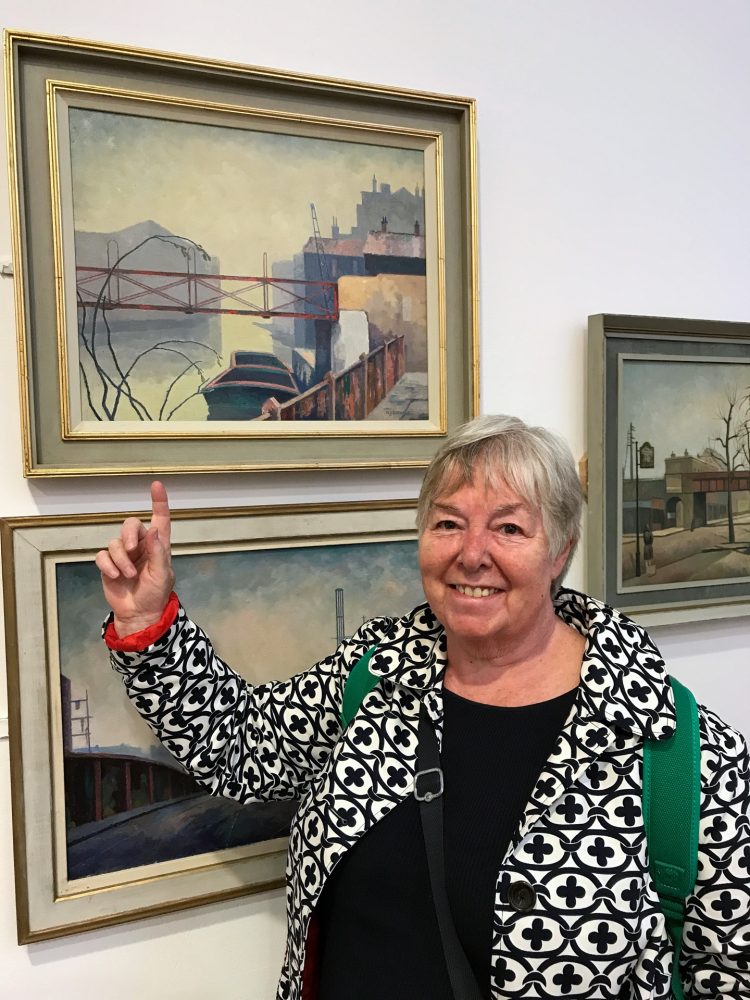 Sheila is pointing to Walter Steggle's 1930s painting called Red Bridge, Bow. This was at Brymay Wharf, so it must have been painted on the River Lea behind what is now called The Bow Quarter. Until the late 1960s the A12 (Blackwall Tunnel Approach Road) did not exist here. We've ordered a print of this painting, and took this photo so we could try to buy a similar frame. I did think of looking around charity shops, and maybe repainting an old frame. Today I read that back in the day, Walter Steggles used to buy his frames from the prestigious Skillen & Co in Lambs Conduit Street, who had a large stock of secondhand frames, which they were happy to cut down. Plus ça change!
Walter Steggles joined the Bethnal Green Men's Institute art club in 1925 at the age of 16. In 1927 he followed his favourite teacher, John Cooper, to the Bow and Bromley Evening Institute which was next to Kitcat Terrace, above the railway. In 1928 Walter Steggles, aged 20, contributed 11 out of 184 exhibits for the groups first big show at the Whitechapel Art Gallery. They were soon exhibiting in the West End.
It was John Cooper who encouraged his pupils to paint local scenes, and that's what's so fascinating about both of the exhibitions that are currently on show. Below is Walter Steggles painting of Thomas D'Akers metal Bow Bridge from about 1898. This bridge is still in place, underneath the roundabout.