Feeding the Hamlets Exhibition
This exhibition, downstairs in the Borough Archives, has just opened. Until mid-Victorian times much of Bow was still fields growing produce for London.
In one of my many history books indoors I read that in 1720 the village of Bow was situated two miles to the east of London. Mile End Road used to be called Essex Road, and Essex began just across the River Lea at Bow Bridge.
The staff at the archives in Bancroft Road have selected deeds, maps, photographs and other documents to tell the story of food production in the East End.
The exhibition begins with Gascoigne's map of the parish of Stepney of 1703 which shows green fields across most of the East End east of Whitechapel. They've located lots of fascinating documents, including the receipts for purchases of vegetables by Poplar workhouse in 1822.
On the left of my photo above is the elaborate and impressive deed for the purchase of land in Lefevre Road, Bow, by market gardener Joseph Culley. He paid £240 in 1859. Big money then.
There's a section of the exhibition devoted to cow-keeping. I happen to know that the passage between the houses in Cardigan Road, opposite the Green Goose, was preserved because it was a right of way to take cows from their pasture to a dairy.
This is a fascinating exhibition and well worth a visit. It's open Monday to Saturday at 277 Bancroft Road, E1 4DQ. More details on their website, which was temporarily offline.
Summer market in Ecology Pavilion this weekend 13/14th Aug
The Summer Market will showcase and celebrate the many innovative & talented small businesses within the Instagram community and in the local area. It's open 12.30 – 5.30pm each day. Admission is free but you need to register first on Eventbrite.
Great East End Walk 2022
St. Joseph's Hospice in Mare Street, Hackney, are holding a fundraising walk on Sunday 4th Sept. You can choose to walk 10miles of 3 miles. Full details on their website.
St Joseph's provides compassionate, specialist palliative care to people in East London who are living with life-limiting illness.
Bow-born Lotte Wubben-Moy helped to 'bring it home' for England
Lutfur Rahman, Mayor of Tower Hamlets, said:
"On behalf of Tower Hamlets, we want to congratulate the Women's England football team for making history by winning Euro 2022. A truly monumental achievement.
"And we are incredibly proud that one of the Lionesses, Lotte Wubben-Moy, was born in Bow. Lotte and the whole squad are an inspiration to us all, particularly the girls and young women who will want to follow in her footsteps. We will be there to support them."
Summer of Wellbeing Festival
The Bromley by Bow Centre are holding a festival on Thursday 25th August from 12pm–4pm.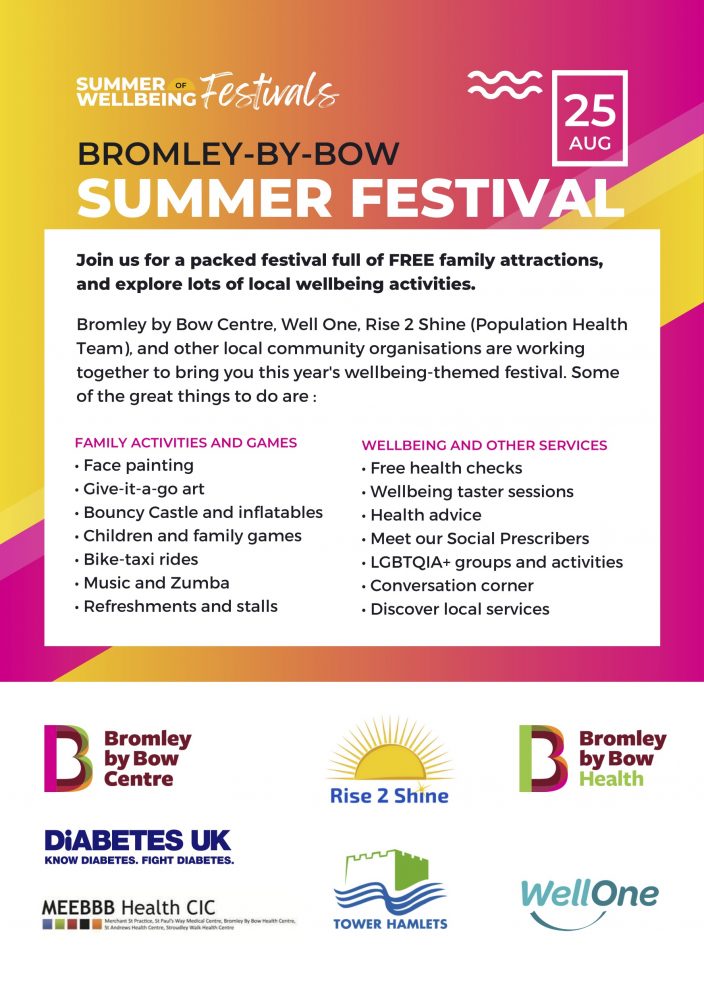 The Tower Hamlets Council Strategic Plan 2022-2026
You can read the plan here, and you'll find some interesting statistics about our borough on pages 5-6.