Great Get Together QE Olympic Park Sun 23rd June 2019
Next Sunday between 12-6pm there will music and dance on the main stage, plus storytelling, arts and crafts and much more on in The Queen Elizabeth  Olympic Park. More here on their website.
Stratford Waterfront museums get planning permission
Read the full article and see the artist's impression in Newham Recorder here.
Boishakhi Mela festival returns to Bethnal Green
Pop along to Weavers Fields, Bethnal Green, E2 6HD, on Sunday 30 June to enjoy Bengali arts, music and culture. Head west from Bethnal Green tube and turn left down any street between McDonalds and Vallance Road. More info here.
Crofton Singers Summer Concert
The next Crofton singers free concert is on Sunday 30th June at 5.00pm. It's at St Paul's Church, St Stephens Road, near the junction with Roman Road Market. See their poster below.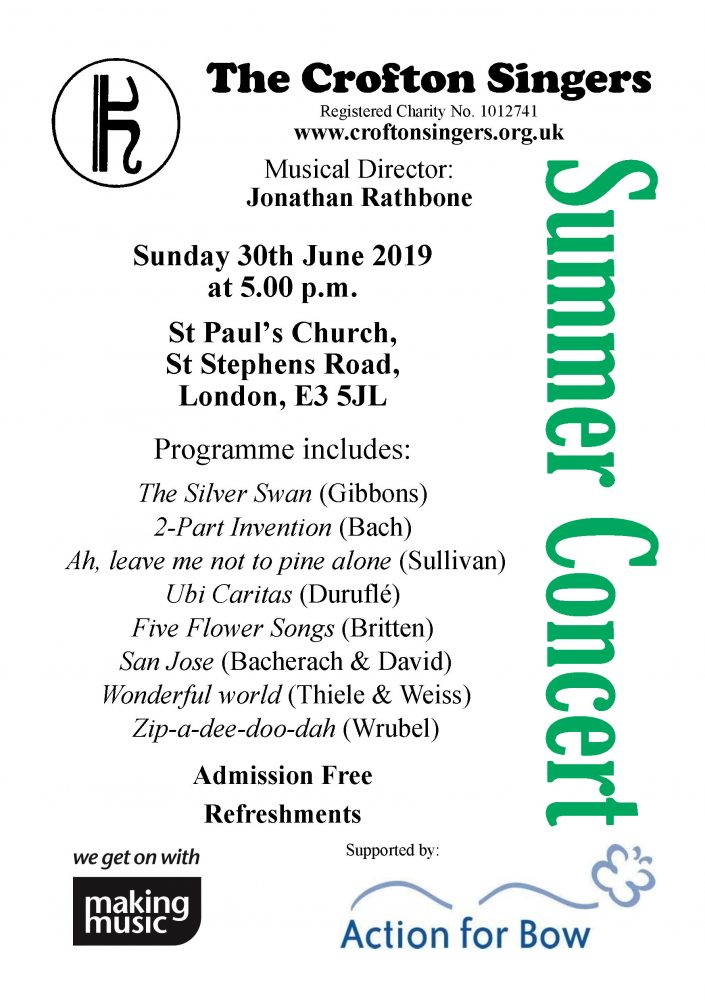 Ask the Mayor of Tower Hamlets
The next event for you to meet John Biggs, Mayor of Tower Hamlets will be from 7 – 9 pm on Weds 10th July 2019 at Whitechapel Idea Store, London, E1 1BU.
To register a place, email your full name to: consultation@towerhamlets.gov.uk