The Men's Health day at the Merchant Centre in Bow last week organised by the Geezers, exceeded expectations, not only in the numbers that attended on a damp cold day, but in the quality of the speakers and their interaction with the audience, opening up conversations and discussions about men's health that are often taboo in men's company.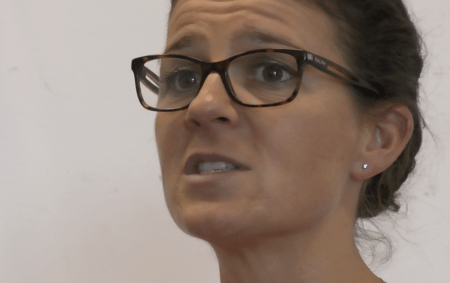 Local doctor, Dr Tania Anastasiadis, gave a very down to earth and accessible talk and answered questions about the diagnosis and treatment of prostate issues and bowel cancer.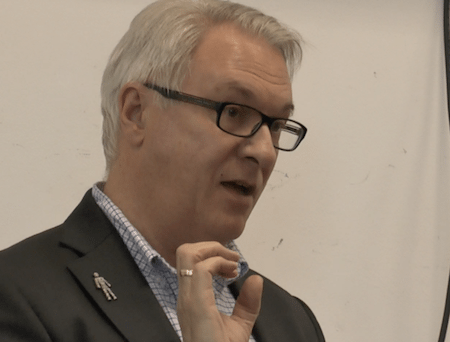 whilst Tim Newman from ProstateUK, told the story of prostate cancer from the inside with his decision to have a life saving prostectomy and its impact on his life.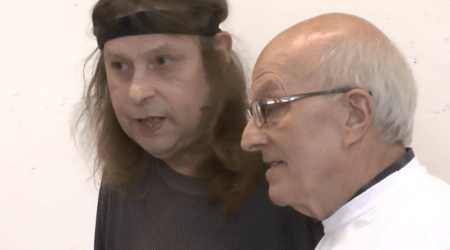 Stevie Ross bravely shared his experience of being an alcoholic and in a very moving moment was joined by Ray Gipson who has recently lost his son to alcoholism. Rob White from  Sporting Memories talked about how he is using sporting memories to work with people with Alzheimers, and the men from Men's Cabins in Poplar talked about their activities.  Both groups are planning future collaborations with the Geezers.  The event started with a slide show and talk by Professor Tim Oliver about the importance of physical activity and exposure to the sun.
Around the hall were stalls providing information and offering conversations about men's health issues.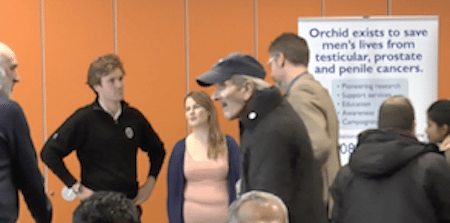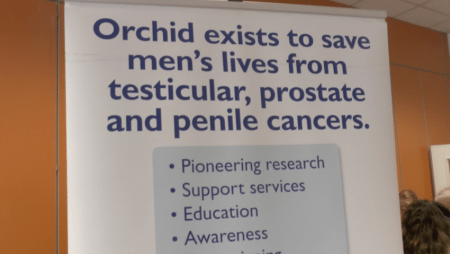 The Geezers video-recorded the speakers and over the coming weeks we will be uploading their talks to the website.
Here is a full description of the day from Geezer Barrie Stradling with some additional comments from the Geezer's Co-ordinator, Ray Gipson.
Geezers Member Barrie Stradling gives his thoughts on the Men's Health Seminar that The Geezers promoted on Wednesday 26th April at The Centre Community Hall in Merchant Street Mile End
The reason for doing this was that Women's Health Services were far more prominently advertised than Men's Health Issues.
Consequently, The Geezers decided to arrange a Seminar where Health professionals would present to them the services that were available to men  It's main theme was prevention rather than cure, in other words if men had a concern about a health issue it was best to get medical advice at the earliest possible stage.
The Exhibitors and several of The Geezers arrived at The Centre at around 10.30am – 11am to arrange the hall tables and chairs etc before the Event started at 12.30pm.
The Event was attended by several professional bodies, who promoted what they offered or gave lectures about their subject.  Kate Angus of Link Age was the prime organiser having taken on the task of organising the event on behalf of The Geezers as she had links to the relevant groups who we were trying to encourage to offer their services.
The Event was due to started at 12.30pm. With hail stones coming down people started to arrive at around noon.  Transport was mainly supplied via Link Age, for those people with mobility issues to be picked up and dropped back to their extra sheltered housing schemes, together with other centres who came in groups in their own booked transport.
The people were greeted as they entered the front door by two of The Geezers Ray Gipson and myself Barrie Stradling, at a metal table that we had installed by the chairs inside the reception area.
Geezer Don Tomlin was also in attendance aiding those people who needed assistance.
People queued to get in and were asked to sign in on a signing in sheet writing their contact details for future use, also as the Event was going to be video recorded they were asked to sign Contributor Consent Forms that they were happy to be filmed, which practically everyone was.  They were offered free mints during this process and once they had completed the signing in process they proceed to the Main Hall were the Exhibitions and Presentations were.
The Event began with a welcome in the Main Hall where tea and coffee was provided.
People of varying ages and abilities attended from Bromley By Bow Centre, The Tower Project and Blue Skies, as well as numerous Extra Sheltered Housing schemes from the Bow area.
Kate Angus had liaised with various Health bodies in East London predominantly and an array of people presented to the gathered attendees, which numbered around 50+ people, including 13 of The Geezers themselves. The hall consisted of various tables located all around the main hall where the various health bodies could display their literature.
The range of services on hand on the day was varied it consisted of: Cancer / Prostate Cancer Doctors who spoke of the things to look out for and what to avoid etc;  Fit For Life and Circus Trainers regarding keeping health; Headway East London a Brain Injury Charity; a Sporting Memory Workshop that was instigated to restrict isolation as Men may not want to communicate as much as women, but they would talk about sport, especially Football; an Alcoholic group Reset represented by one of their members who portrayed his own life experience and the Men's Cabin a men's club based in Poplar who exhibited all their work projects.
The Geezers displayed numerous photos and merchandise regarding the vast array of Projects that we have been involved in, and   The Geezers Members there wore white T shirts that had Geezer Power insignia on.
Lead Geezer Ray Gipson opened the Seminar with an introductory speech about the day, this was followed by Professor Tim Oliver a Cancer specialist.
The Lectures were carried out at the front of the hall where seats had been organised in numerous rows facing the speakers.
At around 1.15am the Event broke for lunch, which was along with the Tea and Coffee provided early,  free of charge. The Lunch was buffet style with a vast array of different Sandwiches and Wraps available from long tables arranged in front of the Kitchen area of the Main Hall.
The Event restarted at around 2pm, when Dr Tania Anastasiadis a cancer specialist spoke, this was followed by Tim Newman a Prostate Cancer Specialist, these were followed by Rob White Sporting Memories, Men's Cabin and Stevie Ross who spoke about his Alcoholism.  Geezer Ray Gipson congratulated him personally after his lecture as one of his own sons had only recently passed away by problems caused by alcohol addiction. This was a very moving moment in the day.
There was also GLL Circus Training before the Event finished.
Throughout the day all the speakers were warmly applauded for their contribution to the day.
As people left the hall to pick up their transport they were given a bright red Geezer Power canvas Bag that Kate had had produced, as a passing gift.
The people who I spoke to were very appreciative of The Men's Health Event, we Geezers hope that it leads to men young and old taking our advice of not waiting till it was too late.
In addition here is Ray Gipson's, the main man of The Geezers, thoughts and summary of the Event:
We held our 'Men's Health Day Wednesday 26th April at The Merchant Centre on The British St. Estate.  Though the weather was cold & damp.  We manged to get a lot more than we expected along.  We had four lovely speakers at the event to talk to us on aspects of Men's Health.  That covered Prostrate Cancer, Heart Disease, Alcohol Abuse.
In other words, General Problems that men can all get as we get older etc.       
Professor Tim Oliver a Cancer Specialist spoke about keeping ourselves fit & exercising regularly.  A lovely Lady Doctor (Dr Tania Anastasiadis) from The St. Stephens Practice in Roman Rd Bow, explained all sorts of things that happen to our bodies if we do not look after them.  She also answered many question from the floor.                                              
A middle age Man who admitted he was an Alcoholic explaining our it is ruining his life.  People enjoyed the different Stalls we had on show & the variety of freebees to take home.  Refreshments & Lunch was provided.  People were brought to & from their homes by our hired Mini-Bus.  Big Thank you's were given to all the people, like our Kate from Age UK, that made it happen                   
It was really worth doing and with the various parties and partners, that we met at the Event we want to carry on this theme a lot more during the summer months.  
Ray Gipson The Geezers Club Age UK East London.
Men's Health Day