More improvements for cyclists and pedestrians in the Olympic Park
When the new cultural area opens, along with the London College of Fashion, plus lots of new apartments; the Olympic Park will gain thousands more visitors. This recent article in the Evening Standard explains how the Olympic Park is to be given £25m for transport improvements for pedestrians and cyclists. Part of it includes reducing the road between Westfield and the park from two lanes to one lane each way. This would allow wider pavements and segregated bike lanes.
Along the North Shore Sat 27th April
This guided walk by Mike Althorpe looks at London's Middle City, between Charing Cross and St Brides. Find out about the cloisters, palaces and watergates along the way. £10 – £12 more info and booking here.
Friends of Island History Trust Open Day
Throughout the day guest speakers will provide talks and there will be Historical Slideshows to watch in the History Room. There'll be lots to see and do. If you"ve got any old photos of the area do take them along. More on their website.
Sat 4th May 11.30 – 5pm. £2 entry fee includes raffle ticket. At St John's Community Centre, Glengall Grove, London, E14 3NE. Near Crossharbour DLR.
Take part in a Show along the Roman Road 29th June
Greenwich+Docklands International Festival (GDIF) are running the show which will be called Mo and the Red Ribbon. The following opportunities to take part are listed below, for more information email Elizabeth Bergeron.
FREE 6-week photography project taking place from early May at Idea Store Bow – for any young person aged 11-19 living in Bow East / Bow West
2 production placements to help the delivery team in the lead up to the show, starting from early May – for anyone aged 18-25 living in Bow East / Bow West
Be a part of the show itself. This opportunity is open to anyone aged 18+, but we particularly welcome any Bow East / Bow West residents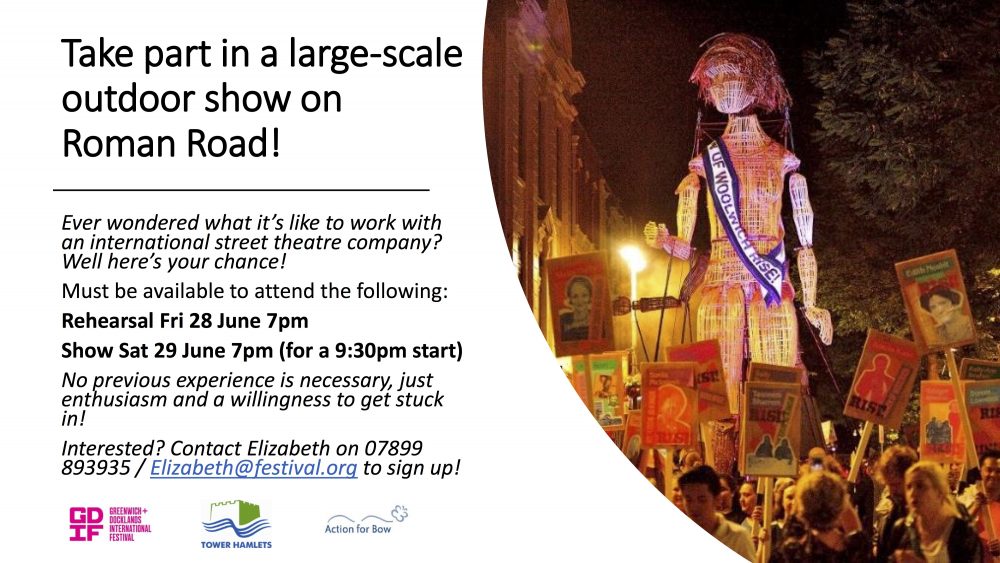 Geezers enjoy themselves
On Tuesday 16th April 2019, eight Geezers ended their visit to Museum of London with a meal and drink in their local J D Wetherspoons, the Half Moon at Stepney Green. The picture shows Ricky Ayliffe, John Wiggett, Don Tomlin, Ray Gipson, Tony Woodward, Lawrence Kinsella, John Griffin and Barrie Stradling – highlighting the camaraderie of the club (photo below).