All Points East is a 10-day festival starting this Friday 25th May in Victoria Park. Their website is here. On the three concert days (25-27th) there is a curfew at 23.00 hours on Fri & Sat, and 22.30 on Sunday. The music events are ticketed, but from Mon 28th May to Thurs 31st there are a lot of free events under the heading In the Neighbourhood. Many are suitable for children, and there are also films – info here.
---
The Space at 269 Westferry Road, London, E14 3RS are running five days of short plays, talks and discussions from Science Fiction authors and playwrights. It's from Tue 22nd – Sat 26th May at 6.30pm. Details and booking here.
---
Cooking on a Budget in Tower Hamlets
This exciting new project called Bags of Taste is organised by Quaker Social Action. The classes are free, and will teach you how to cook good meals for £1. See the poster below.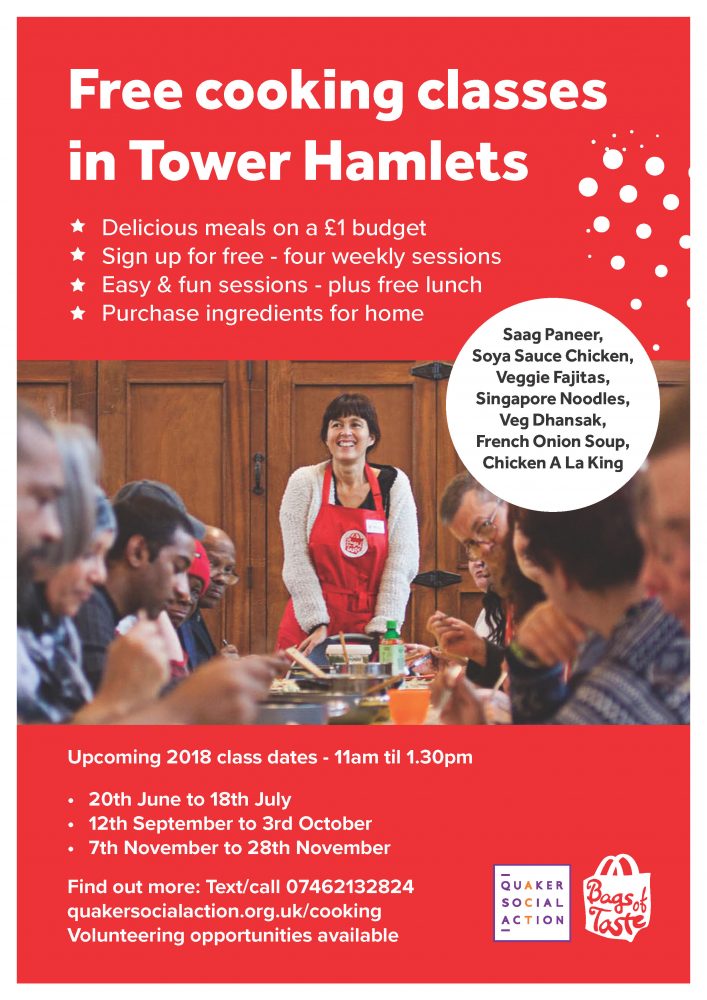 ---
If you'd like to learn more the Metropolitan Police Firearms the police are making a presentation on Tues 12th June at 6.30pm at Whitechapel Idea Store, 321 Whitechapel Road, London E1 1BU.
---
You are getting all those emails asking you to opt in because the European General Data Protection Regulation (GDPR) comes into force soon. In trying to make sense of it I concluded that it's aimed at corporations with teams of compliance officers and lawyers. It's way too lengthy and complicated for ordinary mortals to understand. But I did find out that our little subscribe box on the right is already compliant, together with the clear unsubscribe option at the bottom of every email we send out. Our website runs an automated system and your emails are not shared with anybody else. Hopefully you find our local news useful and will stay with us.
If you have any local news that you think might interest our readers please send it via the contact button at the top right.