Love Your Neighbourhood consultation and street audit – Chrisp Street area
Saturday morning 14th Oct – full details here.
Explore the Urban Forest in Haggerston, Hackney, Sun 15th Oct 2017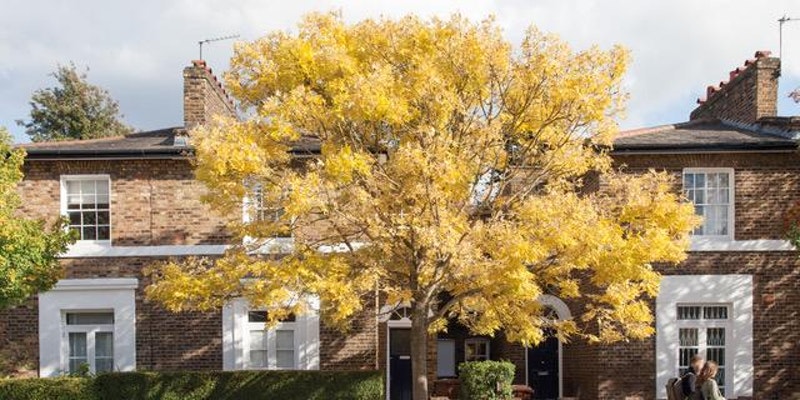 It is not everyday that you encounter exotic trees on your way to work, but that's not the case for those who live in this part of Hackney. Persian Ironwoods and a Dawn Redwood are species you will find, minutes from this popular Overground station, on this exploration of London's East End. Part species spotting, part urban tree management, explorations with Paul Wood (author of London Street Trees) bring a fresh perspective to the urban scene. Stalking Tree walkshops are produced by the Museum of Walking – more info and booking here.
Creative Industries Clusters Programme Briefing 2 – London, East & SE
Monday morning 16th Oct. Free event – details here.
Stratford Waterfront revised masterplan consultation
Stratford Waterfront will incorporate 600+ residential units and buildings for UAL's London College of Fashion, a new space for the Victoria and Albert Museum (V&A), a new dance theatre for Sadler's Wells and space for a fourth institution. The site is just to the north of the Aquatics Centre, where the fairground has been.
You can find out more in the Bow Idea Store on Tues 24th Oct. 10.30 – 1.30pm.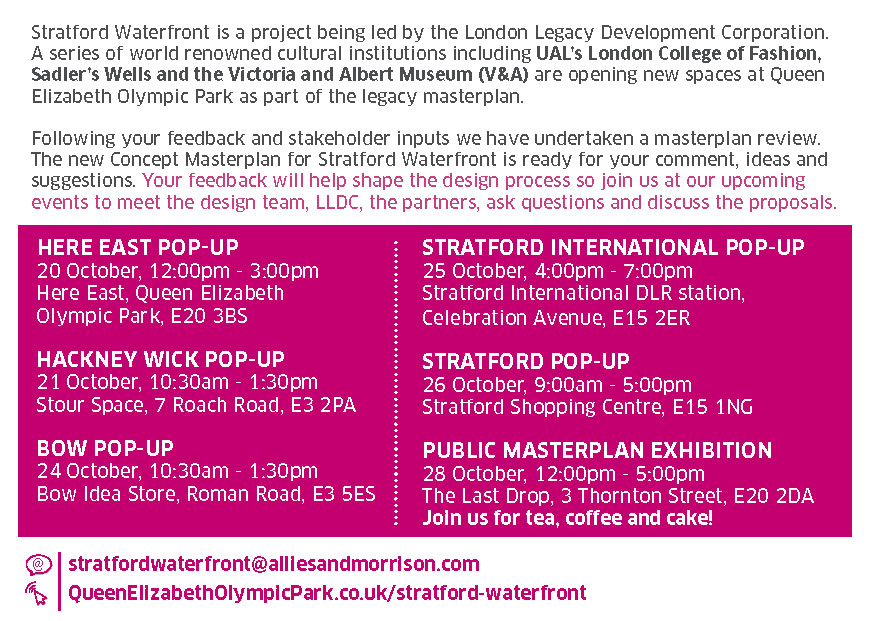 The local Safer Neighbourhood Team has finished surveying the areas of Bow which were suffering from repeated and persistent Anti-Social Behaviour. Below is a screen grab from a Bow East pdf they sent out to neighbourhood watch members.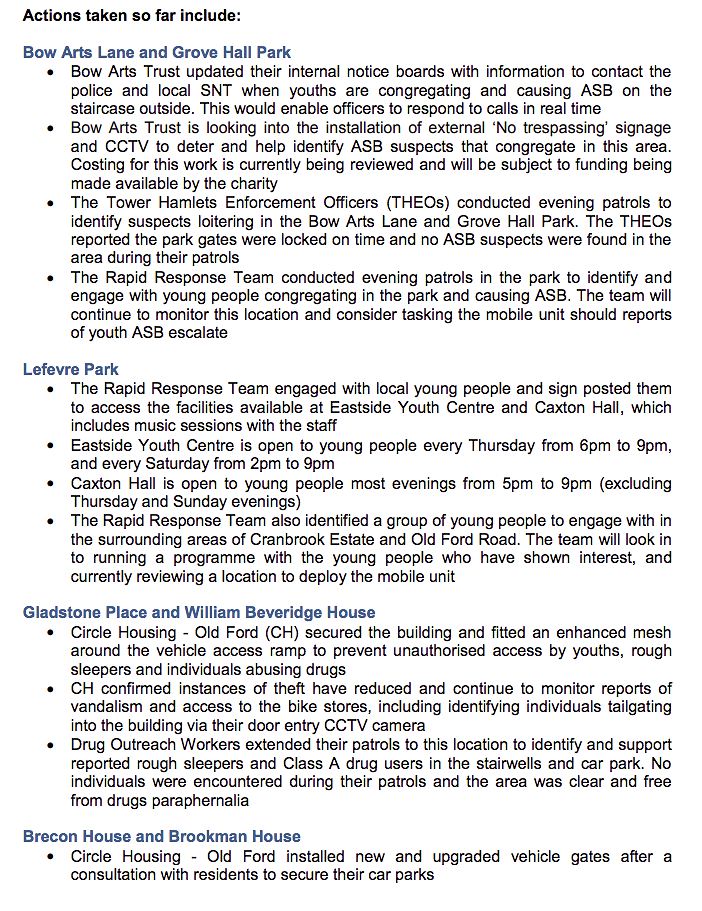 I tried to join, but they clearly don't want me. Residents will be unable to access this on the Met Police website, or find the leaflet for Bow West, as their websites are sealed boxes. If the local police intend to communicate with local residents they need to fit in with us – not the other way round. Meanwhile I'm trying to help!
Writeidea Festival 2017 is Tower Hamlets free celebration of reading 17 – 19th November. The big programme of talks and events all takes place in Whitechapel Idea Store. It's all free, but you'll need to book in advance. Full details here.
The Roman Road Christmas Fair returns to Bow on Saturday 16 December. There are lots of ways to get involved whether you're a local school, market trader, business, resident, community group or part-time elf. Further details here.