The Interact Hub is the small space at the back of the car park on Roman Road which Public Works is working  with local people to make it into a community space.  Next week they are running a week long workshop in how to build your own outdoor roof for under £500.  You will learn all the necessary skills to build your own outdoor space for under  using reclaimed materials and simple but effective building techniques.
You will also help them build a roof for the InterAct Hub in Roman Road which will allow local communities, residents and businesses to use this small but central outdoor site for the next 3 years.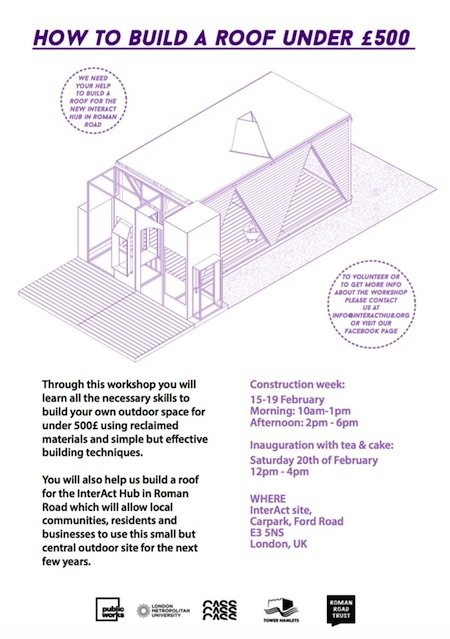 Construction times: 15-19 February,  Morning: 10am-1pm.   Afternoon: 2pm – 6pm
The full address is: InterAct site, Carpark, Ford Road, E3 5NS, London, UK
Email them to let us know when would you be available to join the building workshop or simply turn up on the day.
Please be prepared for getting hands-on and wear appropriate clothing and foot-wear.
No previous construction knowledge is needed, you will be learning all you need to know on the day.
Click here to find out more about the Interact Community Room
For more info contact them at info@interacthub.org
The inauguration of the roof with tea & cake will take place on Saturday 20th of February
12pm – 4pm