What to do if you think you might have coronavirus
Tower Hamlets Healthwatch have a really useful step-by step guide to checking the symptoms, and what to do next.
They say that anyone with symptoms should stay at home for at least 7 days. The symptoms include a high temperature and a new, continuous cough. Refer to the Tower Hamlets Healthwatch website for further information.
Tower Hamlets Talking Therapies
Claire Franklin of East London NHS Foundation Trust kindly sent us details of their Talking Therapies Webinars. Here's details of a couple of them:
Coping with Self Isolation
Are you struggling with self-isolation or social distancing? We will provide you with information and helpful strategies for structuring your day, eating well, keeping active, managing uncertainty and maintaining social connections.
Managing Health Anxiety
Worrying too much about Coronavirus? Concerned about your health? We will equip you with the tools for coping with uncomfortable feelings and reducing unhelpful behaviours during this stressful time.
More webinars are listed on their poster below – here's where you can get started.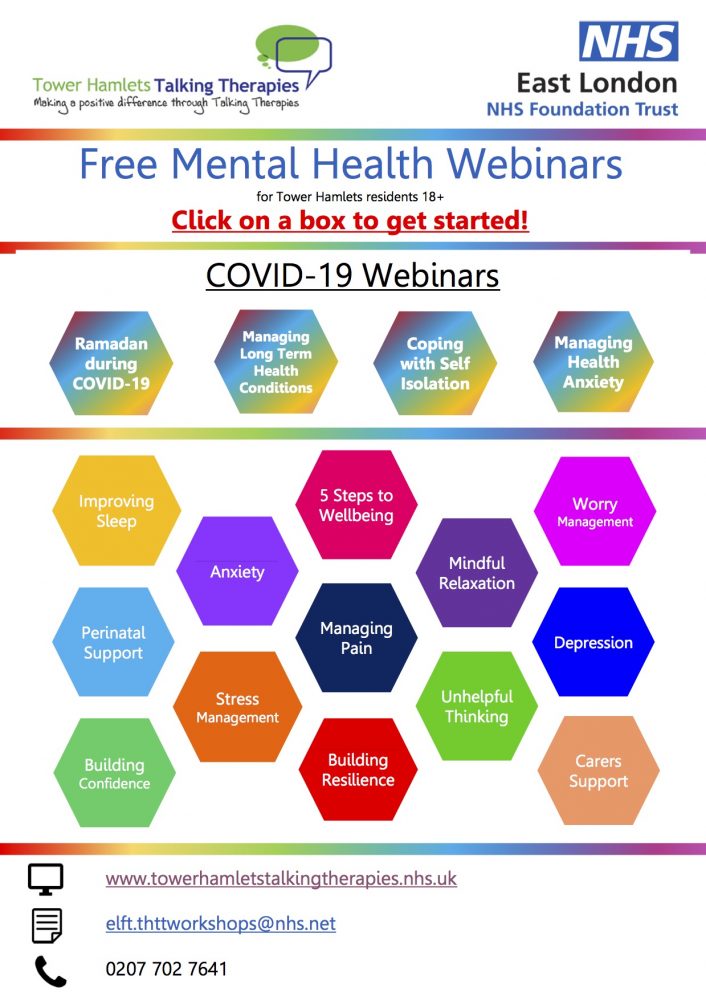 Help for the Homeless
Whitechapel Mission provides 50p breakfasts 6-11am seven days a week at 212 Whitechapel Rd, E1 1BJ. They also provide showers, clothes, help and advice.
Bow Foodbank has moved
From Mon 11th May 2020 Bow Foodbank are now at the Bromley-by-Bow Centre, St Leonard's Street, E3 3BT. The entrance is through the park at the back. Food is available every Monday morning from 9:30 – 12:30. Their partner foodbank, St Matthew's, Bethnal Green, is open 10-12 am on the first and third Fridays of the month.
Bromley by Bow Centre are reaching out
They say:
"Our skilled staff are busy contacting people in the community most likely to need additional help during this challenging time.
"Some calls are uncovering a high level of difficulty, currently hidden by the Covid-19 lock down. As well as medical concerns, there is lack of essential food items, fuel poverty, housing issues, work worries, loneliness and anxiety – all of which can be helped by the Centre team and their community partners.
"The Centre's medical staff are encouraging people to continue to reach out. 'There is evidence people are storing up problems and they don't need to' says Emma Owen-Amadasun, assistant health director, 'our integrated approach means we are able to support all needs that help keep people well. Don't sit on problems, contact us now for help.'"
List of local organisations who can help
Tower Hamlets Council have produced this list of local voluntary organisations who can help. It includes people who can collect medicines and shopping.