Top photo: a corner of the Heartfield: One Man's War exhibition
Exhibition extended to 8th Feb
An introduction to John Heartfield
Helmut Herzfeld was born in Berlin in 1891. During WW1 he and his brother published an underground journal and setup a radical publishing business. To avoid censorship he began experimenting with cut up newsprint and advertisements to create subversive images. He anglicised his name to protest against the anti-British nationalism.
After Germany's defeat he joined the brand new German Communist Party. During the 1920s Heartfield produced film sets, posters flyers, and theatre designs for Bertolt Brecht. His publishing house, Malik-Verlag, printed German editions of left-wing novels.
The Dada art movement was formed as a horrified response to the folly of the First World War. The Berlin Dadaists: George Grosz, Raoul Hausmann, John Heartfield, and Hannah Höch were particularly political. They attacked the values of Weimar Germany. Heartfield said that the thing he saw in the photographs published in the bourgeois (mainstream) newspapers was 'what was said and not said'.
The bulk of this exhibition consists of some of his famous photomontages for AIZ magazine (Workers Illustrated Journal) in the 1930s. Quite a bit of the content of his photomontages was ripped out of a publication he hated – Berliner Illustrierte Zeitung. This had a circulation of nearly two million, was full of photographs, and was the prototype of the modern news magazine.
Heartfield used his photomontages as a weapon of political struggle. Gallery walls did not reach enough people. His posters were printed and pasted up in the streets, and often published as front covers on AIZ magazine which was diametrically opposed to Berliner Illustrierte.
In 1933, for reasons which will be obvious once you've seen the posters in the exhibition, Heartfield fled from Germany.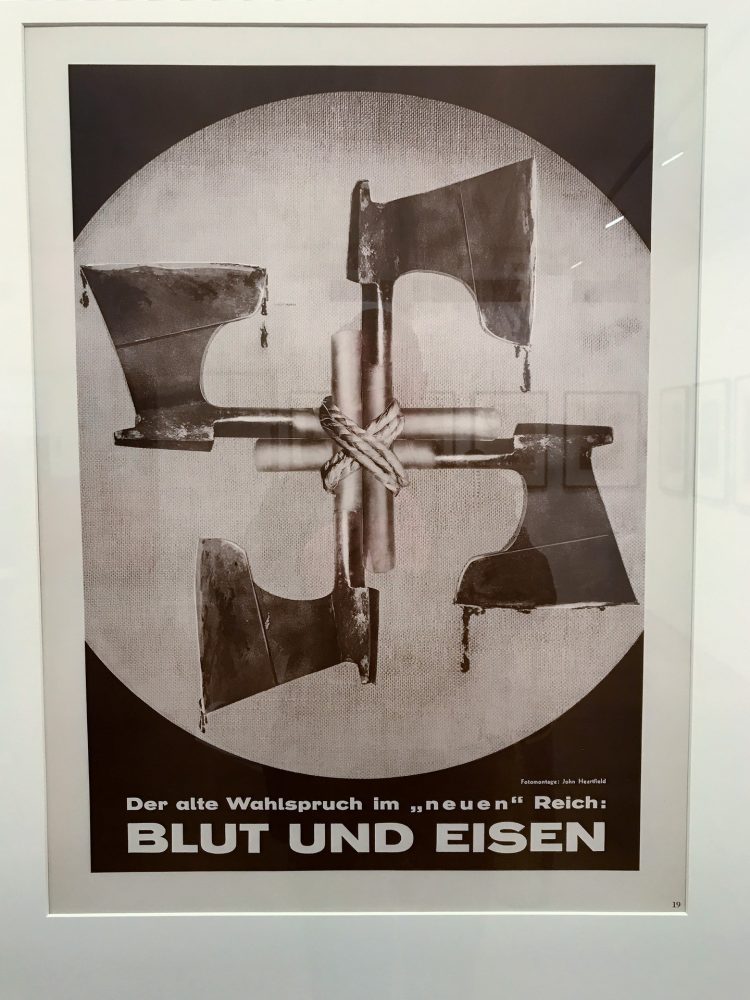 Fascism spreads
Across mainland Europe during the 1920s people were having to choose between Fascism or Communism. I've previously written about Austrian born Edith Tudor-Hart. Many skilled and creative photographers, writers and editors found a new home in England. They were either left-wing, Jewish, or both – like Stefan Lorant. He was the founding editor of Picture Post magazine, which was humanist, patriotic and very British. He'd worked his way up to becoming the groundbreaking and creative editor of Münchner Illustrierte Presse. He was imprisoned by the Nazis for 'political offences' for six weeks in 1933 before he fled to England bringing his talents with him. Lorant did publish some of Heartfield's new montages in Picture Post in 1938, but Heartfield's career faded away in London.
How this exhibition came together
Almost as soon as I walked in the door I realised there was something special about this exhibition. I'd only ever seen some of the posters individually. It's great to see them all together, as well as some publications in glass cases. When I asked about it I found out that the posters were collected by John Heartfield's widow in 1972. The state publisher in East Germany put it together at that time.
Well worth visiting
Heartfield: One Man's War is a free exhibition and its run has been extended until 8th Feb 2020. It's open Tues – Sat: 11.00-18.00 with late nights Thursdays until 8pm. It's at Four Corners, 121 Roman Road, London, E2 0QN.