The Geezers recently made a trip to visit two exhibitions at the Wellcome Foundation in the Euston Road – Medicine Man and Electricity – Spark of Life.  During the day they were videod by Age UK for a film they are making about men's groups.  Geezer's member Barrie Stradling tells the story of the day:
Link Age's Kate Angus arranged a trip to see two exhibitions at the Wellcome Collection, she arranged for Tower Hamlets Community Transport to collect us on Tredegar Road in Bow at 1pm, 13 Geezers members attended, plus her and Sue our volunteer driver, set off for the Wellcome Collection/ Wellcome Foundation in Euston Road.
The traffic despite our foreboding was quite light by London standards and as we passed Old Street Roundabout, Moorfields, Kings Cross, then Euston Station, and arrived at Wellcome earlier than anticipated, we went inside, whilst Kate and our Driver parked up in an allocated parking space, which took them a while due to size of van in space in Parking zone, they took quite a while to return to us, we waited inside for their return during this we met up with Photographer/ Videographer Tom Hill who was filming us on behalf of Age UK.
Kate had arranged two organised sessions, where we were accompanied by a staff member of Wellcome who told us everything about the two exhibitions that we visited –
Once Kate and Sue were inside we headed up to the first floor via a lift to the Medicine Man exhibition, which was about Henry Solomon Wellcome an American who was born in 1853 passing in 1936, he was a pharmacist, entrepreneur, philanthropist and massive collector, he was one of the richest men in the world and his main criteria was medical research, his major breakthrough was seeing a gap in the market when developing tablet form medicine, overcoming the previous process of powdered medicine, he brought this idea across to England where he set up production and this was one of the starts of his fortune.
He was focussed on researching medicine and how it could be improved, the exhibition had a vast array of medical equipment on show, covering hundreds of years, we were told that this was merely a snippet of his vast collection, which our speaker told us would need the whole building at the time of his death in 1936 it was a larger collection than many of Europe's most famous museums, or equivalent to 5 floors to encompass it all, he formed the Foundation and his company was purchased by Glaxo Smith Kline, now one of Europe if not the world's major pharmaceutical companies.
It was a very interesting talk with some incredible not to say macabre equipment on show.
After the completion of this part of our tour at around 3pm we headed to the ground floor via lift or stairs to see Electricity – The Spark of Life an exhibition that highlighted the development of electricity, including some bizarre experiments that had been performed during its development including Frogs for some bizarre reason. The Film from the 1930s Frankenstein was being shown on an old style wooden cased television in a looped short snippet, featuring the famous 'It's Alive' Dr Frankenstein quote after shocking the monster back alive, there was also an old copy of the Mary Shelley book.
There were also projected colour films that focussed on the Frog Experiment mentioned previously and in glass cabinets were sections of the cable that was put in the Atlantic that enable USA and Europe to converse reasonably quickly with each other. This too was another very informative Exhibition assisted by the Wellcome Collection Orator explaining what everything was.
After we left the Exhibition we headed to the Restaurant area, where Age UK had arranged a 20% discount, we purchased our food/ drink via club funds and took up our places in a section that had been reserved by Age UK, as they were filming us for a video about Men's groups, this was done by Tom, the cameraman and Kate who interviewed one section of The Geezers about what a club such as ours meant to them, we had a microphone placed on the table in front of those who were interviewed collectively, this being myself, Pat Murray, the John's Wiggett and Griffin, one Geezer Tony Woodward the newest member of the club, was asked to do a brief interview individually about why he had joined the club, following his wife's passing, which he did with Tom himself.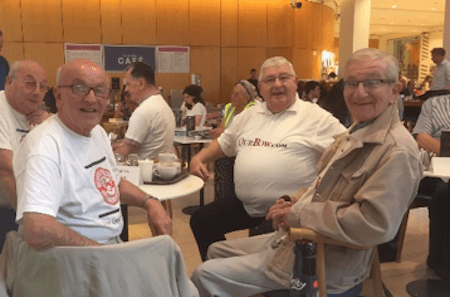 For reference we had also been filmed at the Three Mills Water Wheel Launch Day and in a pub in Bexhill on a recent coach trip, Tom said all the separate parts would be reviewed with the best bits edited together to form the film.
We had a collection for our Volunteer Driver Sue set off outside, luckily at the door there was a lift to the entrance for the less mobile of The Geezers, our Driver and Kate Angus, plus Geezers Member Brian Godfrey who had been our navigator, went back to our allocated parking space in Gower Street alongside where we had been.
Tom took some photos of The Geezers when the Community Transport Mini Bus arrived as we boarded it and headed back to the East End, where we arrived 5pm or so, it had been a very good outing, our transport was great a brand new all singing and dancing Mini Bus that had been very well driven, that aside we were all glad to get off the mini bus as it was sweltering on-board due to the lack of air conditioning or windows.
Here are some photos of The Geezers in our Reserved area where we were Filmed and interviewed by Tom who is shown in a couple of the images, the first and last one.