Future Streets
A new free exhibition (above) called Future Streets has just opened at the Building Centre 26 Store Street, WC1E 7BT. It's about 1/3 of the way up the Tottenham Court Road from the tube. It's open Mon-Fri: 09:00-18:00 & Sat: 10:00-17:00.
As the name implies, this exhibition is looking towards what the future may hold. Rideshare services already exist, and Boris Bikes (sorry about that Santander) launched in 2010. Car hire has become a whole lot easier – Zipcar calls itself as car club. I have their app on my phone and once hired the Zipcar van, which lives on the corner of Tredegar Square. It cost £15 for an hour and a half, including diesel, insurance, the lot. It was very easy to setup and use. Thanks to TFL the overground and underground railways are much better and more frequent than they were when I first moved to London in the early 1970s.
Provisions for cycling have improved – far more places to lockup bikes, as well as dedicated cycle lanes which never existed before. This has encouraged more people to cycle. The range of bikes available has improved – for example the £2k Bakfiets Cruiser, pictured below, which I found on the London Green Cycles website.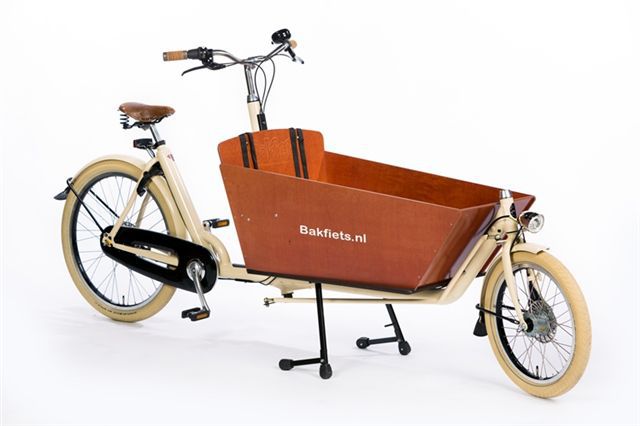 The Future Streets exhibitions asks: "How do we ensure we make the most of new mobility technologies, whilst ensuring they serve as a means to achieving human-centric design that supports the sustainable growth of the city and its citizens?.
New London Architecture have been conducting research and say: "Streets are the foundation of our urban life, they make up more than 80 per cent of all public space in London…" And they acknowledge that streets are the lifeblood for goods to be transported around the city. Planning for the future and trying to predict what might work is going to be difficult.
The NLA suggest that autonomous vehicles might be running as early as 2021 inside London. Personally I can't see that these vehicles will be able to cope with London traffic, and skilful quick-thinking London drivers. What happens if someone flashes their lights to let one in? Will it just sit there blocking everybody's progress? How can they assess all the subtle signals that a human driver can detect?
Last year a self-driving Uber in Arizona failed to detect a woman crossing the road wheeling a bicycle, and killed her. The human backup driver failed to respond in time. Newspaper reports said the Uber (and the human) had six seconds to respond. The full report came out a week ago. The (US) National Transportation Safety Board said the car had a system that, "did not include a consideration for jaywalking pedestrians". It could only identify an object as a pedestrian if it was near a crosswalk. That's a long way off being ready to have self-driving cars in the UK.
A month ago I read about a fatal crash in Berlin after a driver appeared to lose control of his Porsche Macan SUV at a red light and hit pedestrians at high speed. German politicians were saying that tank-like SUVs should be banned from cities. Perhaps we also need to look at the ever-expanding width of cars, even of otherwise small cars. They're contributing traffic jams on Britains historic narrow roads.
Electric Cars
I'll write about this in depth later, but last week Boris Johnson visited an electric taxi factory in Coventry and said the Conservatives had plans for every driver in England and Wales to be within 30 miles of an electric vehicle charge point. Form an orderly queue please. London currently has 49 chargers per 100,000 people. It's in London where we need more people switching to electric vehicles. It's in London where hardly anybody has a private driveway to install a charging point. Charging overnight is the cheapest method, and also takes no time out of anybody's life.
Tower Hamlets Liveable Streets Project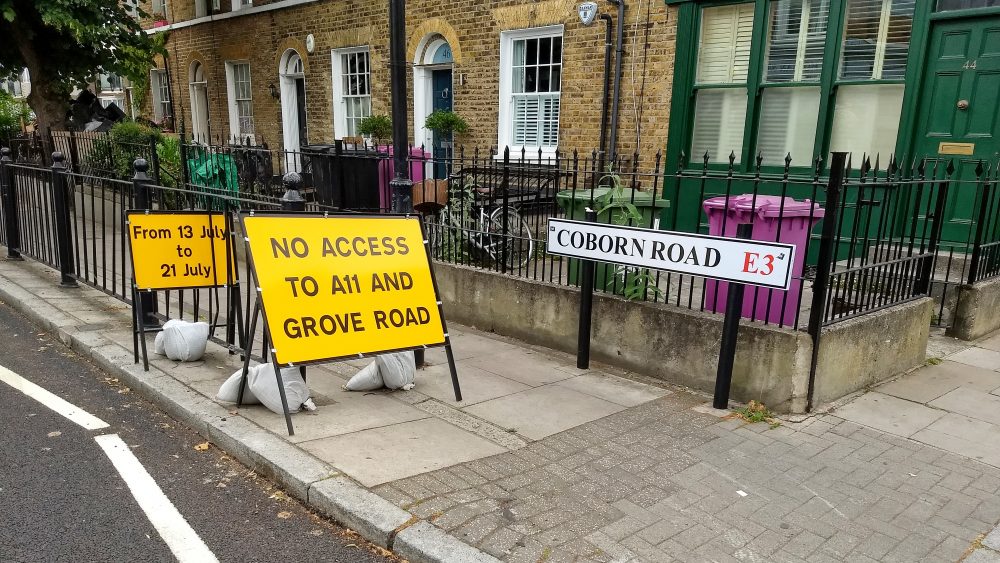 On the Sat 13th July the eight-day Bow Liveable Streets trail was cancelled within eight hours due to complete chaos and angry scenes. The straw bales, plastic grass and deck chairs under the railway bridge in Coborn Road must have been really infuriating.
The bus gate installed on Tredegar Road prevented vehicles from leaving the area via the A12 and instead sent them round in circles generating plenty of pollution. We had visitors with children staying with us. Whilst they were here we all used the tube, but on the day they had to drive home up the M11 they had to crawl in scarcely moving traffic to Grove Road and come back down the Mile End Road to Bow Flyover (2.3 miles). It is 0.3 miles from our house to the A12 using Tredegar Road.
Here's some comments from Facebook:
"Let's hope the idiot who dreamt up that idea has been sacked."
"Thank goodness [it was cancelled] I am a trader at Roman Road Market and trade today was dire."
"Wow! Congratulations everyone. Perhaps they can consult in advance and come up with something more sensible. Not just shifting the problem a few streets away?"
Tower Hamlets is again consulting, on their Liveable Streets idea, but they appear to have booked small rooms. All of the sessions were full days ago. We'll see what comes out of these meetings.