Old Ford Housing Association tenants and their families met last week with the Mayor John Briggs and Bethnal Green and Bow MP Rushanara Ali at a meeting in St Paul's Church Hall to continue their fight to maintain the association under local control.  The meeting was chaired by Bow East Councillor Mark Francis, who recently resigned from the board of Old Ford in protest after a string of complaints about repairs, maintenance and failed gas safety checks. See our post here.
Old Ford Housing Association, already absorbed by Circle Housing, will become even more remote from its tenants and any local democratic control if the proposed merger of Circle with Affinity Sutton goes ahead, creating one of the country's largest housing associations.
Circle Housing has screwed up," Mayor John Biggs told a packed meeting of Old Ford families. "We've talked about the idea that estates could be taken away from them.    There's a real possibility of switching the estates away from Circle or Affinity Sutton into a local housing body, although it requires their consent—there's no legal way to force them to do that".
Affinity Sutton are due to write to the mayor about how they would deal with the request to transfer estates to a community-based association.
Rushanara Ali urged the council to stand firm as the local planning authority and stop Circle Housing applying to build more properties if they couldn't manage the ones they already run.
Campaigning tenant, Fred Hadley, 56, who has lived in a council and housing association property nearly 40 years, called for action under Common Law Remedy—where the landlord "is legally duty bound to keep properties in good repair".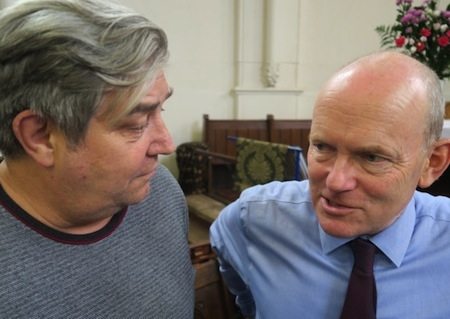 Fred Hadley bends to Mayor's ear about Common Law action against social landlords who don't carry out repairs
Read a full report of the meeting in the East London Advertiser.