This Friday evening at the St. Katharine's Precinct, 2 Butcher Row, Limehouse there's a screening of the award winning documentary Sonic Sea which takes the audience on a journey. It explores how the ocean is a collection of sounds that are vital to the 'way of life' of its inhabitants and how industrial and military noise is impacting on whales and other marine life. Full details and tickets here.
On Saturday at the Hope Theatre (Angel) there's a play called the Provoked Wife. Expect extra marital drama, scheming lovers, bourgeois angst – and comedy. Details and booking here.
On Sunday at King's College, in the Strand, WC2R 2LS there's a screening of a fascinating 91 year old Japanese film called A Page of Madness with live benshi musical accompaniment and a post-screening panel discussion. Full details and tickets here.
A new exhibition 'A Necessary Fiction' by Basil Olton is on at the Tower Hamlets Archives in Bancroft Road, London, E1 4DQ from  6 October 2107 – 20 January 2018.
The title of the exhibition taken from Jose Esteban's and Stuart Hall's idea of using archive material to explore the complexities of ancestral histories, this exhibition is an attempt to explore how the public's collective memory is controlled and shaped by institutions that as legacies of colonialism, have authority over how the past is remembered and commemorated.
Further details and an invitation to the private view on 5th October can be found here.
On Mondays from 9th October there are walking football sessions at the Whitechapel Sports Centre, 55 Durward Street from 11.30 -12.30. These are aimed at increasing the fitness of over 50s. Both men and women are welcome. Details here and in the poster below.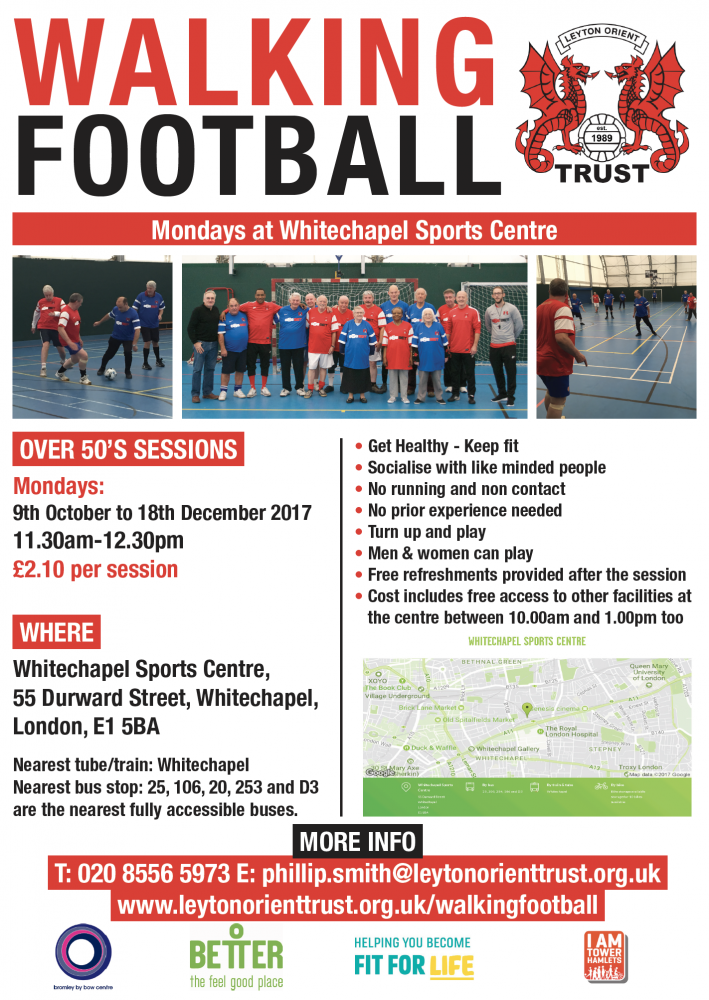 From Mon 23rd to 27th Oct The Urban Adventure Base in Mile End park is offering a whole pile for free taster sessions in archery, BMX, mountain biking etc. They're all for youngsters during the half-term holidays. More info in the flyer below. You can book here.