Since the start of the coronavirus pandemic Bow Foodbank has experienced a rapid escalation in the number of families needing support. A second site was opened in Bethnal Green, and the original Bow Foodbank moved to the Bromley by Bow Centre to increase capacity.
Bow Foodbank is an independent food bank with an ethos of trust and respect. They endeavour to provide emergency aid to all who visit them. They do not require referrals, paperwork, or ID. They say, "This is emergency help, especially for people who do not meet the criteria for other food banks. We treat everyone with empathy and dignity no matter who they are, or what they're going through."
Anonymised Case Study:
S, 30s, has four children. Her husband is working, however, as he is self-employed, work opportunities have been scarce due to the pandemic and the constant lockdowns. She has no recourse to public funds due to her immigration status…
Anonymised Case Study:
B, 60s, is a cleaner who is single handedly supporting her husband and two children. B's husband is 69 years old and is on a disability allowance after a serious injury at a construction site. He is currently suffering from spinal issues and need assistance due to mobility issues. Her son is currently out of work…
Tower Hamlets has long struggled with poverty, and the demands on the local food banks will remain high. Bow Foodbank has 200+ volunteers and managed to take on a couple of temporary staff whose contracts come to an end in June 2021. After the recruitment of the Executive Director post, they plan to recruit a full-time Operations Manager.
Now Hiring – Executive Director of Bow Foodbank
If you need help – Bow Foodbank addresses and opening hours
Bromley-by-Bow Community Centre
St Leonard's Road,
E3 3BT.
Entrance through the park on St.Leonards Street.
Open Mondays 08:30am-12.30pm
Bethnal Green
Raine's Foundation School
Approach Rd / Junction Bonner Road
E2 9LY
Open Wednesdays 2:00pm – 7:00pm
Yes, people can send a friend or carer on their behalf. The queues can be long, but they do not turn people away empty handed.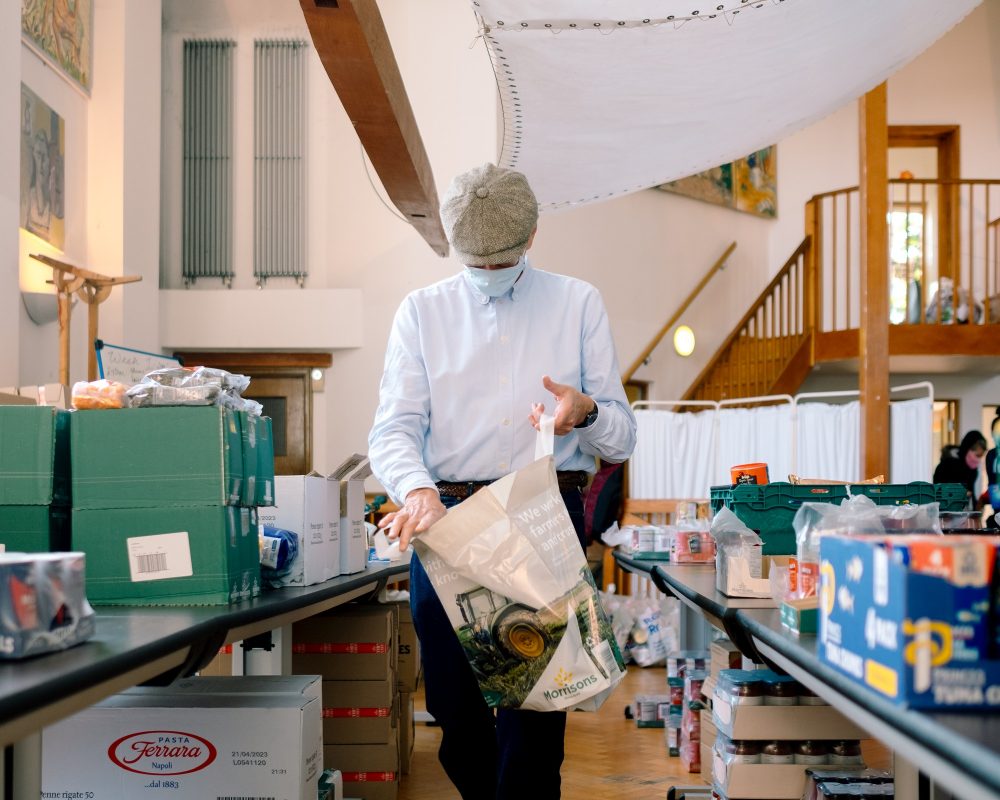 If you'd like to volunteer
Current Volunteering Sessions
Sunday receiving deliveries, donations, sorting and packing (10am – 12:30pm; 12:30pm – 3pm)
Monday distribution, sorting and packing (8am – 1pm)
Bromley by Bow please contact our volunteer-coordinator Lynn on help@bowfoodbank.org
To volunteer at Bethnal Green Foodbank email: volunteering.bethnalgreenfoodbank@gmail.com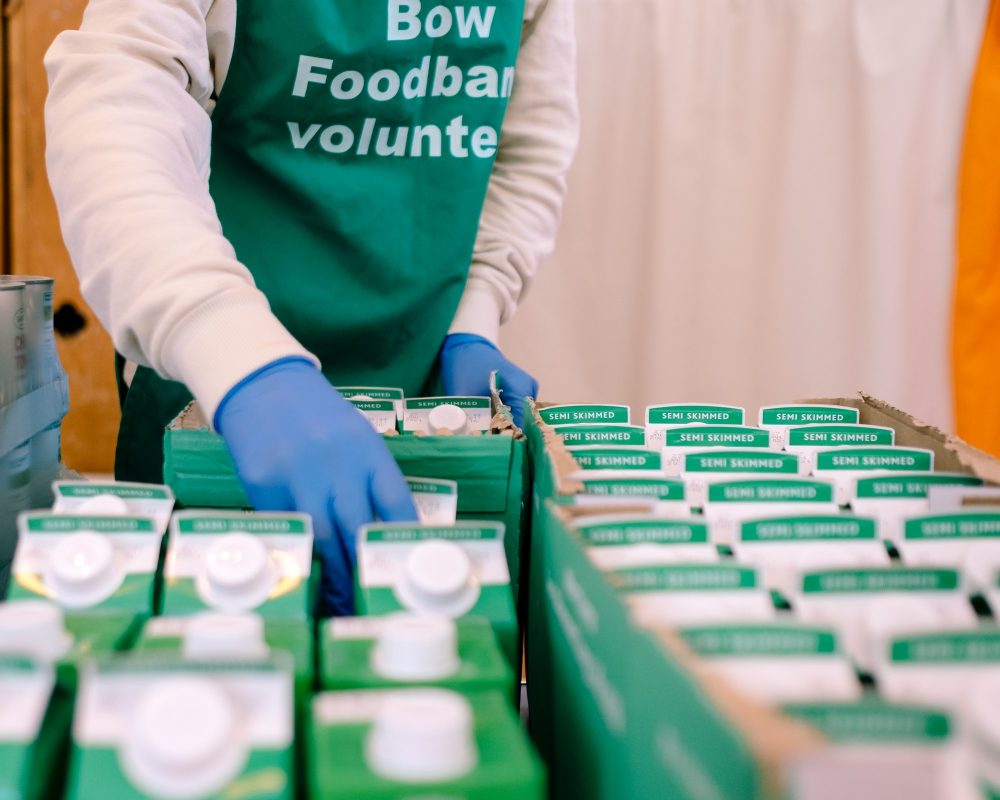 If you'd like to donate
Please visit the Bow Foodbank website for full details on how to donate both money and food.
Anonymised Case Study:
A, 30s, was waiting in the cold with her husband and two children aged 5 and 3. A's husband was working almost 17 hours a day across two jobs while she cared for their children, but the family began to struggle when he was made redundant from both. The family is currently on Universal Credit. Despite applying to over 100 jobs, her husband has not been successful and remains unemployed. They never thought that they would be relying on a food bank…