Photo above: Site of Captain Cook's house, Stepney.
Summer Music at Bow Church (Bow Road, E3 3AA) – Friday 8 June, 7.30pm-9.30pm
The Queen Mary University of London Chamber Ensemble, String Quartet and Jazz Ensemble will play a super programme including Wagner, Shostakovich, and Jazz Classics. Cash bar & nibbles available.
---
The British Library has a new exhibition on called James Cook: The Voyages. It tells the story of Captain James Cook's three world-changing voyages of discovery through original documents, many of which were produced by the artists, scientists and sailors on board the ships. Full price tickets are £14.
His house was once on the Mile End Road. My top photo was taken next to the Red Dragon at 86 Mile End Road, London E1 4UN.
A couple of years ago I conducted my own research into Captain Cook whilst researching the rich history of Mile End:
King George III commissioned Captain Cook's 1768 voyage on Endeavour which went to Brazil, Tahiti, New Zealand and Australia. They gave Botany Bay it's name. There were three naturalists on board collecting exotic plants and seeds: Joseph Banks was advising King George at Kew, Herman Spöring drew illustrations, but died on the trip, and Daniel Solander who was associated with Thompson's Nursery at Mile End. They brought back seeds, bulbs and plants growing in cloches on the deck of the ship.
Until the voyage of the Endeavour, and other such trips, this country was not known for plants with coloured flowers – you couldn't have made a floral clock. The landed classes favoured arboreta – tree gardens. There was big money to be made selling plants coloured flowers – like £15 each, back then!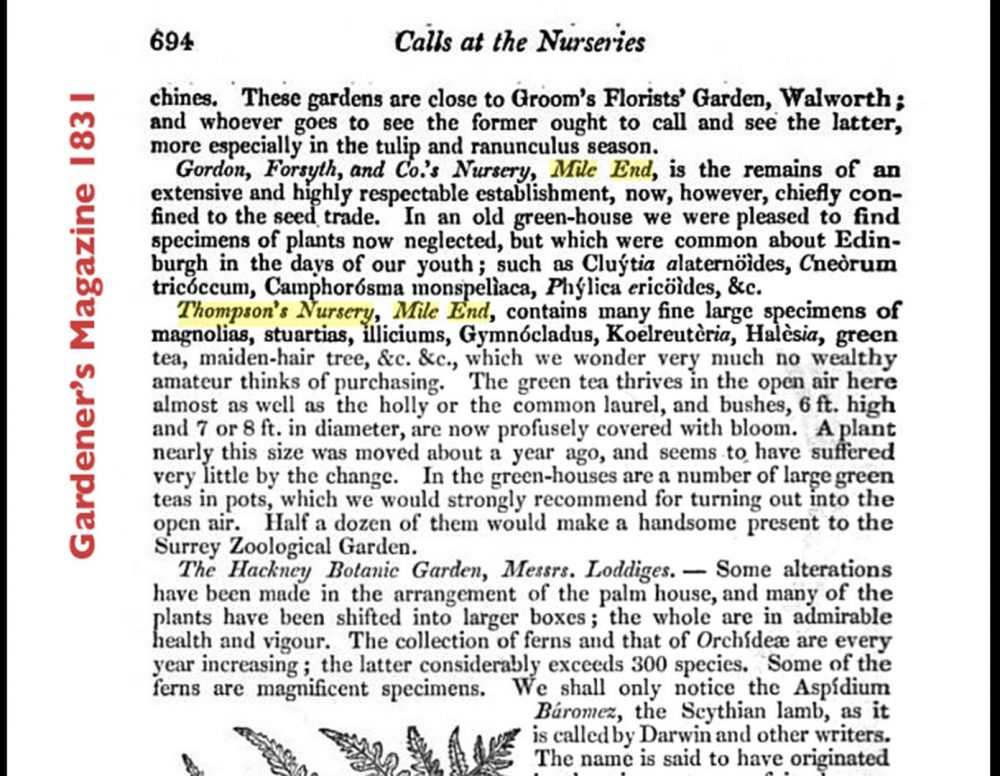 Archibald Thompson and James Gordon in Gordon's "Long-established Mile End Nursery" went back before 1738. It occupied a lot of land and was round about where the City of London Union Workhouse was built in 1849 (later St Clement's). In 1781 Gordon and Thompson had £2,600 of insurance cover here for buildings including a range of greenhouses and hothouses.
---
Last week Newham Recorder reported that children's charity, Unicef will be moving it's 300 staff into the International Quarter on the Olympic Park. This is great news for the continuing regeneration of the area, but of course, all this extra development is squeezing the green space into a narrower strip of land.
---
Opportunistic fraudsters are using TSB's problems to target individuals.
Action Fraud warn us that there is a sharp rise in people sending out text messages pretending they are from TSB. They also tell us about a new one on me – port-out fraud:
"To gain control of the victim's phone number, fraudsters convince the victim's mobile phone network provider to swap their number on to a SIM card in the fraudster's control. Once the fraudster has control of the number they are able to intercept the victims' text messages, allowing them to use services linked to the victim's phone number. This can include requesting an online banking password reset or access to any two factor authentication services."
Action Fraud say:
PAC Code notifications
If you receive an unsolicited notification about a PAC Code request, contact your network provider immediately to terminate the request. Also notify your bank about your phone number being compromised.
Clicking on links/files:
Don't be tricked into giving a fraudster access to your personal or financial details. Never automatically click on a link in an unexpected email or text. Remember, criminals can spoof the phone numbers and email addresses of companies you know and trust, such as your bank.
Requests to move money:
A genuine bank or organisation will never contact you out of the blue to ask for your PIN, full password or to move money to another account.
---
Fake HMRC tax refund messages.
Don't click on the links in emails or text messages as they lead to websites where fraudsters will attempt to steal your personal details.
Treasury Minister, Mel Stride MP, the Financial Secretary to the Treasury said: "HMRC only informs you about tax refunds through the post or through your pay via your employer. All emails, text messages, or voicemail messages saying you have a tax refund are a scam.
---